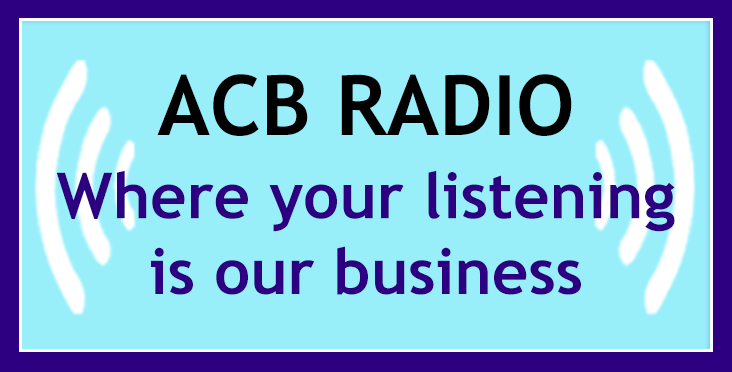 Are you looking for late-breaking information from a blindness perspective? Are you wanting to hear creative blind broadcasters present music from dozens of music genres? Do you love old-time radio shows? If so, tune in to ACB Radio! ACB Radio, a project of the American Council of the Blind, has been broadcasting across multiple streams since 1999 with a variety of programming to suit everyone's needs. Content can be obtained by listening to our seven streams as well as listening through our on-demand service for our ACB Radio Interactive shows. In addition, we are a firm believer in letting our listeners listen where and whenever they wish, so we also provide many of our most popular shows as podcasts. You will find out more about each stream below, as well as all the other tools and technologies that you can use to listen to our ACB Radio programming.
 
ACB Radio, Any Time, Anywhere!
ACB Radio may be streamed a number of ways:
1. You can also listen to all of ACB Radio's streams over the telephone by calling (518) 906-1820. Once you connect you can choose which stream you wish to listen to.
2. ACB Radio can be found by browsing to the main page for ACB Radio. From here you can find schedules, streaming links, podcast download links, and so much more. Listen links are available from here, and you can use a number of media players such as Winamp, Windows Media Player, Foobar and more. We also have a custom application written for Windows called the ACB Radio Tuner that will let you listen to all of ACB Radio's streams. You can find out more about listening to ACB Radio using your media player of choice by looking at the article Download Programs to Help Improve Your Listening Experience with ACB Radio.
3. Do you have an iOS device such as an iPhone or iPad? If so, you can download the iOS application written for the American Council of the Blind called ACB Link. This application allows you to stream each of the channels found on ACB Radio and listen to all of our podcast content made available on the ACB Radio web site. In addition, you will receive timely information about critical issues impacting ACB. You can also find affiliate leaders that you may need to reach out to within your community.
4. Are you out and about? You can listen to ACB Radio on your mobile phone. Just search for the ACB Radio stream of your choice in popular applications such as TuneIn, Downcast, ooTunes Radio and more.
5. In the spirit of wanting you to be able to listen anytime and anywhere, we provide many of our shows as downloadable podcasts. Most of these shows come from our ACB Radio Mainstream channel. These include shows such as the ACB Braille and E-Forum, Main Menu, the GDUI Juno Report, ACB Events and many more. All of this can be found on the main page of ACB Radio.
6. Are you an owner of the Victor Reader Stream? You can obtain information on how to listen to our ACB Radio channels on your Victor Reader Stream by looking at the article entitled Listen to ACB Radio with HumanWare's Victor Stream.
ACB Radio Channel Line-Up
ACB Radio contains 7 channels or streams with a wide variety of content for your listening pleasure. A programming schedule can be found on each unique page for the 7 channels described below. For a complete schedule of what is on each ACB Radio stream, be sure to click on the "What's on ACB Radio?" link.
ACB Radio Mainstream
ACB Radio Mainstream is known as the Talk of the Blind Community. Mainstream brings you content from the International Association of Audio Information Services (IAAIS) as well as many other talk shows, ranging from cooking shows such as Cooking in the Dark to technology shows such as ACB Radio's number-one technology show Main Menu. Many shows from ACB leaders are also available here, such as Affiliates in Action and Sound Prints.
ACB Radio Treasure Trove
ACB Radio Treasure Trove brings you old-time radio from the 1920s through the 1950s. Do you remember those great old radio shows such as The Shadow, The Green Hornet, and The Jack Benny Show, which brought laughs to every living room across the country? Well, those shows can be heard and remembered again right here on ACB Radio Treasure Trove. Old-time radio is a huge favorite of our membership, and we delight in bringing this wonderful content to you.
ACB Radio Café
ACB Radio Café brings you music 24 hours a day, seven days a week from blind musicians or artists from around the world. The music includes but is not limited to comedy, country, easy listening, jazz, pop and rock.
ACB Radio Community
ACB Radio Community Channel is home to both live and prerecorded content from ACB sponsored community events. Our community is growing and we want everyone to find their place in it. From technology to the kitchen, from hobbies and sports to exercise and meditation, and timely discussions to formal presentations, we now have a place to share, learn, and grow. Although most social events will not be shared on this stream, all topic driven content will be, and we invite everyone to take part in this ACB community.
ACB Radio Live Event
ACB Radio Live Event brings you live coverage of ACB affiliate conventions as well as the ACB national convention. In addition, we bring other special events that serve interests in the blind community when they may arise, such as FCC presentations and so much more. If no event is being streamed, you will hear music to let you know you are connected to the stream.
ACB Radio Special Event
In the event that more than one affiliate is scheduled to stream their convention on the same set of dates, the ACB Radio Special Event stream will be used to carry one of the affiliates. Remember that ACB Radio Live Event will be the primary stream for streaming affiliate conventions. ACB Radio Special Event is the secondary stream that will be used when ACB Radio Live Event is already scheduled for another event.