Preview Page
Listed below are the items up for bid in this year's ACB Radio Holiday Auction. Items are numbered, and will appear in this order during the auction. One item will be up for bid at a time; advance bidding on items is not permitted.
Access complete auction information, including rules, date and time, how to listen and how to call and bid by visiting this link.
Thanks for supporting the 2019 ACB Radio Holiday Auction.
---
1. Poinsettia Basket
Perfect for any room, this light brown wicker basket is filled with deep red poinsettias atop dark green leaves.  Plug in the basket and the hidden fairy lights illuminate the flowers.  Designed by Keri Bishop.
Donated by Keri Bishop, Kirkland, WA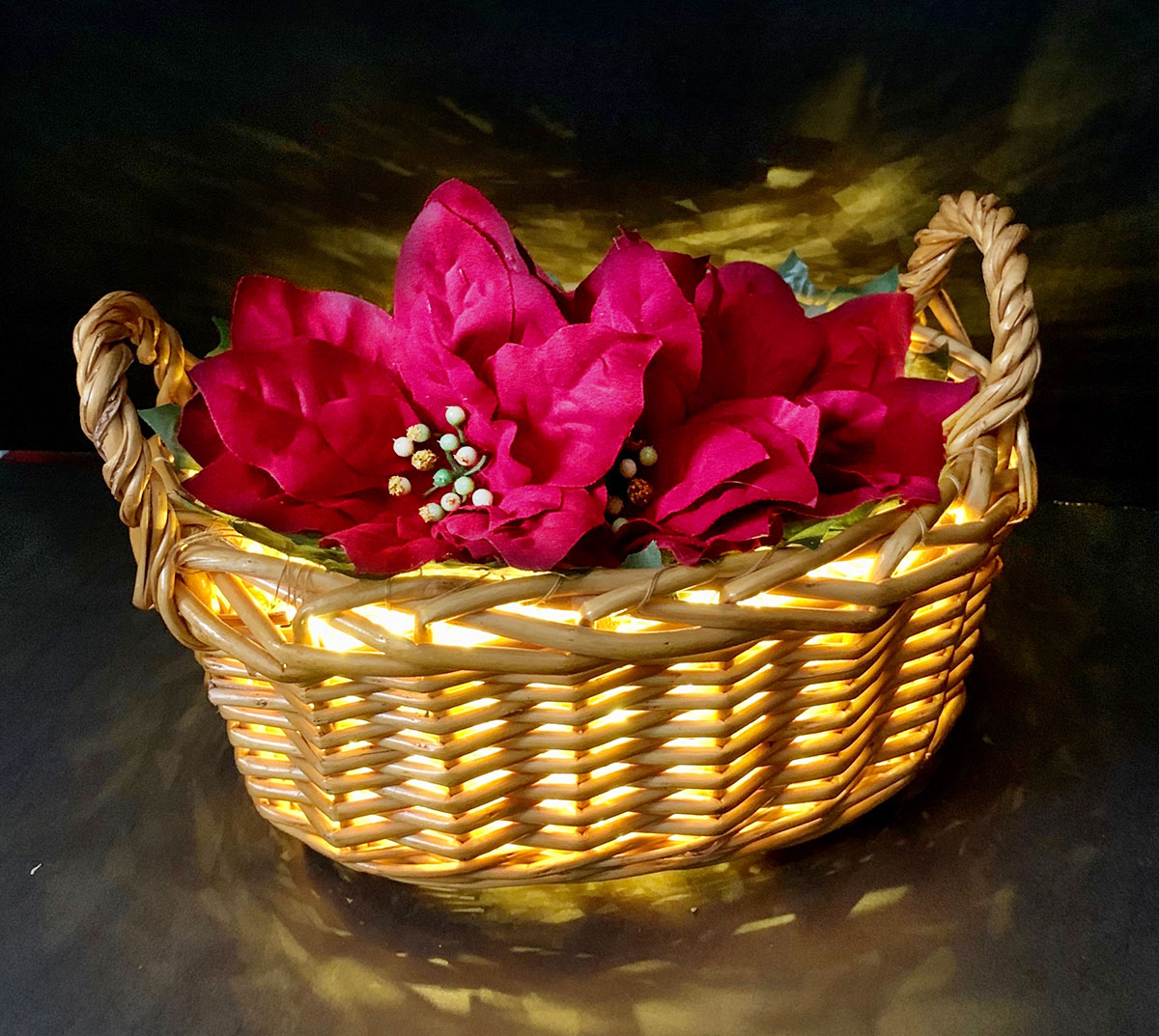 ---
2. A Holiday Shopping Experience
The perfect combination for holiday shopping.  Select gifts for friends or yourself with this $50 Wal-mart gift card from the Arkansas Council of the Blind.  Then warm up from the chill outside with a stop at Starbucks.  Enjoy a treat for yourself or the whole family with this $50 Starbucks gift card from Sharlene Wills.
Donated by the Arkansas Council of the Blind and Sharlene Wills and new Starbucks-loving guide dog Venus, Bend, OR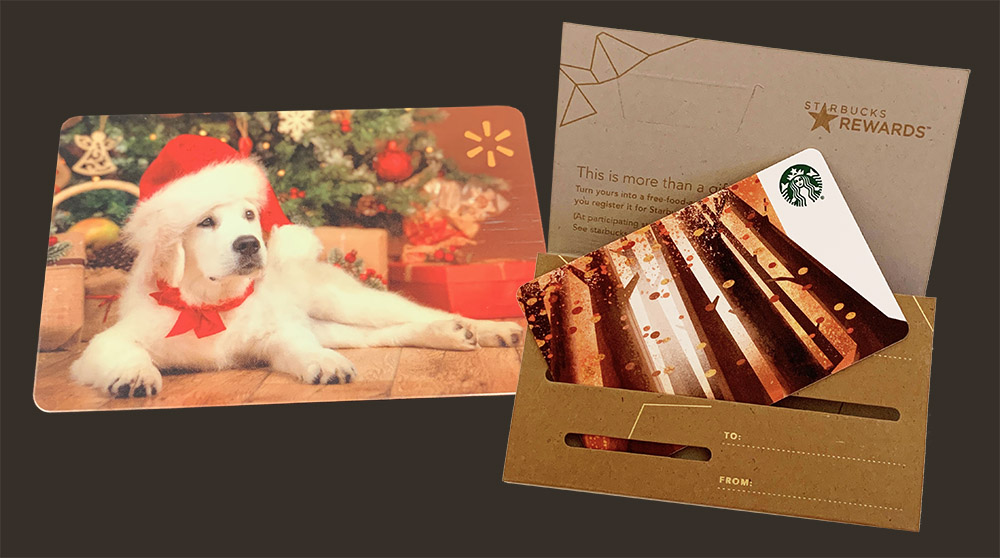 ---
3. Mr. Snowman Package
Everyone loves a snowman, and you're sure to love these items featuring our frosty friends.
2 handmade quilted coasters are in deep red, dark green, and white with brown trim.  One has a snowman carrying a basket in his right hand, and the other has a snowman with his mittens, hat and socks hanging to dry on the clothesline in front of him.
This cute night light is a frosted white snowman with dark red mittens.  He's holding a yellow star between his hands and wearing a red and green scarf and a black tophat with red ribbon and holly leaves.
This set of 4 8.5-in. hand-painted Whole Home Holiday dessert plates are durable StoneLite.  They have a blue background and a different snowman in the center of each plate.  The pattern is Harmony Snowman, and the plates are dishwasher and microwave safe.
This versatile 5.5 by 4 by 1.5-in. Royal Seasons dish is microwave and dishwasher safe.  The outside is light blue with white snowflakes.  Inside is a snowy winter scene with a snowman standing near a tree; he's wearing a black tophat with a red ribbon and a red scarf.  Use for candy, dip, nuts, queso etc.
Donated by Leslie Spoone and friend Melissa Debose, Orlando, FL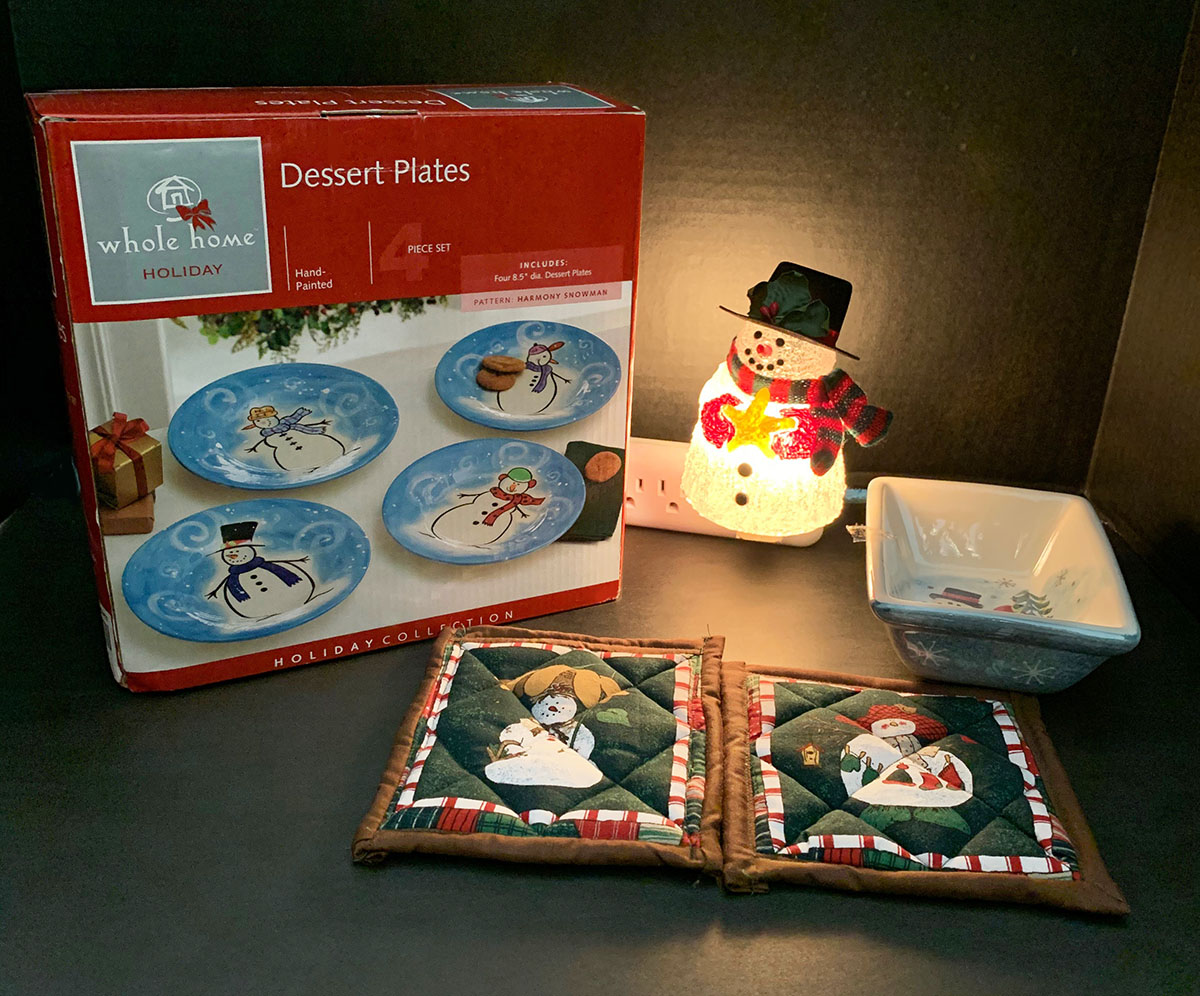 ---
4. Strawberry Nut Bread
4 4-inch by 6-inch loaves of yummy fresh-baked strawberry nut bread. Brings the fresh taste of spring right to your holiday table.
Donated by Margarine Beaman, Austin, TX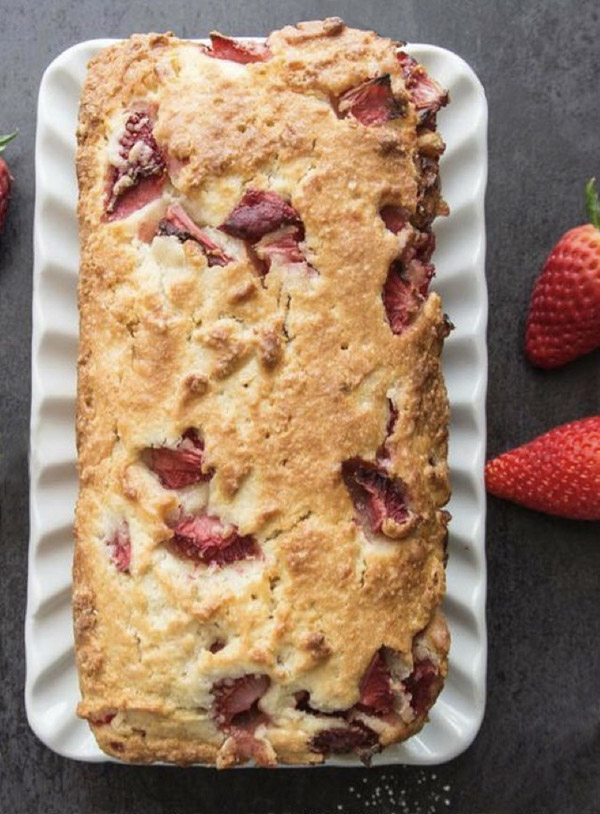 ---
5. iPhone 7 Charging Case
This quality Forever iPhone 7 battery case is MFI-certified.  It has a lithium polymer battery, and a 3100mAH capacity.  Slide your phone lightly into the power case and make sure it is well connected to the case's lightning connector.  Press the on/off switch to start or stop charging; the charging symbol will show on the phone screen.
Donated by Tom Tobin, ACB Development Consultant, Cleveland Heights, OH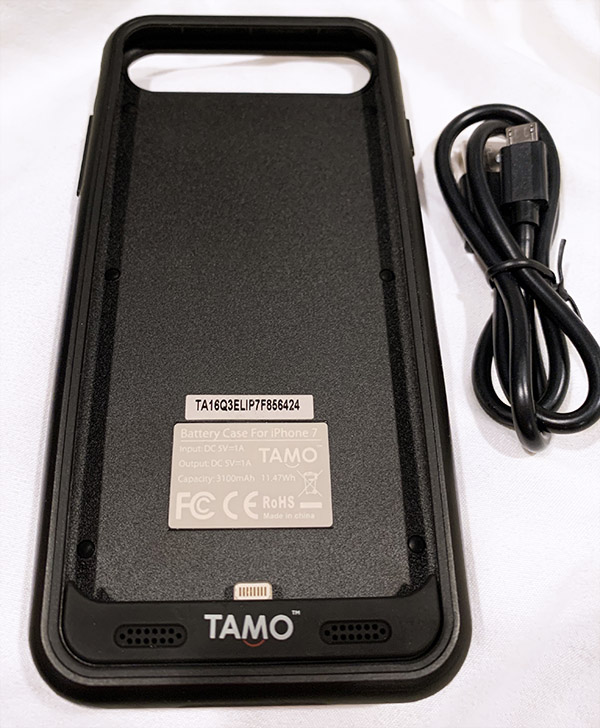 ---
6. Handcrafted Pink Plaid Purse
Keri Bishop has re-purposed a pair of Brown and pink plaid pants into a cute stylish purse.  The pants were cut into shorts and the bottom of the legs sewn together to make the purse.  The front and back pants pockets make outer pockets on the purse; the back pockets close with Velcro.  The adjustable strap is a brown fabric belt sewn onto the purse.  Pink button accents.  Brown fabric lining is the same color as belt.  About 15in by 12in.
Donated by Keri Bishop, Kirkland, WA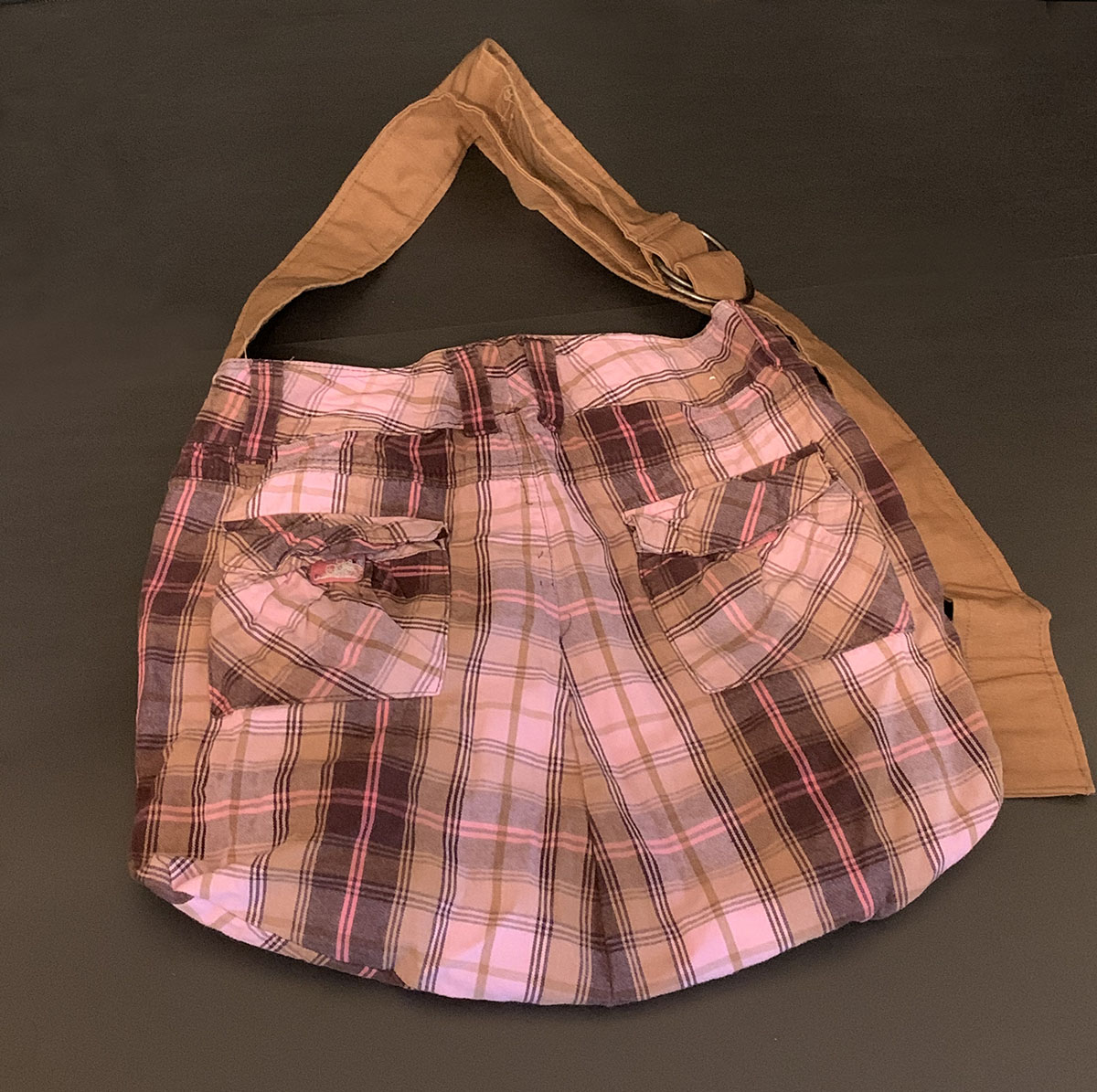 ---
7. Yamaha Recorders
Play beautiful melodies with these quality Yamaha 20 Series soprano recorders in the key of C. Constructed of durable and lightweight ABS resin.  3-piece construction makes these recorders easy to clean and dry; it allows the parts to be swiveled slightly to adjust the fingering to better fit the player's hands; and the intonation can be improved by altering the position of the foot joint.  Baroque fingering; double holes - low C and C sharp, and low D and D sharp.  Includes 1 each translucent blue, translucent pink, and translucent green recorder.  Mix and match the colors to make your own unique instrument.  Carrying bag included for each recorder.  Cleaning cloth and cleaning rod recommended (not included).
Donated by Buddy Gray Music Center, Tuscaloosa, AL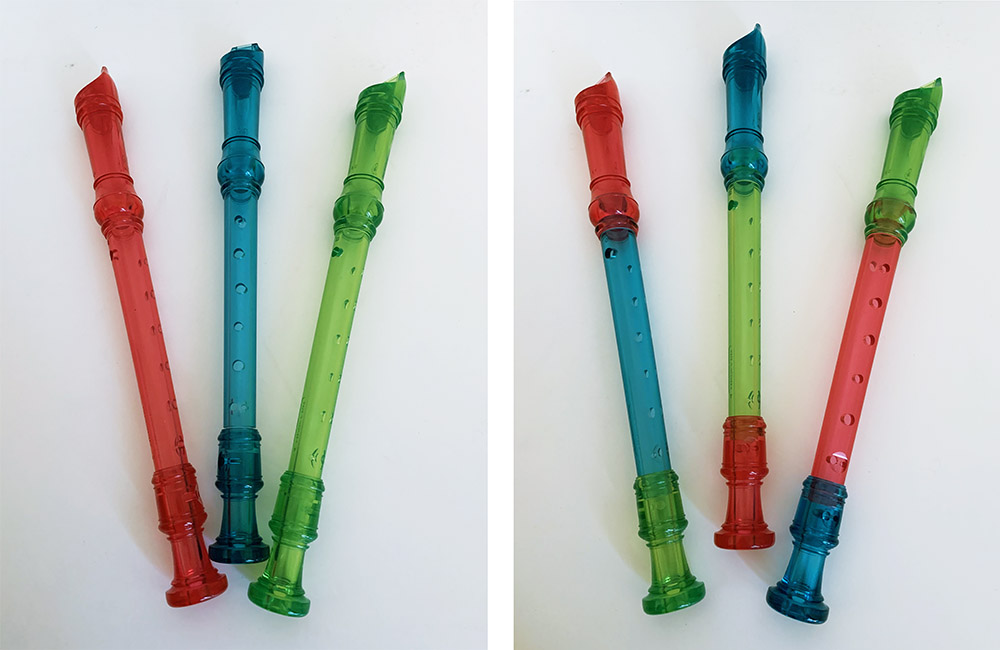 ---
8. Gingerbread Fudge
The holidays aren't complete without the spice of gingerbread and the candy goodness of fudge.  You get both in this big two-pound batch of gingerbread fudge, made by ACB member, Patty Slaby.
Donated by Patty Slaby, Arcadia, WI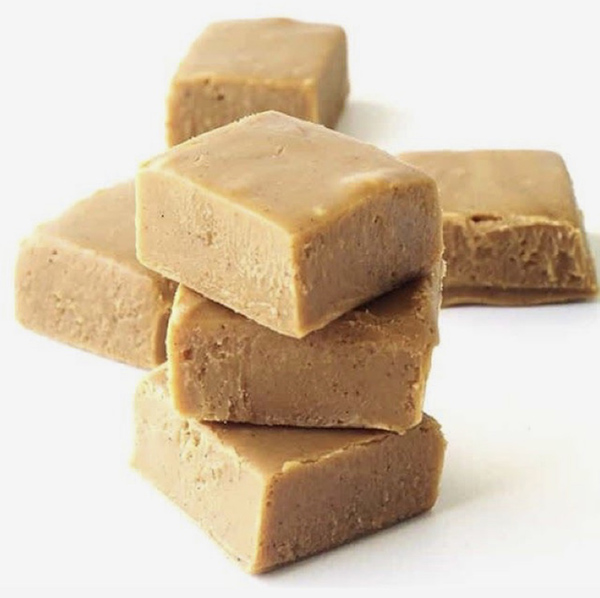 ---
9. The Magic of Pearls
This elegant double-strand necklace and matching earrings feature 7mm highly-polished white cultured freshwater pearls.  The double-strand necklace is 18 inches long and closes with a barrel clasp; sterling silver accents.  The earrings are single matching pearls.  Comes in a beautiful gift box, ready to present to a special someone.
Donated by the Kentucky Council of the Blind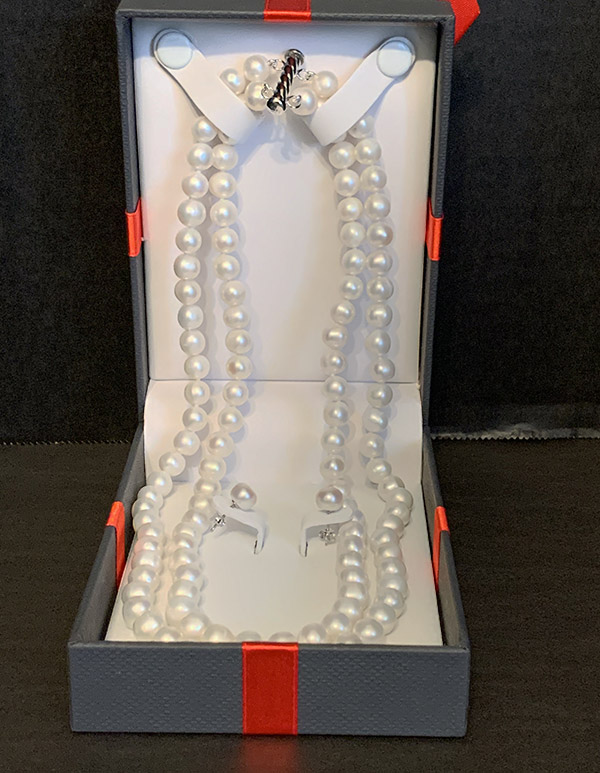 ---
10. 1984 Norman Rockwell Plate
"Santa in His Workshop" was painted by Norman Rockwell in 1922.  It appeared in the Clintonville Gazette on December 14, 1922. It was then lost for many years, but was re-discovered and issued as a limited-edition plate in 1984.  The "Santa in His Workshop" plate was 11th in an annual series of Christmas plates.  It is certified by the Norman Rockwell Society of America, and comes witha certificate of authenticity.
Donated by Keri Bishop, Kirkland, WA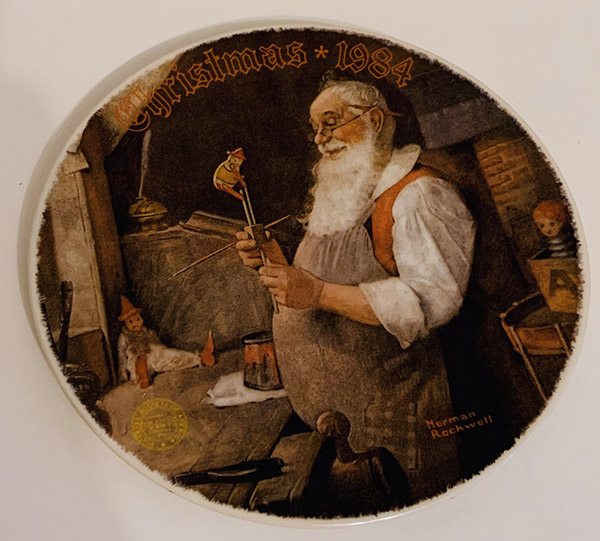 ---
11. Giant Target Shopping Spree
Shop, shop, and shop some more.  You can buy a lot of stuff with this $100 in Target gift card. 
Donated by Dan Spoone, ACB President, Orlando, FL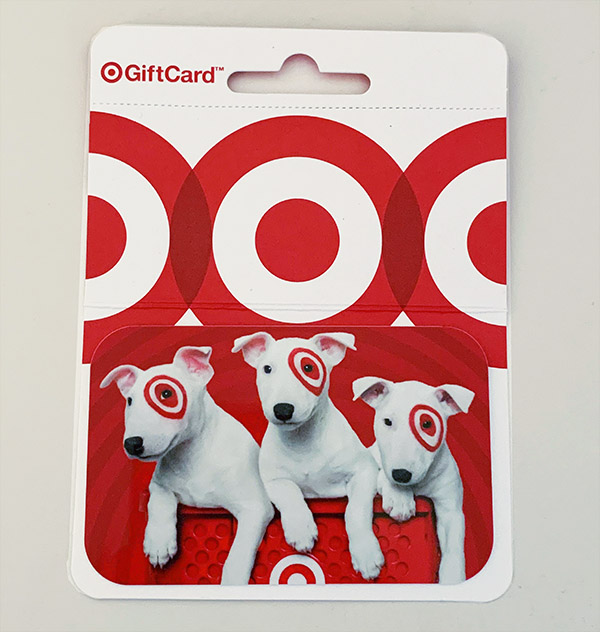 ---
12. Classic Almond Roca Buttercrunch Candy
Each piece of Classic Almond Roca Buttercrunch from Brown and Haley in Fife, WA, has a toffee center with almonds and is covered in a signature blend of cocoa beans and almond pieces.  The buttercrunch combines premium California almonds and pure vanilla with fresh local butter for an irresistible taste sensation of buttery goodness.  This large 42-oz. resealable canister contains about 98 pieces, each individually foil wrapped and sealed for freshness.
Donated by Deb Cook Lewis, Seattle, WA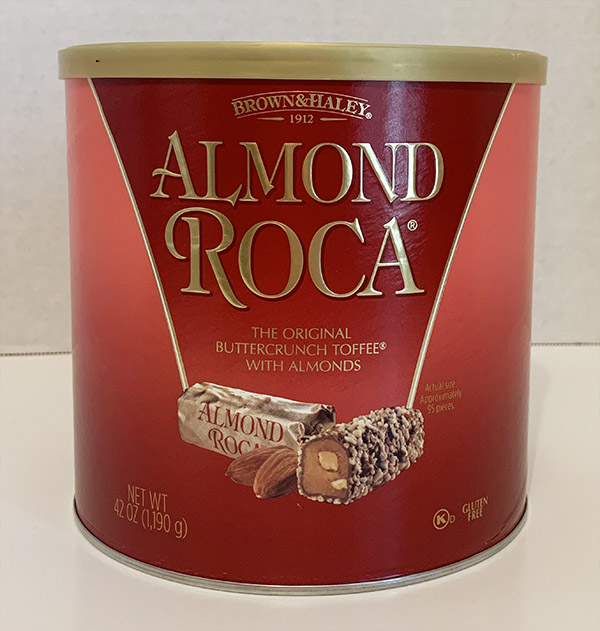 ---
13. AmazonBasics Microwave
This 700-watt, 0.7 cu. ft. smart microwave oven features Alexa technology.  Quick-cook voice presets and a simplified keypad let you just ask Alexa to start microwaving.  Compact size saves countertop space; perfect for apartments, dorm rooms, family rooms or anywhere with limited countertop space.  Features 10 power levels, a kitchen timer, a child lock, and a turntable.  External dimensions - 17.3 in. wide, 10.1 in. high, and 14.1 in. deep; turntable - 10 inches; maximum popcorn bag size - 3 oz.  Echo device (not included) is required to use the voice-control features and quick-cook voice presets.  
Donated by Blind Treasures, Orlando, FL; discover a unique shopping experience with their daily Treasure Scroll in your inbox; email info.blindtreasures@gmail.com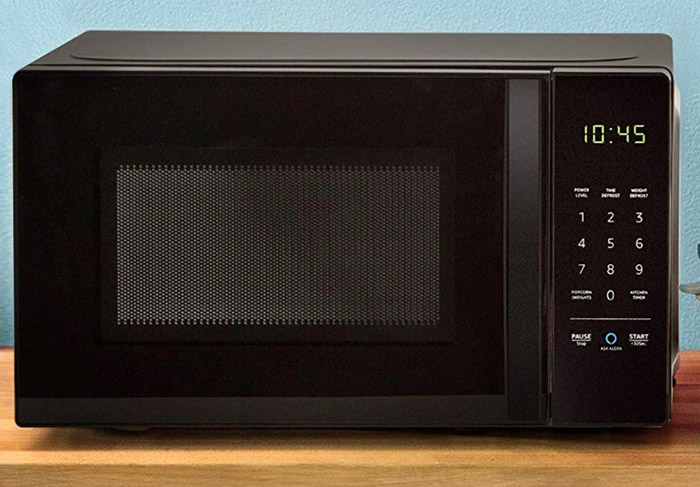 ---
14. Handcrafted Wooden Bowl
This open segmented woooden bowl is beyond stunning.  Made from 1344 tiny pieces of walnut, cherry and maple, each individually cut and glued together in such a way as to form a 9-petal floral design in the bottom of the bowl.  The bowl was then turned in the wood lathe and sanded to a satiny-smooth finish.  The open segments give the bowl a delicate appearance even though it is roughly 16 inches in diameter by about 4 inches deep.  A great bread or fruit bowl or a stand-alone conversation piece. Handcrafted by Alan Shrebtienko, a former high-school physics teacher and member of the Kentucky Council of the Blind.
Donated by Alan Shrebtienko and On a Whim Woodworks, Sellersburg, IN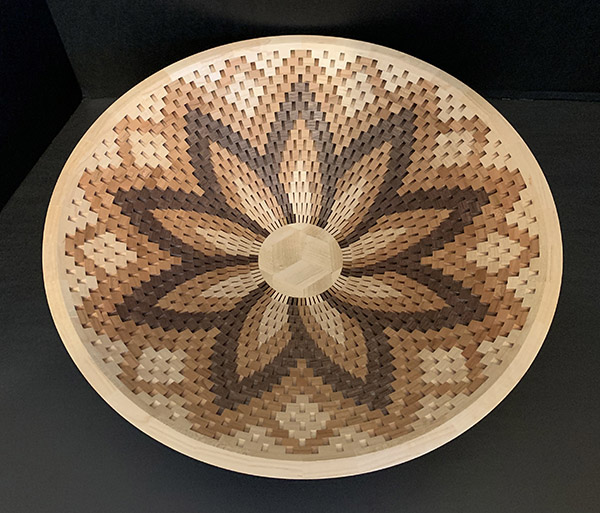 ---
15. Musical Carousel Snow Globe
This exquisite music box is pink and purple with gold trim.  The snow globe contains 3 carousel horses and little lights that change from pink to purple, green, yellow, light and dark blue as the music plays.  Sculpted flowers and sparkly "gems" adorn the canopy and base of the carousel.  Detailed sculpted horses and other characters surround the base.  Wind with the key and watch the horses in the globe revolve counterclockwise as the base turns clockwise.  Plays "Castle in the Sky."  7.09 in. wide, 9.84 in. tall.
Donated by American Council of Blind Lions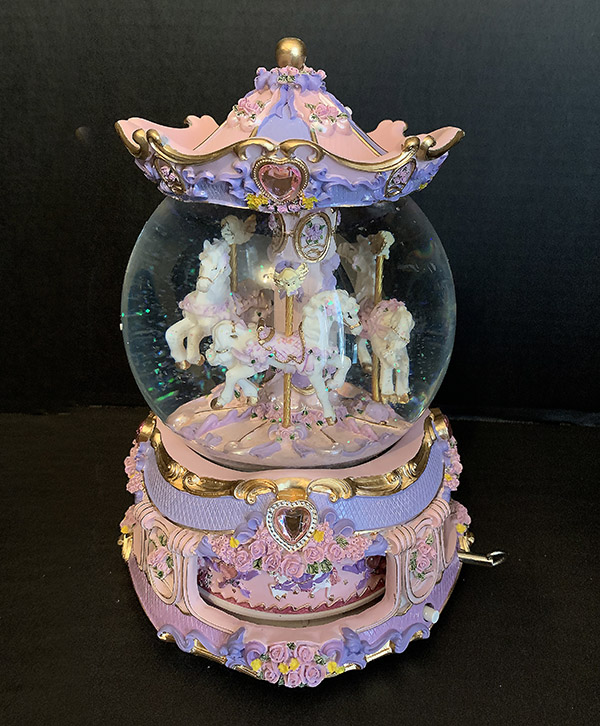 ---
16. A Taste of Hawaii
This auction item features some of the favorite foods found in the islands:
a 10-oz. bag of gold medium roast Lion coffee and a 10-oz. bag of rich and buttery macadamia light ground coffee;
an 8-oz. jar of Maui Guava Jam - perfect on breads;
a 6.8-oz. bottle of Maui Onion Mustard, perfect on any sandwich or rubbed on ham;
2.75-oz. package of pepper flavor Paniolo Beef Chips;
8 oz. Hawaiian Kine fine herbs sea salt infusion for seasoning meat;
12-oz. bottle of Hawaiian Bar-B-Que sauce - use for beef, pork, chicken or seafood, or for salad dressing, stir-fried vegetables, fried noodles or fried rice;
10 1/2-oz. assorted packages of dry roasted, honey roasted, Maui onion and garlic, and milk chocolate-covered macadamia nuts;
5-oz. package of macadamia popcorn crunch; and
15-oz. package of Hawaiian custard butter mochi mix.
This package also includes 3 intricate hand-crafted wooden Christmas ornaments by master wood crafter James Gonsalves. One is round with 4 ferns woven together in a circle; the second is round with 4 turtles holding turtle fins in love and friendship; and the third is a six-sided Hawaiian snowflake.
The final item is a beautiful recyclable bag with patterns reminiscent of the Hawaiian Islands.
Donated by the Hawaii Association of the Blind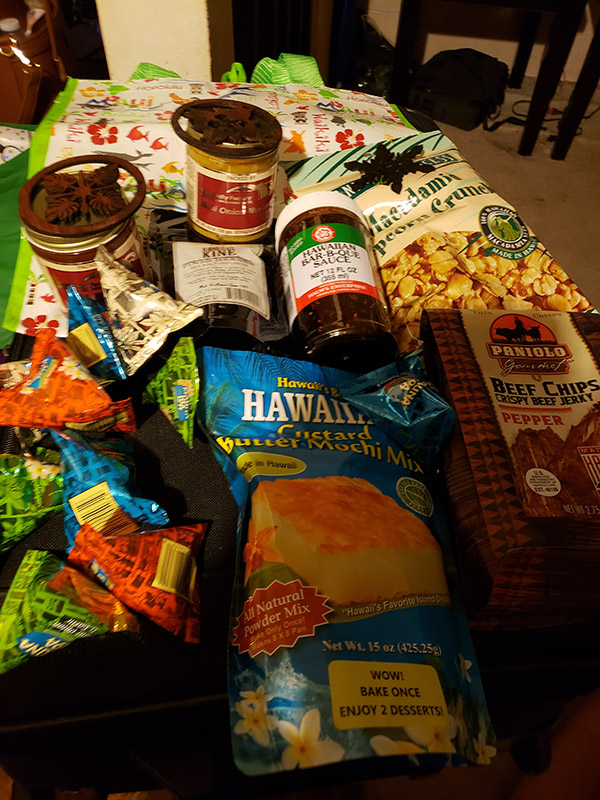 ---
17. Black Agate, Peridot, Rose Quartz and Shell Set
This lovely necklace is handcrafted of 1/2-in. by 3/4-in. rectangular black agate beads, 3/8-in. round rose quartz and green peridot beads, and small white cap-shaped shells beads.  Includes a 21-in. necklace, a 7.5-in. bracelet, and 2 pairs of earrings.  The pattern of the necklace and bracelet is black agate, shell, peridot, shell, black agate, shell, rose quartz, shell.  Earrings are on surgical steel wires; one pair contains peridot, black agate and shell, and the other has rose quartz, black agate and shell.
Donated by Keri Bishop, Kirkland, WA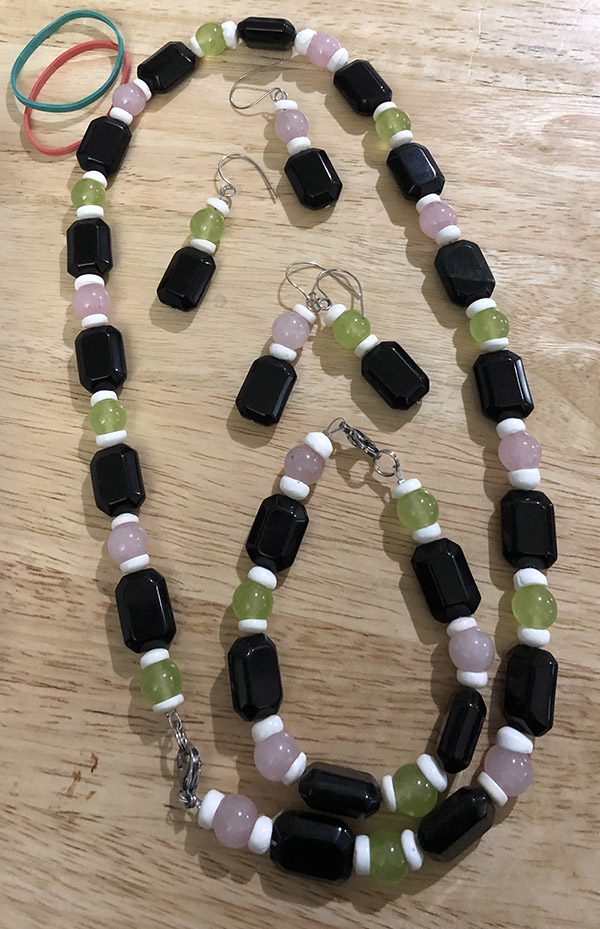 ---
18. MountainSmith K-9 Cube Bag
This hermitage red bag is roomy and durable and holds lots of dog gear and travel essentials.  Made of ripstop polyester with PEVA lining and PE foam.  There's an internal divider in the main compartment, a kibble travel bag, a drop-down food tray on the front panel with two collapsible food/water bowls, mesh exterior pockets, and adjustable webbing shoulder and hand straps.  Measures 15 by 15 by 7.5 inches.  This auction also includes a Throw Me a Bone squeaky lion toy, a 2-in-1 fun skin toy monkey, a 2-pack silicone bone-shaped ice cube and baking tray, AKC calming supplement dog treats, and Fruitables Greek strawberry yogurt dog treats.
Donated by Guide Dog Users Inc. (GDUI)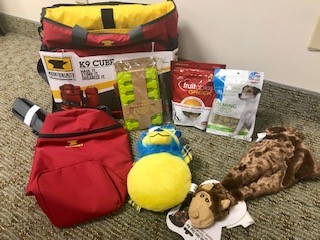 ---
19. Gibson Girl Mother of the Bride Doll
This Franklin Heirloom Doll from the Franklin Mint Company is authorized by Dana Gibson, great-granddaughter of Charles Dana Gibson, creator of the original Gibson girl.  This exquisite doll is beautifully sculpted in fine hand-painted porcelain and dressed in an authentic turn-of-the-century gown of luxurious russet chiffon and shimmering lace, adorned with satin ribbon roses. Down one flawlessly-handpainted porcelain cheek rolls a single crystalline tear of happiness.  In one elegantly-gloved porcelain hand she carries a delicate handkerchief, etched with beautiful lace.  Her spectacular hat is accented with handmade satin ribbon roses and matches her wedding ensemble.  Her flowing gown of russet chiffon and lace is trimmed with elegant golden braid.  Includes stand, original paperwork and box, and care instructions.  Approximately 20 inches tall.
Donated by Ed Coupe, Orlando, FL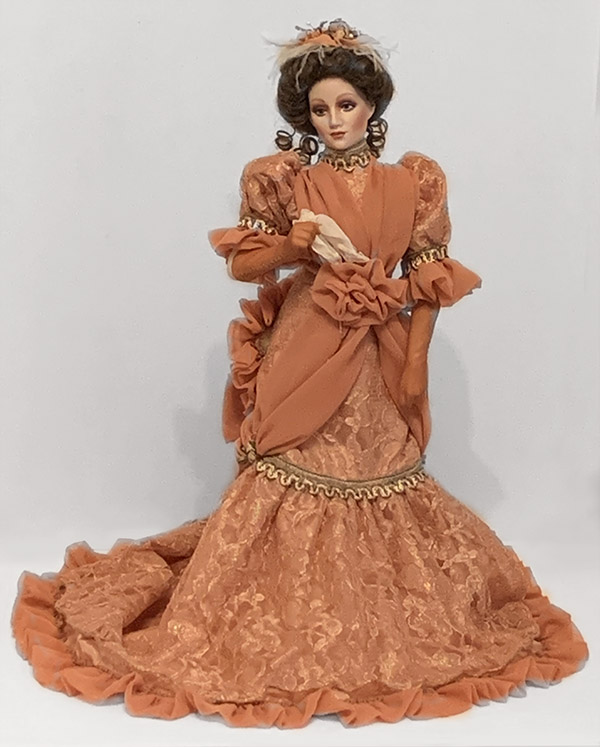 ---
20. Brian's Millionnaire Cookies
Three dozen amazingly-delicious bar cookies in a holiday tin.  A buttery-rich shortbread layer is covered with caramel and then topped with milk chocolate.  Plenty for a holiday party, gift-giving, or for yourself on a snowy evening.
Donated by Brian Charlson, Watertown, MA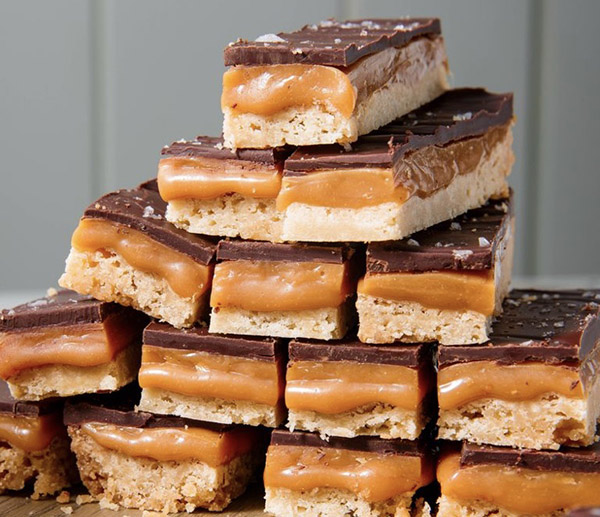 ---
21. Aira - Minutes plus Glasses
Aira values our partnership with ACB and our many Explorers who love ACB Radio. Here's your chance to bid on an Aira package that includes:
Bose Glasses: Aira has partnered with Bose and they are excited to share the superior sound quality of the Bose Glasses to enhance the audio experience when using Aira, or listening to music or ACB Radio; and
3 months of Aira's Intro Plan: If you are already an Explorer, 30 minutes per month of Aira will be added to your account.
If you are the winning bidder, Aira will contact you to order the correct size of Bose glasses. They will be sent to you along with your certificate for the Intro Plan.
Donated by Aira, www.aira.io

---
22. Margarine's Heirloom Quilt
Most years the ACB Radio Holiday Auction includes a unique quilt created by Margarine Beaman, and this year is no exception.  This quilt is red, black, gold and white, and features tiny horses, teddy bears and snowmen.  The back of the quilt is white with a strip of the front fabric.  Measuring 38 by 55 inches, this handmade heirloom is perfect for a baby's crib.
Donated by Margarine Beaman, Austin, TX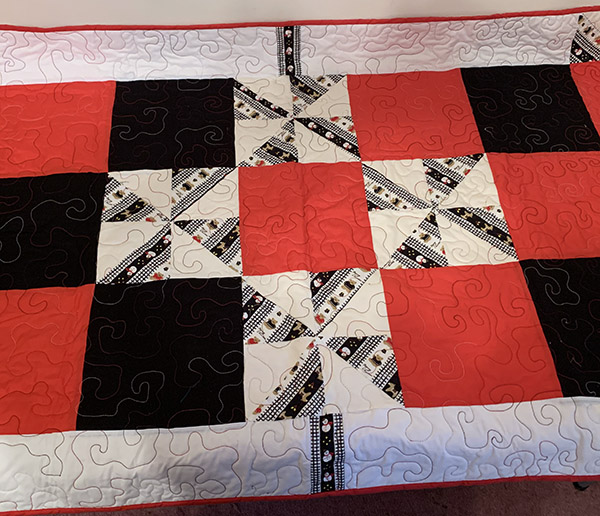 ---
23. Cuisine Limousine
Skip the cooking during the holidays. Go out to eat 4 different times, or pick up four gifts for friends on your list.  Includes a $15 Starbuck's gift card, a $15 Subway card, a $25 Applebee's card, and a $25 Olive Garden card.
Donated by Donna Brown, Member, ACB Board of Directors, Romney, WV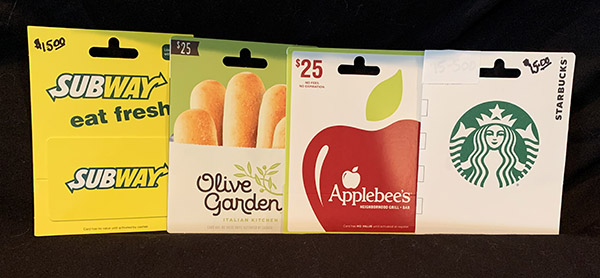 ---
24. Maker's Mark Gourmet Bourbon Balls
An elegant gift for family, friends and business associates. Fine, handcrafted chocolates made from an old family recipe; laced with a generous touch of Maker's Mark Bourbon.  One pound gift box contains 32 delicious pieces.
Donated by Greater Louisville Council of the Blind, Louisville, KY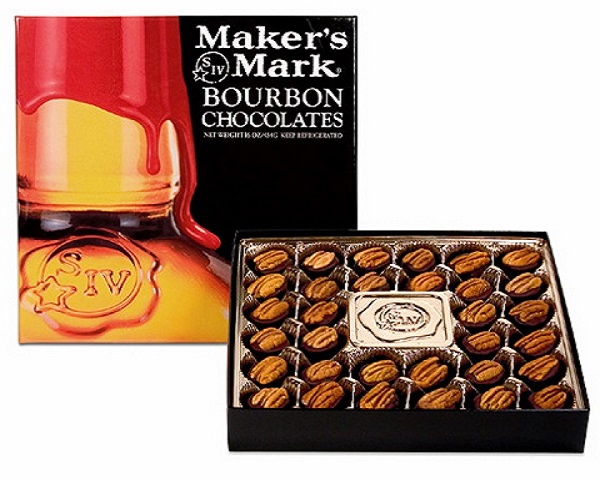 ---
25. Butterfly Porcelain Music Box
Delight in the shimmering pastel colors of this 22K gold accented Precious Jewel To Treasure Forever Music Box, a fine porcelain box from The Bradford Exchange.  Exquisitely handcrafted of triple-fired Heirloom Porcelain® and lavished with rich 22K-gold accents; features 60 hand-set simulated jewels and bas-relief raised swirls.  Elegant curves coupled with decorative embellishments make this music box an extraordinary addition to your collection.  Expertly sculpted and hand-finished with remarkable detail showcasing pearlized iridescent hues of purple and blue with bas-relief swirls.  Features a specially designed hinge at the center which allows the butterfly wings to lift up, 'fluttering' open to reveal a storage space lined in soft purple velvet.  Plays 'Wind Beneath My Wings."  Edition limited to 95 firing days.  Hand-numbered; has a matching Certificate of Authenticity.  4-1/2" wide.
Donated by the American Council of Blind Lions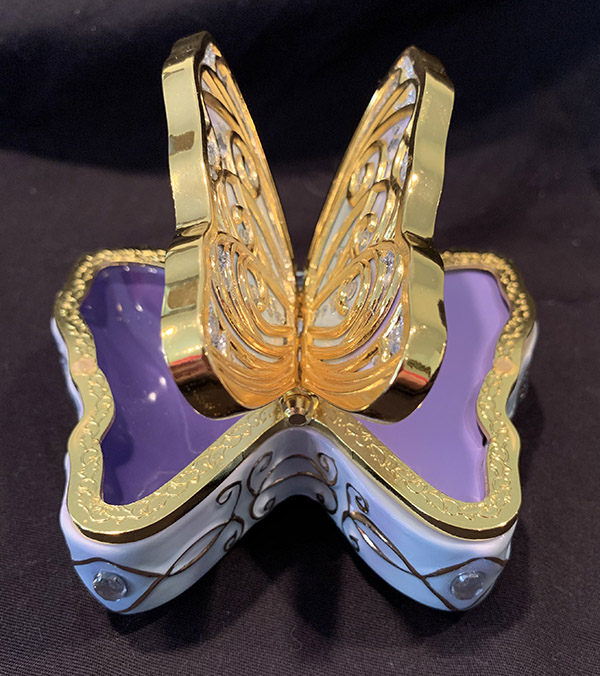 ---
26. Crystal Rose Salt-and-pepper Shakers
Add elegance to your table with these beautiful Marquis by Waterford lead crystal salt-and-pepper shakers.  Each shaker has the look of a rose in full bloom.  2.5 by 2.25 by 2 in.  Weight: 0.64 oz. each.
Donated by Connie Jacomini, Gilbert, AZ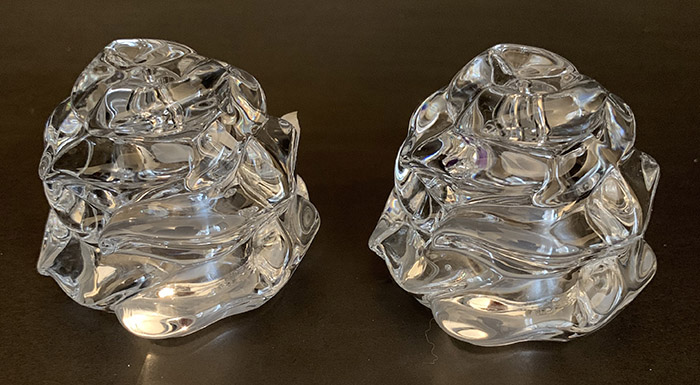 ---
27. Blue Sapphire Flower Pendant
This lab-created blue sapphire sterling silver pendant is perfect for any occasion.  The textured flower features an oval-cut stone that is 3 mm wide and 5 mm long.  The pendant measures 16.2 mm long by 14.2 mm wide, and hangs from an 18-inch sterling silver box chain that fastens with a spring-ring clasp.
Donated by Kentucky Council of the Blind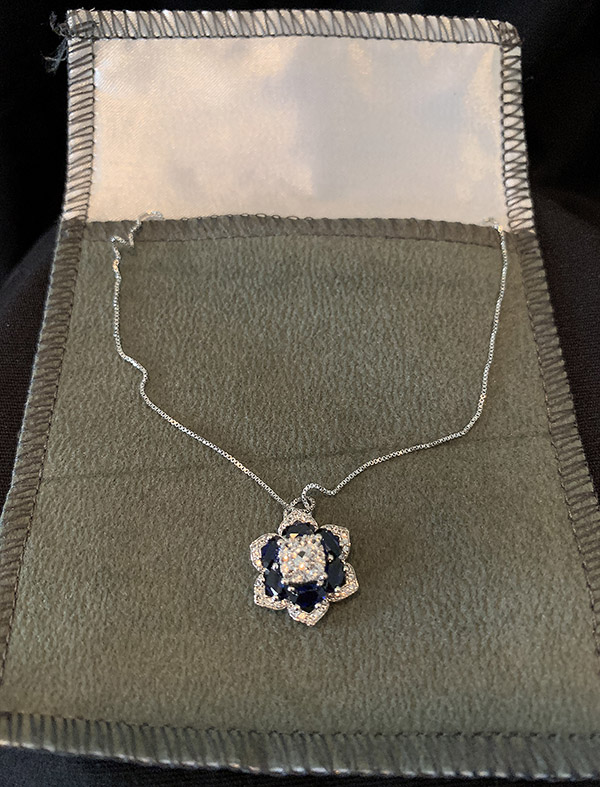 ---
28. Taste of Wisconsin Gift Box
There's no cheese like Wisconsin cheese! This amazing gift box includes the best of the best. Enjoy one pound pieces of Brick, Cheddar, Pepper Jack, and Swiss cheese. Plenty for holiday trays, snacking while watching football, and including in your favorite tasty recipes. This package will be directly shipped to the winning bidder from the Maple Leaf Cheese Store in Juda, Wisconsin.                                                                                               
Donated by Michael Hartwig, Wausau, WI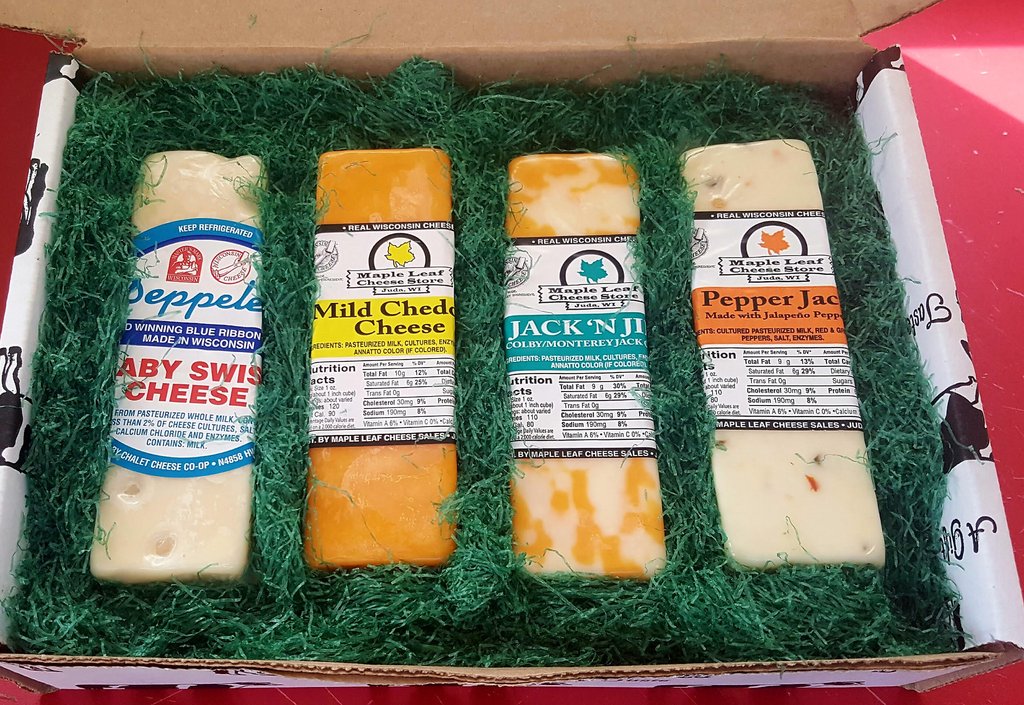 ---
29. Instant Pot
The 6-quart Smart WiFi Instant Pot is the Programmable Multicooker that you can control from your mobile devices: cook, schedule, adjust and monitor the progress of your meals on the go.  It's a Pressure Cooker, Slow Cooker, Rice and Porridge Cooker, Yogurt Maker, Cake Maker, Steamer, and Warmer. The Instant Pot APP gives you access to hundreds of pre-programmed recipes from slow-cooked meats, stews, and chili, to yogurt, grains, and cake. No stirring or watching over the dish as it cooks. Simply monitor the progress of your meal from your mobile devices, and get notifications along the way.  For Android 5.0 or later and iOS 9.0 or later; requires 2.4GHz frequency band to operate with App.
Donated by InstantBrands.com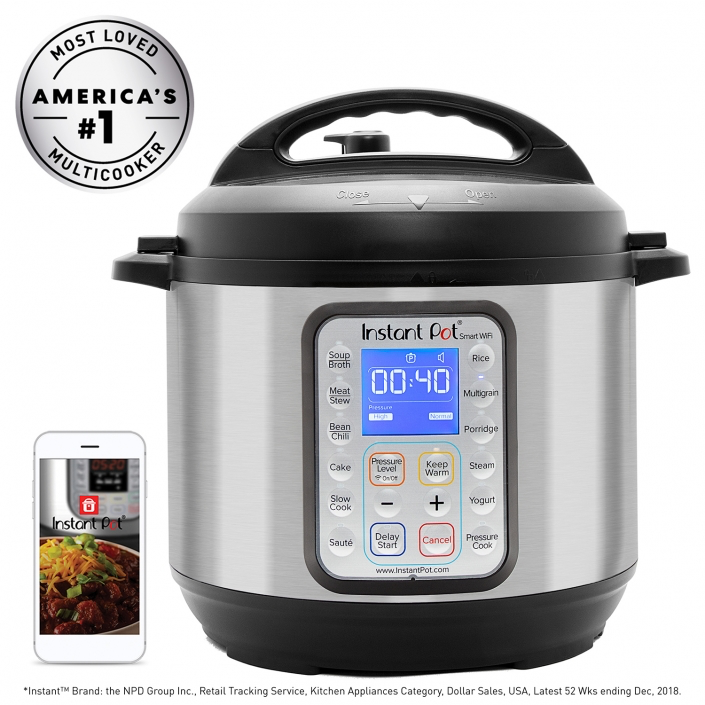 ---
30. Genuine Leather Backpack
This high-quality sturdy backpack is a big 18 by 12 by 6 in., and it has padded shoulder straps for easy carrying.  Zip it open at the top to find two large main compartments - one for your 17-in. laptop or other large device and the other for books, tablet, and much more.  Unzip the 3 sides of the 12 by 8.5-in. pocket on the front of the backpack to reveal a mini office containing 3 credit card slots that can hold several cards each, 3 pen slots good for 20/20 pens, and a cell phone/checkbook/index card slot.  Unzip another pocket in front of the mini office to find a smaller 12 by 6-in. compartment.  There's an 8 by 6-in. pocket on each side of the backpack.
Donated by Connie Jacomini, Gilbert, AZ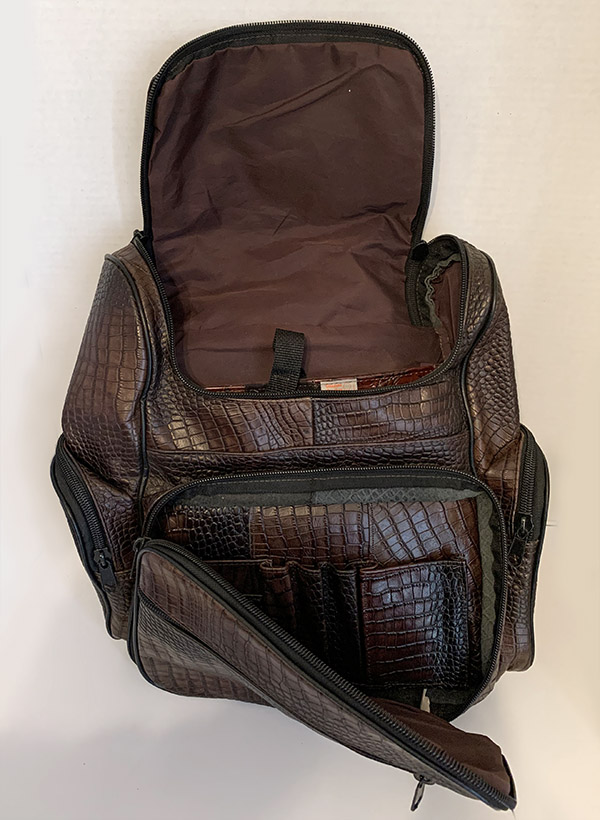 ---
31. Sangean PG-D17 Radio
Digitally tuning portable radio designed with the blind and visually impaired in mind.  Voice prompts; 5 AM and 5 FM pre-sets.  High contrast yellow controls; easy to read LCD display with backlight.  Pre-set keys have raised symbols to help with identification.  Excellent reception and stereo audio performance.  Auto scans stations.  Alarm timer by buzzer or radio.  2.5-in. full-range speaker gives exceptional sound performance.  Large volume and tuner control knobs.  Adapter included.
Donated by Kim Charlson, ACB Immediate Past President, Watertown, MA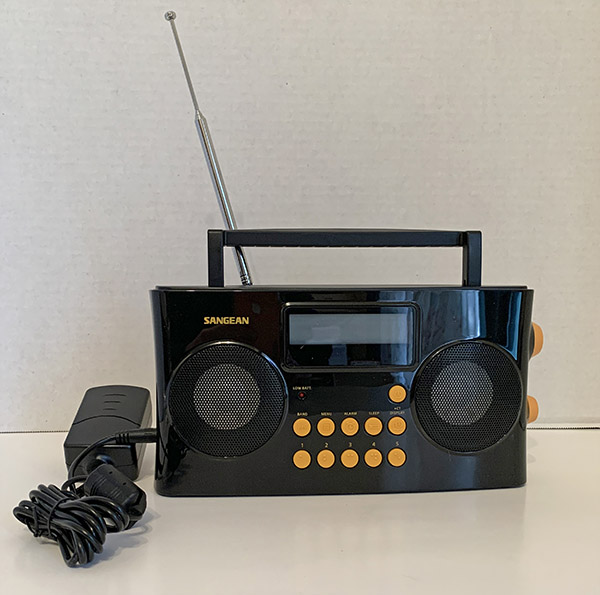 ---
32. Amish Whoopie Pies
Go ahead! Take a bite! They're so good - they'll make you shout "whoopie!"  These rich individual cakes with light cream filling are homemade by the Bird-in-Hand Bake Shop on Gibbons Road in Lancaster County, Pennsylvania.  Simply habit-forming. One 3-inch Whoopie is perfect with a hot cup of coffee on a cold winter day.  You get one dozen of these sinfully good desserts. Choose from chocolate, pumpkin, oatmeal, or chocolate peanut butter, or select a variety pack containing 3 of each flavor.
Donated by David and Shauna Franklin, Beavercreek, OH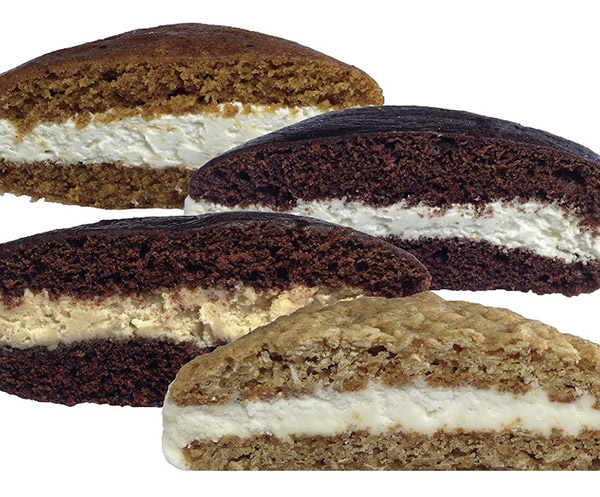 ---
33. Giant Target Shopping Spree
Shop, shop, and shop some more.  You can buy a lot of stuff with this $100 in Target gift card. 
Donated by ACB President Dan Spoone, Orlando, FL and ACB Board Member Dan Dillon, Hermitage, TN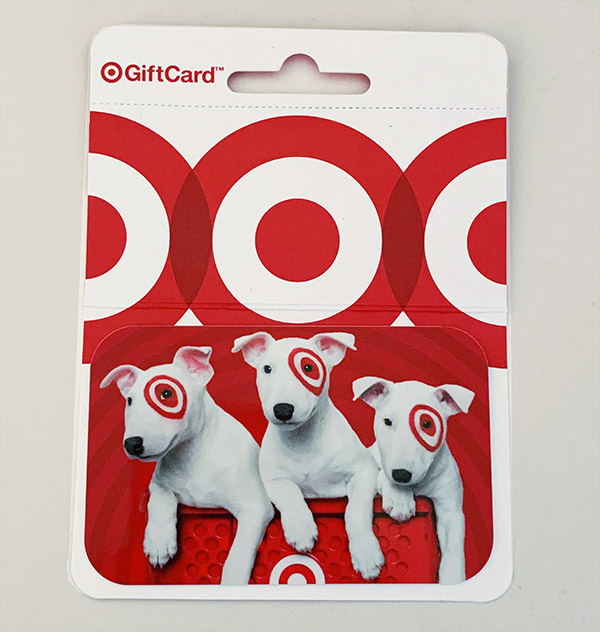 ---
34. State Quarters Collection
Between 1999 and 2009, the United States issued a series of special quarters, one for each state, the District of Columbia, and each of the US Territories.  Each state selected a unique design to appear on its quarter.  These quarters were issued by both the Philadelphia Mint and the Denver Mint.  This auction item is a collectible album filled with a complete set of circulated state series quarters, including the District of Columbia and US territories, from both mints; 112 quarters in all.  Open the album to find a picture of the United States Capitol on the right and, on the left, pictures of the Washington monument and Lincoln Memorial with surrounding buildings lit up at dusk.  Open again and on the left is information about each state, including the date each joined the Union, its capital, square miles and population.  The top half of the page on the right is a map showing each state labelled with its name and date it joined the union, and colors indicating the year its quarter was issued.  The bottom half of the page with the map shows states grouped by the year their quarters were introduced, with a watermark behind each group.  Open the right side of the album one more time to find a list of US presidents from George Washington to George W. Bush.
Donated by Adam Ruschival, Louisville, KY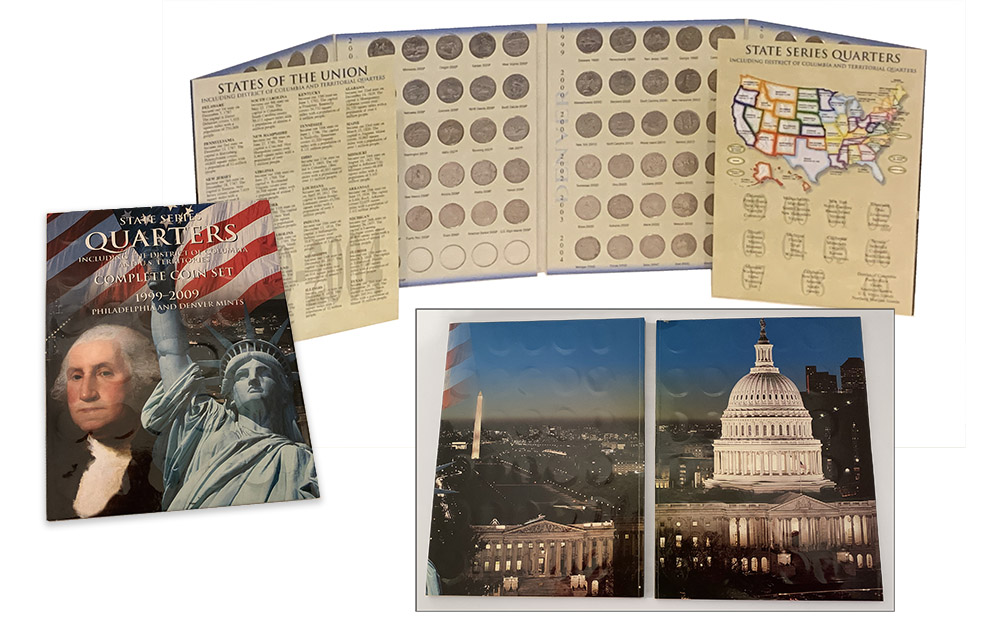 ---
35. Hematite and Amethyst Jewelry Set
This necklace, bracelet and earring set is handcrafted by Keri Bishop and is made from metallic gray hematite chips (which pick up colors from the surrounding light), white puka shell beads, and large purple amethyst chips.  The pattern of the necklace is gray hematite chip, white puka shell bead, amethyst chip, puka shell, and another hematite chip.  The necklace measures about 22 inches, and the matching bracelet measures 7.5 inches. The dangling earrings are surgical steel hooks with a pattern of puka shell, hematite, puka shell, amethyst, puka shell.
Donated by Keri Bishop, Kirkland, WA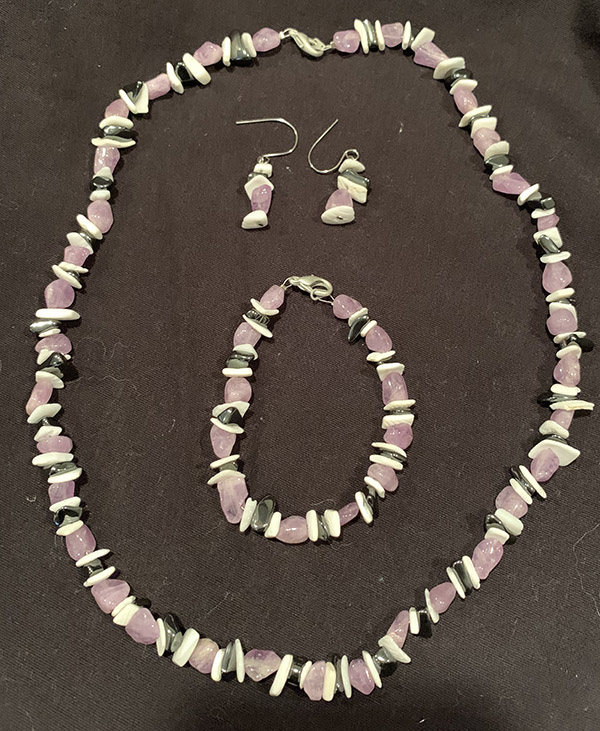 ---
36. Chocolatey Treasures Popcorn
A chocolate lover's dream.  A great treat for any occasion.  Includes chocolate caramel corn, chocolatey pretzels, white frosted pretzels, white frosted caramel corn, and delicious morsels of chocolatey covered peanut brittle bites.  74 oz. (3.4 gallons) of goodness in a holiday tin decorated with a wintry scene.
Donated by ACB Families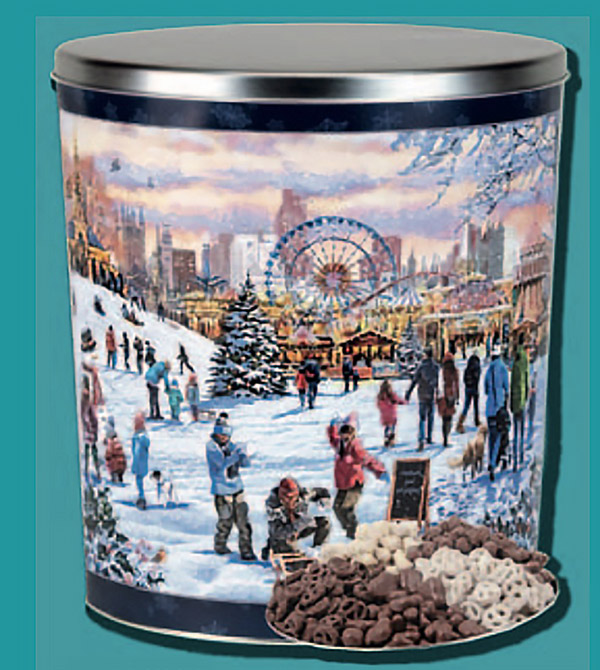 ---
37. Echo Studio
The new Echo Studio creates an immersive, 3-dimensional soundscape, wrapping you in studio-quality audio from every direction. Just ask Alexa to play a song, artist, or genre and hear new details revealed in your favorite music. Echo Studio's five strategically positioned speakers generate room-filling sound, sending different parts of the song to your ears from different directions. Whatever the source, Echo Studio makes your music sound incredible. Dolby Atmos technology enables a multidimensional audio experience, adding space, clarity, and depth. Echo Studio also plays new music formats that have been mastered in 3D. Echo Studio automatically analyzes the acoustics of your room, fine-tuning playback for optimal sound, no matter where it's placed. Streams through Amazon Music, Apple Music, Spotify, Pandora, Tidal, and more. With a subscription to the all-new       Amazon Music HD, you'll have unlimited access to 50 million songs in high definition - double the bitrate of standard streaming services.
Donated by Blind Information Technology Specialists (BITS)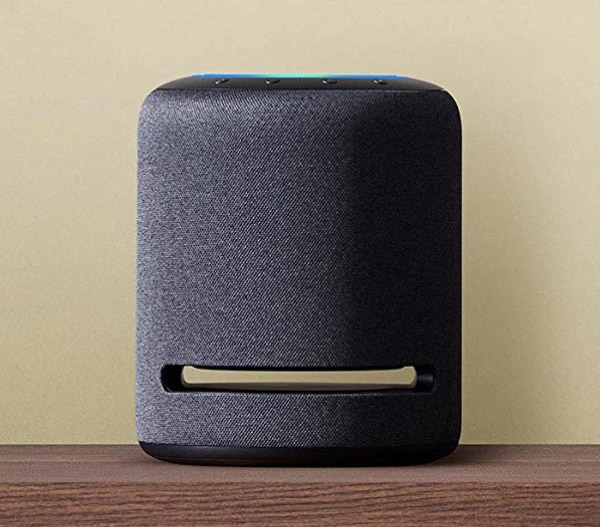 ---
38. Mele Kalikimaka from Hawaii
This item is filled with Hawaiian ornaments, plus cookies, coffee, and accessories that will bring the Islands to your kitchen. It contains:
7 oz. vanilla macadamia and 7 oz. upcountry morning blend all-purpose grind coffee;
4 oz. butter guava macadamia nut petite Hawaiian home-style cookies, bite-sized and baked with real butter, from the family-owned Kauai Kookie Company;
12 individually-wrapped Hawaiian shortbread chocolate brownies, made in Hawaii with real butter, from the Diamond Bakery, founded in 1921 and named for the Diamondhead volcano;
3 sets of very delicate Hawaiian ornaments, each with 3 wreaths; all are unique, with different centers and different leaves forming the wreaths.  Centers include a plumeria, bird of paradise flower, hibiscus, hula girl, Santa, aloha sign etc.;
An ornament with Santa standing in front of a surfboard with a sign saying "got surf";
Cute salt-and-pepper shakers with a Hawaiian girl and boy kissing and holding a surfboard above their heads; says "Aloha Hawaii";
A dish drying mat, 2 sets of 2 dish towels each, and a set of 2 dishcloths in coral and seashell patterns.
Donated by Anthony Akamine and Terri-Lynne Higashi, Honolulu, HI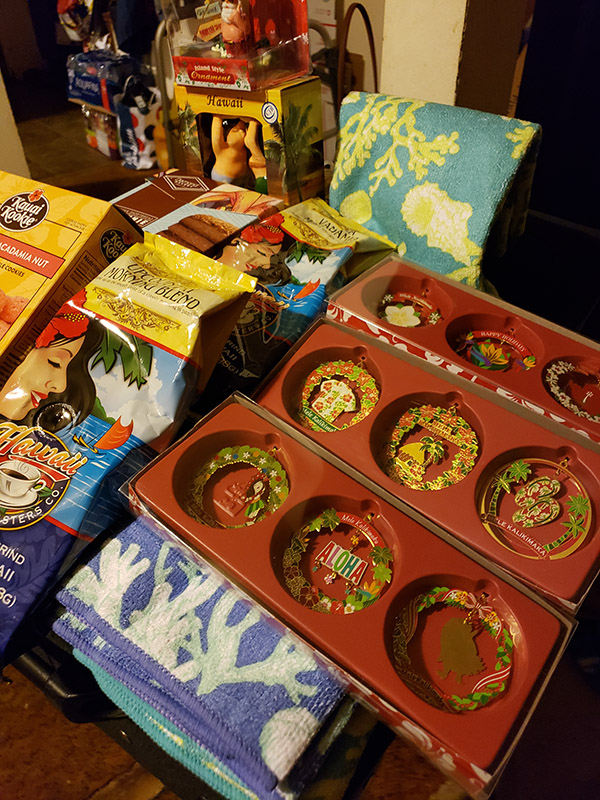 ---
39. OTR - The Ultimate Collection
Approximately 100,000 shows on one external hard drive! Shows are arranged into categories, including adventure, children and juvenile, Christmas, comedy, crime and detective and police, drama, historical broadcasts and shows, music and variety shows, quiz shows, sci-Fi, soaps, sports, and westerns. There are Australian, British, Canadian and South African shows. From your favorite comedy shows like Jack Benny or Fibber McGee and Molly, to great historical events such as World War II and space flight that shaped our world, to great moments in sports, to thrilling mysteries and suspense, this amazing collection will give you a lifetime of entertainment.
Donated by Bill Sparks, Indianapolis, IN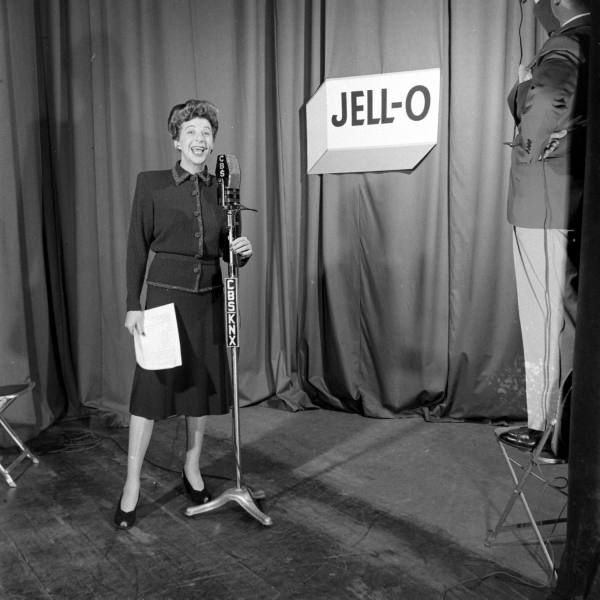 ---
40. Debbie's Brownies
There's nothing better than a home-baked brownie to make your holidays just right.  And everyone can enjoy these wonderful brownies because they are gluten-free.  Winner can select a batch of chocolatey goodness with or without nuts.
Donated by Debbie Hazelton, Dothan, AL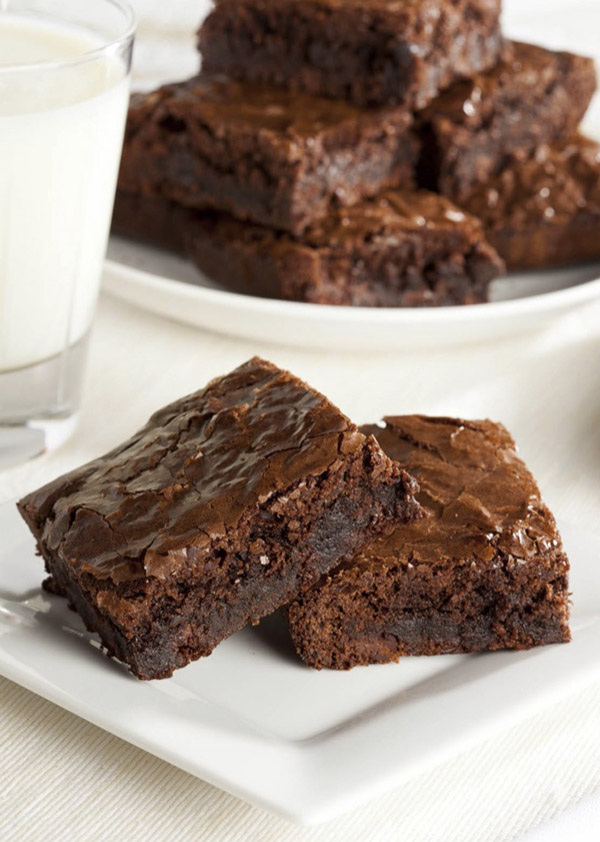 ---
41. Wireless Bluetooth Speakers
Enjoy your favorite music anywhere with these compact, rechargeable aluminum Bluetooth 4.2 speakers from iJoy!  Rechargeable dock; 3-watt output; 3 to 4 hours playtime; 3.7 V/400 mAh battery.  Measures about 2 by 1.3 inches and weighs 2.5 oz.  Includes 2 speakers, charging pad, charging cable and straps.  Comes with a 1-year warranty through the manufacturer.
Donated by Connie Jacomini, Gilbert, AZ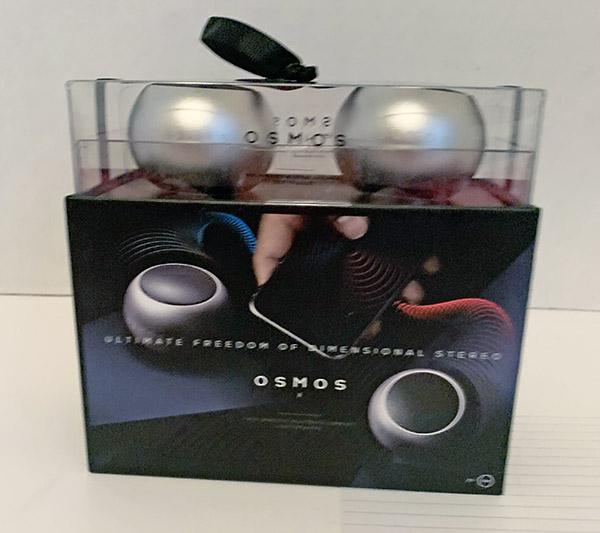 ---
42. Amethyst and Sterling Silver Bracelet
A ring of warmth, fire and beauty encircles your wrist with this genuine amethyst and diamond-accent tennis bracelet.  Sterling silver links, 6- by 4-mm oval purple amethysts, and delicate diamond accents combine for a stunning look.  Bracelet measures 7.25 inches and fastens with a lobster claw clasp.
Donated by the Kentucky Council of the Blind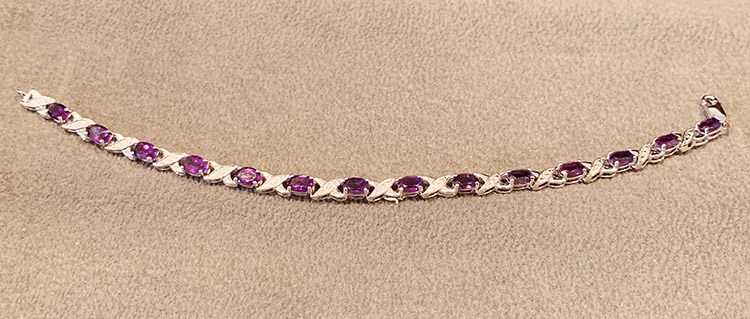 ---
43. Omaha Steaks Gift Card
Omaha Steaks was founded in 1917 by a father and son who left Riga, Latvia to escape religious persecution.  Today, you can use this $100 gift card to choose steaks, BBQ, seafood, starters and sides, desserts, wine and more.
Donated by the Florida Council of the Blind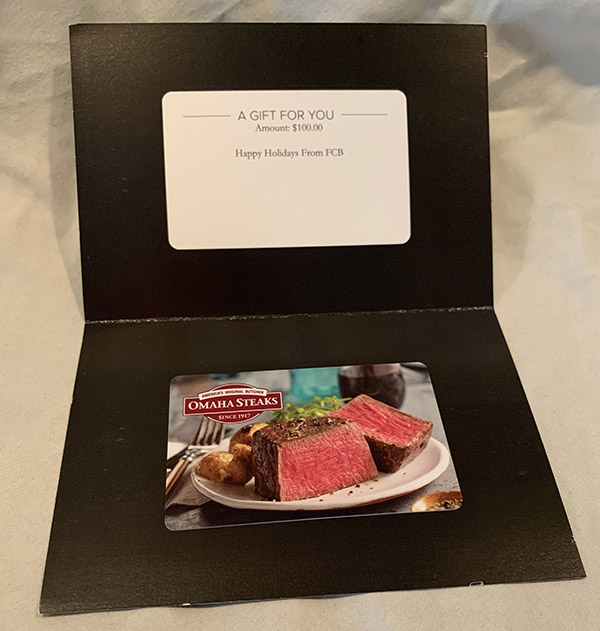 ---
44. Bissinger Chocolates
King Louis XIV granted the Bissinger family the title of "Confiseur Imperial" in 17th-century France, and they have been crafting high quality confections all-natural ingredients ever since.  This big 2-pound box of Bissinger chocolates contains 66 pieces of milk and dark chocolate goodness.  You'll enjoy cherry cordials; chocolate, vanilla and raspberry caramels; and Black Forest, maple pecan, orange, and raspberry creams.  There are solid chocolate leaves, truffles, almond cups and much much more.
Donated by the Missouri Council of the Blind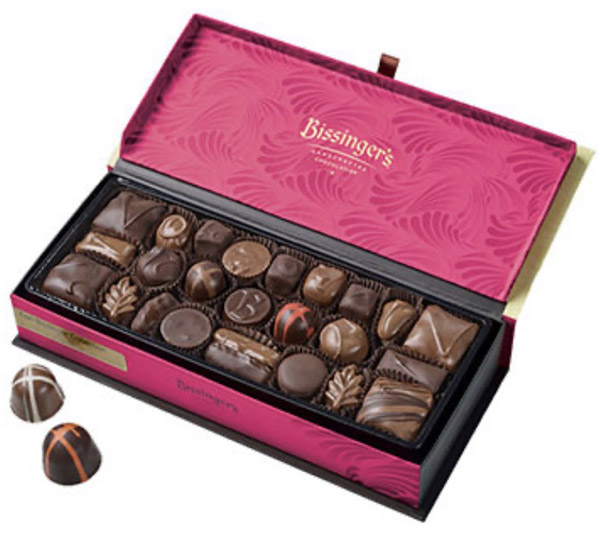 ---
45. Amazon Fire HD 8 Tablet with Alexa
This red Amazon Fire Tablet has an 8-inch HD display and 16GB internal storage.  Enjoy millions of movies, TV shows, music, books, apps and games.  Stream your favorite entertainment or enjoy off-line with up to 400GB of expandable storage via the micro SD slot.  Use your voice to ask Alexa to provide information.  Make hands-free voice or video calls with friends and family who have an echo device or alexa app.  Vibrant HD display; quad-core dual-band wi-fi; front and rear cameras; dolby; stereo speakers.
Donated by the Library Users of America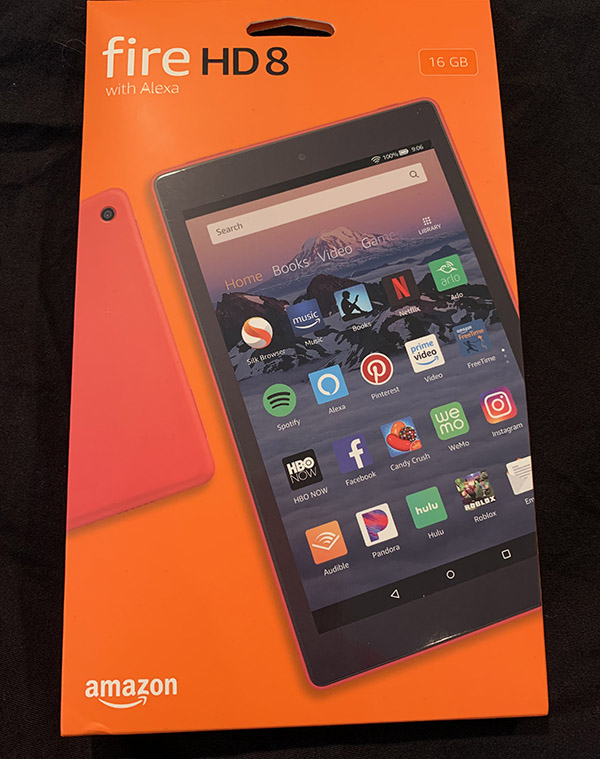 ---
46. Winds of Change Convention Package
Schaumburg, Illinois - where the action is for the 59th annual conference and convention of the American Council of the Blind.  This great package includes three nights during convention week at the Renaissance Schaumburg Hotel and Convention Center, home of ACB from July 3 through July 10 in 2020.  An incredible start to an incredible week with ACB!
Donated by Board members of the Illinois Council of the Blind, the ACB of Minnesota, and Janet Dickelman, ACB Convention Co-ordinator, St. Paul, MN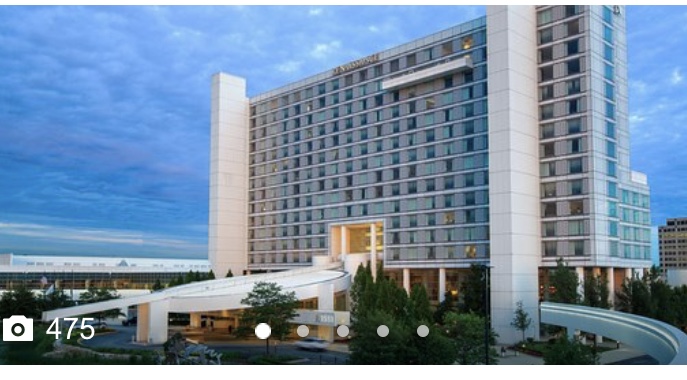 ---
47. Amazon Fire TV Stick 4K
Enjoy tens of thousands of channels, apps, and Alexa skills; watch your favorites on Netflix, Hulu, HBO, showTime, Prime Video, and NBC.  Access live news and sports and millions of websites.  Includes Alexa voice remote (second generation), alexa 4k ultra hd, high dynamic range, dolby vision, and a powerful quad-core processor.  Comes with 2 AAA batteries, power adapter, USB cable, and HDMI extender cable.  You will need high-speed Internet with wi-fi, an HDTV or 4k HDTV with HDMI input.
Donated by David Trott, ACB Treasurer, Talladega, AL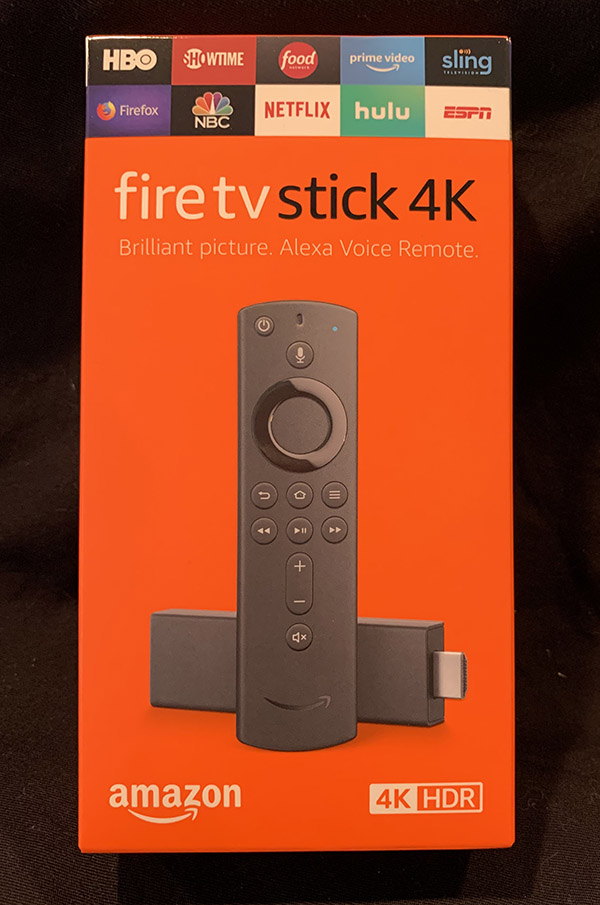 ---
48. Kentucky Derby Pie
Kentucky tradition made from a secret family recipe, Derby Pie combines rich semi-sweet chocolate with English walnuts for a truly decadent experience. Delicious when eaten at room temperature; incredibly heavenly when eaten all warm and gooey and topped with either whipped cream or ice cream. This 9-inch pie will be baked fresh and shipped directly to the buyer from A Taste of Kentucky. Stays fresh for about 14 days. Ready to warm and serve, or freeze for later use. Serves 8 to 10.
Donated by the Greater Louisville Council of the Blind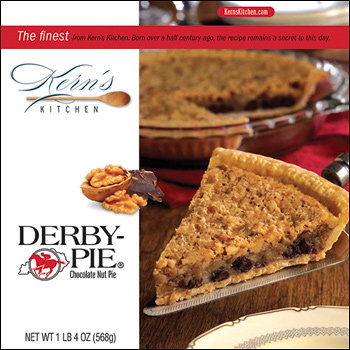 ---
49. Insect Shield Crate Mat
Your dog will rest in comfort with this polyester-filled Insect Shield crate mat. The invisible odorless Insect Shield technology repels a wide variety of insects and lasts through 70 washings. The durable ripstop fabric shell with hanging loop zips off for washing.  Mat measures 18 by 28 inches.
Donated by Guide Dog Users Inc. (GDUI)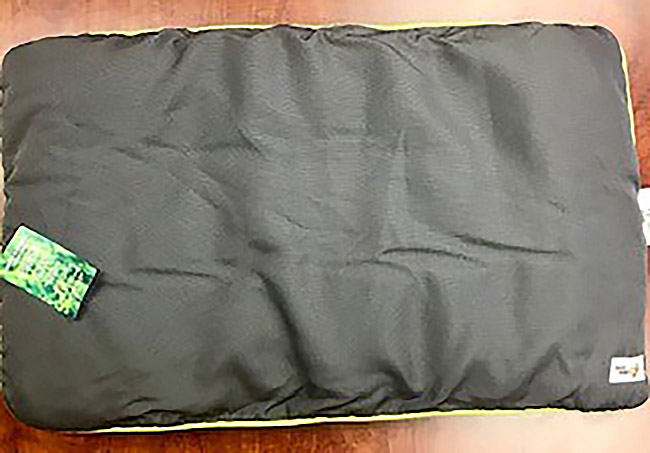 ---
50. Waterford Crystal Coasters and Ice Bucket
This set of 6 lead crystal coasters keeps surfaces blemish-free. Featuring a beautiful star pattern, this set is from the Marquis by Waterford collection and includes a holder to keep coasters in one plce when not in use.  Coasters measure 3.75 inches in diameter.  This auction item also includes a Lovitt crystal ice bucket from the Marquis by Waterford collection that is both useful and elegant.  Its diamond pattern makes it the perfect addition to any bar.
Donated by Connie Jacomini, Gilbert, AZ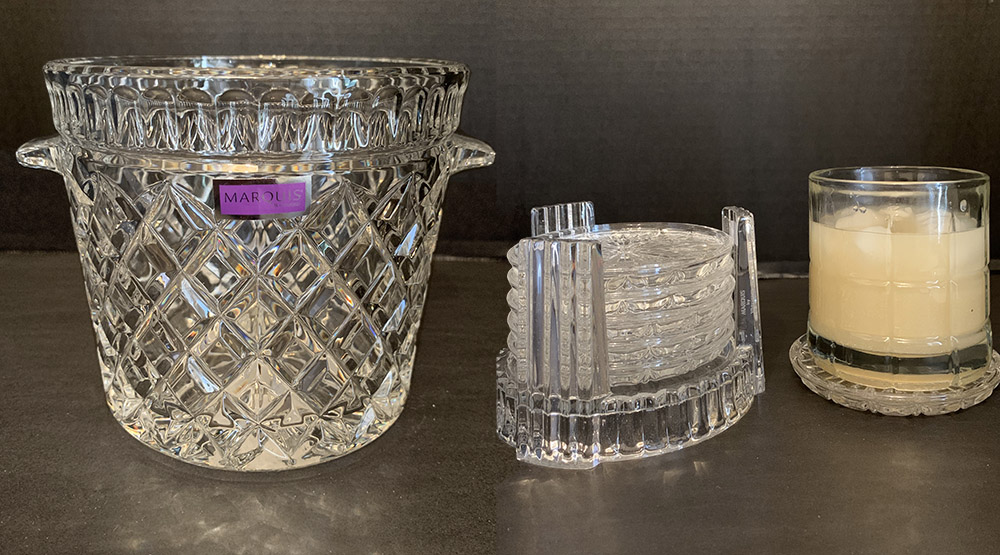 ---
51. Snare Drum and Stand
TKO percussion chrome snare kit package. 10-lug 5-1/2-in. by 14-inch chrome snare drum. Comes with a strap for marching, wooden drumsticks, and a heavy-duty chrome stand.
Donated by Buddy Gray Music Center, Tuscaloosa, AL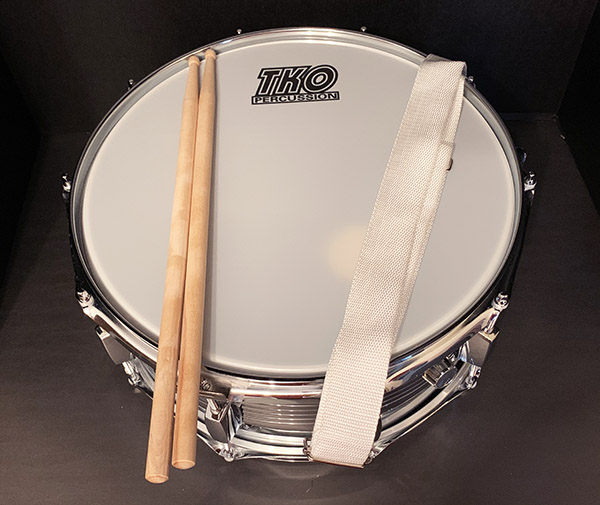 ---
52. Brown and Haley Peanut Butter Mountain Bars
A timeless and classic treat; a pocket-sized favorite that's perfect for on the go. Each bar is a mountain of chocolate flavor with peanuts and a delicious creamy peanut butter center. The box contains 15 1.6-oz. bars, for a total of 1.9 pounds of yummy goodness.
Donated by Deb Cook Lewis, Seattle, WA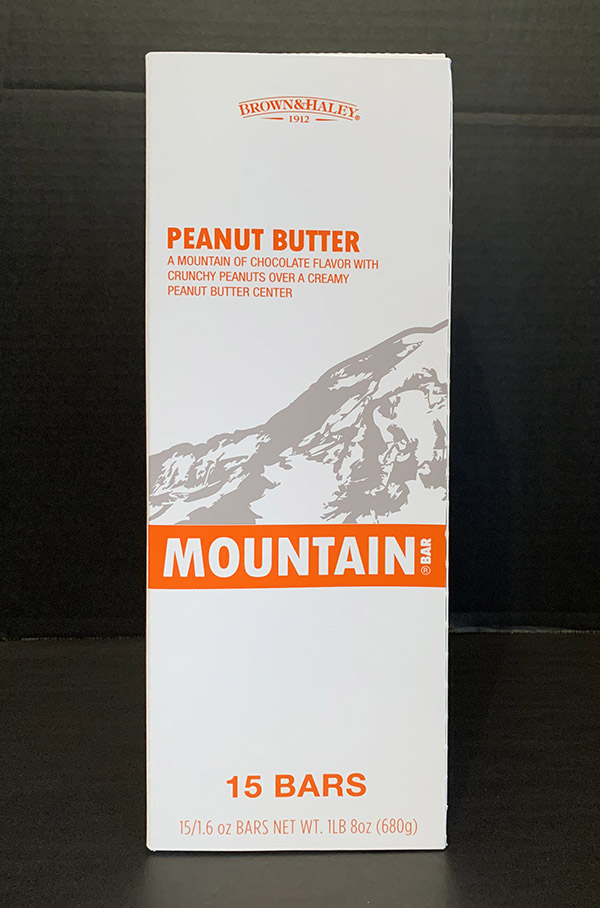 ---
53. Wal-mart Shopping Spree
Shop, shop, shop with these two $50 Wal-mart gift cards. Buy for yourself, for someone special, or for several someones. Or use as gifts for two people on your holiday shopping list.
Donated by Mary Haupt, Baton Rouge, LA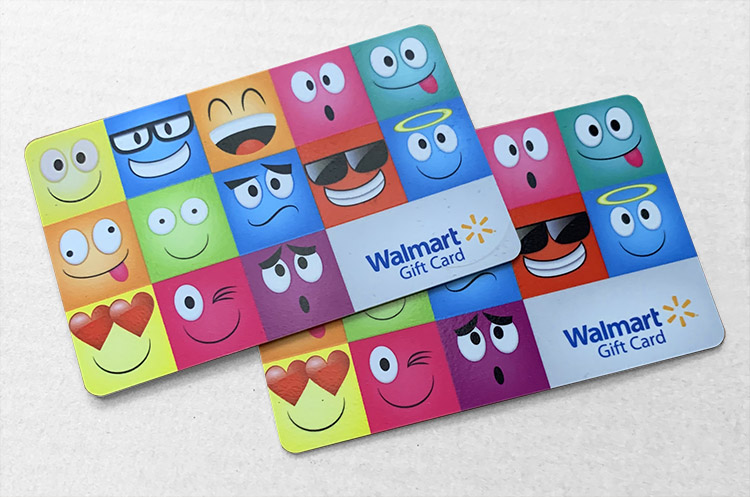 ---
54. Retro Personal Fridge
This personal refrigerator keeps up to six 12-ounce cans cold at a time. Power cords for both AC and DC outlets included, so it works in your kitchen, car, boat, dorm room and more. Retro details, like a see-through window and chrome door latch, give this unit a cool blast of '50s style. Removable shelf; perfect way to store water, beer, wine, baby bottles, yogurt, cheese and more. Portable and compact; fits neatly on desks or in small spaces; built-in carry handle. Color: light sage green.
Donated by Connie Jacomini, Gilbert, AZ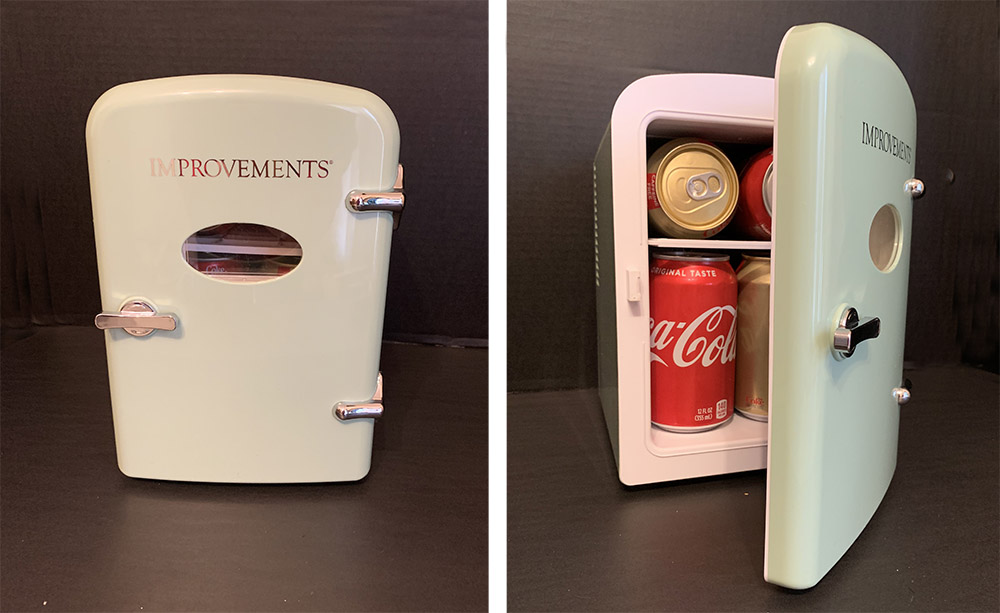 ---
55. Goldstone and Black Agate Set
Gold goldstone is a form of sandstone that resembles golden brown glitter. This set was handcrafted by Keri Bishop and contains a 24-in. necklace, a 7.25-in. bracelet, and earrings on surgical steel fish hook wires. The necklace is made of alternating chips of goldstone and black agate; the center 6 to 8 inches of the necklace consists of goldstone bar chips in varying lengths. The bracelet is also alternating goldstone and black agate chips. The earrings have three links; the top and bottom links have a goldstone chip in the center, and the middle link has a black agate chip.
Donated by Keri Bishop, Kirkland, WA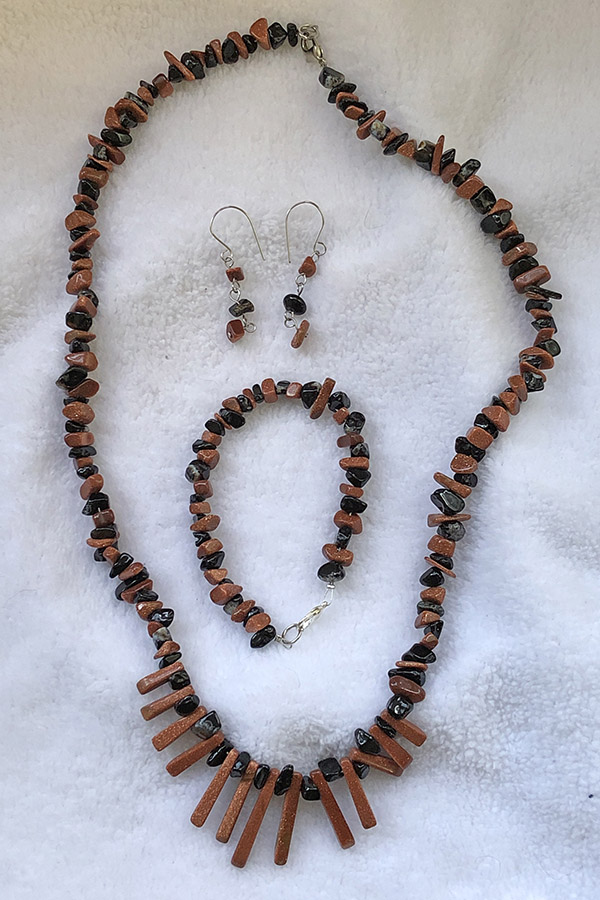 ---
56. Royal Treasures Fine Chocolates
You deserve the royal treatment! This assortment from Divine Treasures in Manchester, CT, includes 25 pieces of their most decadent, diverse collection of organic European dark chocolates and truffles. Locally sourced ingredients; gluten-free; vegan; naturally free of cholesterol and trans-fats. The secret to fine chocolate is in the deep, complex flavor of the cacao itself and Divine Treasures' use of natural sweeteners enhances each bite without overpowering your taste buds or spiking your blood sugar.
Donated by Jason Castonguay, Manchester, CT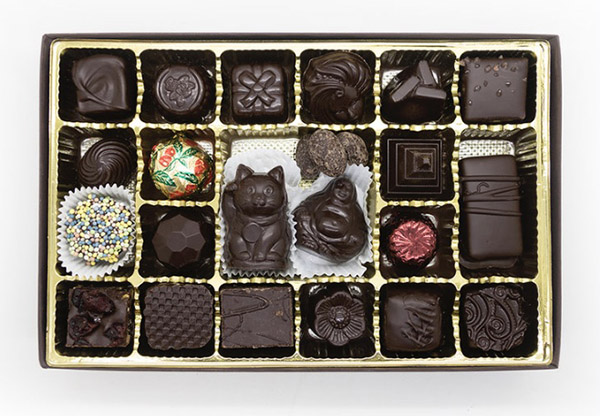 ---
57. Pink Paw Print Pendant
A paw-fect addition to your jewelry collection! Show your love of animals with this Killarney Crystal pendant with pear-shaped bail. Bezel-style set round crystals in 3 colors create an ombre effect from clear to dark. 36-in. silver-tone rope chain with lobster claw clasp.  Color: pink. Pendant measures 1-3/4 in. long by 1-1/4 in. wide.
Donated by Connie Jacomini, Gilbert, AZ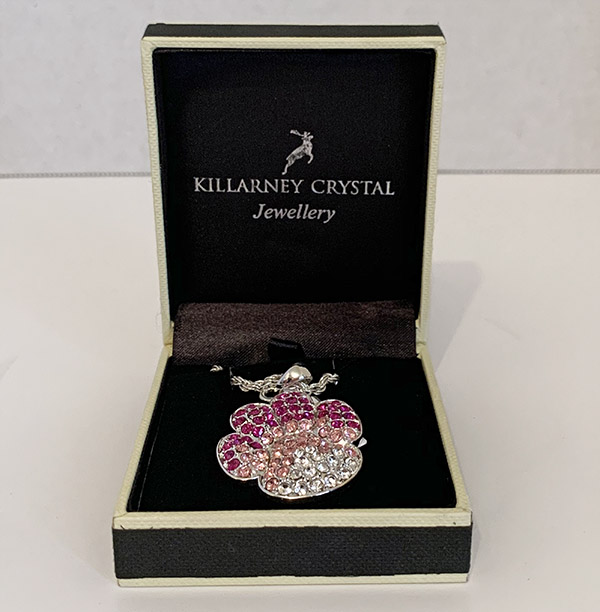 ---
58. Collectible Crystal Angel
This beautiful standing crystal angel is gold-faceted and is from Simon Designs. Her head is a faceted crystal. Measures about 4.25 in. tall by 3.5 in. wide and weighs 13.4 oz. In its original box. A wonderful keepsake, collectible or gift.
Donated by Keri Bishop, Kirkland, WA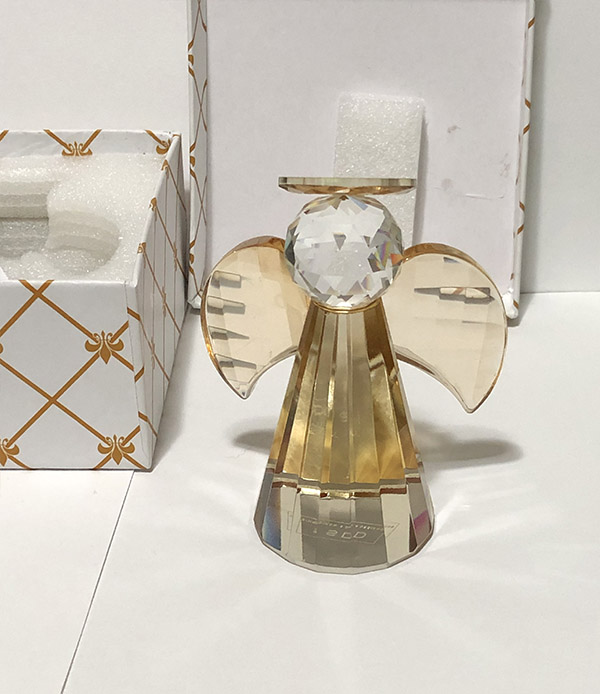 ---
59. Picture Keeper Connect
Whether you're switching to a new phone, running out of storage on your smartphone, backing up the cloud, or wanting to safeguard important photos, you can easily transfer files to new devices or use as a secure and safe storage space.  The easy to use app provides a fast and simple solution for your photo backup needs. Future backups only save new files, avoiding duplications. If you run out of room on one Picture Keeper, just add another - the app seamlessly picks up where the last drive left off. Easy to carry around; needs no internet connection.  iPhone 5 and newer (iOS 8+) and Android OTG (Android 4.1+) required.  The included zippered Keeper Case hold up to six Picture Keeper USBs.
Donated by Connie Jacomini, Gilbert, AZ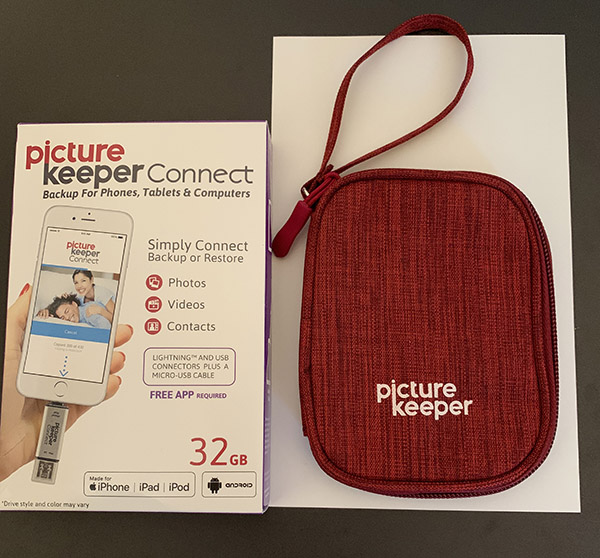 ---
60. Brown and Haley Cherry Mountain Bars
A timeless and classic treat; a pocket-sized favorite that's perfect for on the go. Each bar is a mountain of chocolate flavor with peanuts and a delicious creamy cherry center made with real fruit. The box contains 15 1.6-oz. bars, for a total of 1.9 pounds of yummy goodness.
Donated by Deb Cook Lewis, Seattle, WA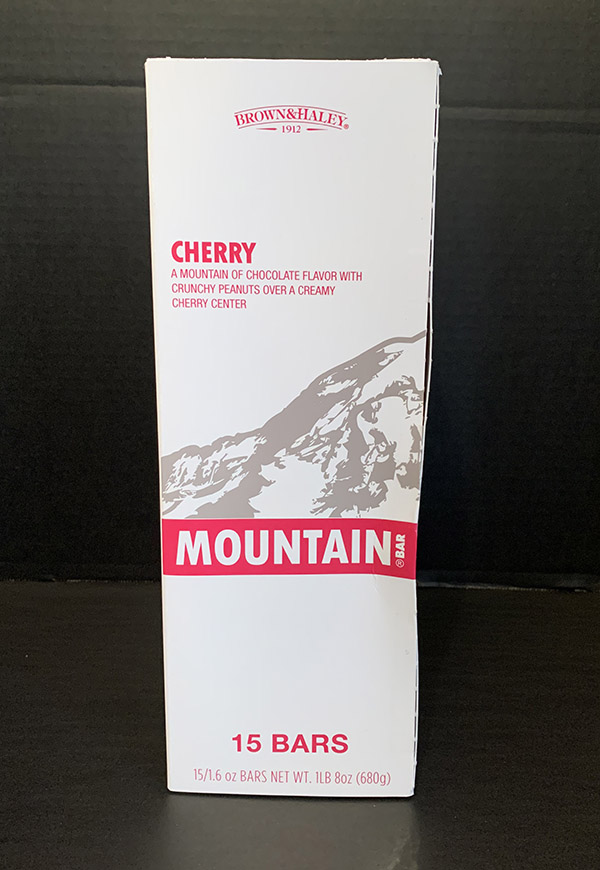 ---
61. Caesars Woman Cologne Spray
An elegant 3.3-oz. bottle of Caesars Woman extravagant cologne spray, a product of Park Place Entertainment, Las Vegas NV. The bottle is clear with a raised fountain pattern on the lower front. It measures 4 by 2.5 in., not including the spray top.
Donated by Brenda Williams, Louisville, KY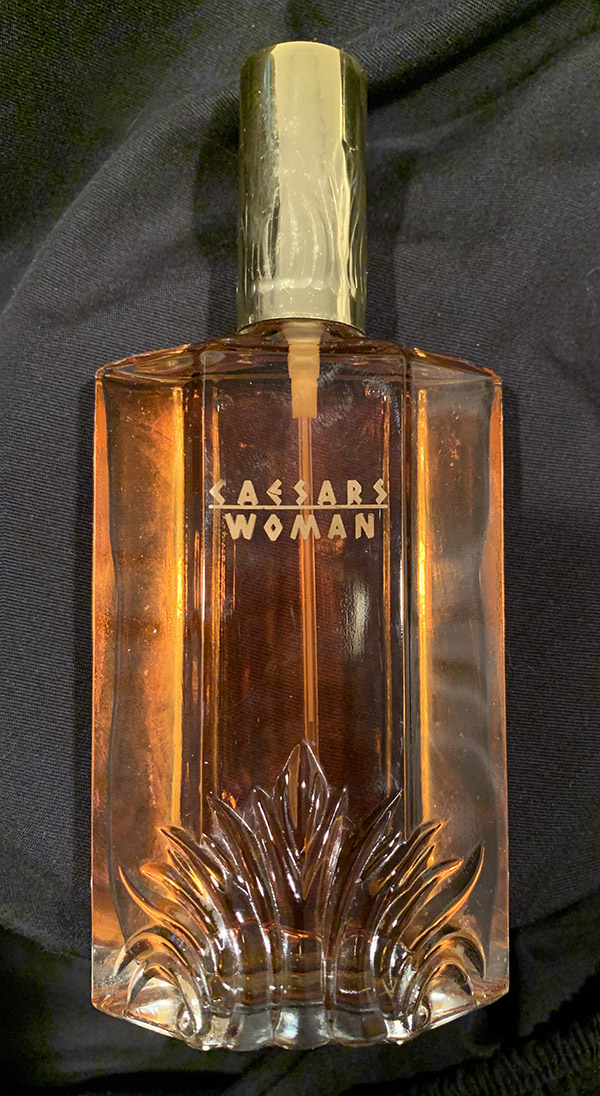 ---
62. Plug and Safe
This Plug & Safe Infrasonic Security Device helps detect the opening or breaking of windows or doors and turns on whatever device or appliance is connected to it. Works when exterior doors open or close, allowing it to be used as a home sensor to trigger a visual and/or sound alarm. Easy to set up - no wires or lengthy installation; simply plug into a wall outlet and connect a device. Works by detecting the low-level subsonic vibrations created by movement. Choose the right device to plug-in - using light at night and a sound device when you are not home is suggested. Connect a multi outlet adapter to the Plug & Safe so lighting and sound can be activated simultaneously. The device is designed to detect opening of any window or door at the perimeter of an average size property with up to four bedrooms. Resets itself after three minutes.
Donated by Connie Jacomini, Gilbert, AZ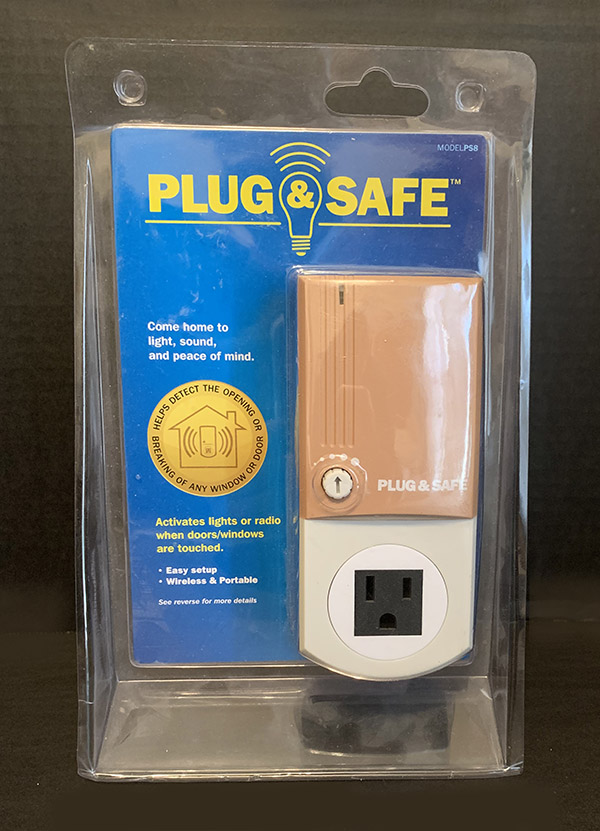 ---
63. VISA Shopping Spree
Go on a shopping extravaganza with this big $100 pre-paid VISA card. Buy for yourself, for someone special, or for several someones. Good anywhere VISA is accepted. Spend it now or spend it throughout the year.
Donated by the ACB Summer Auction Committee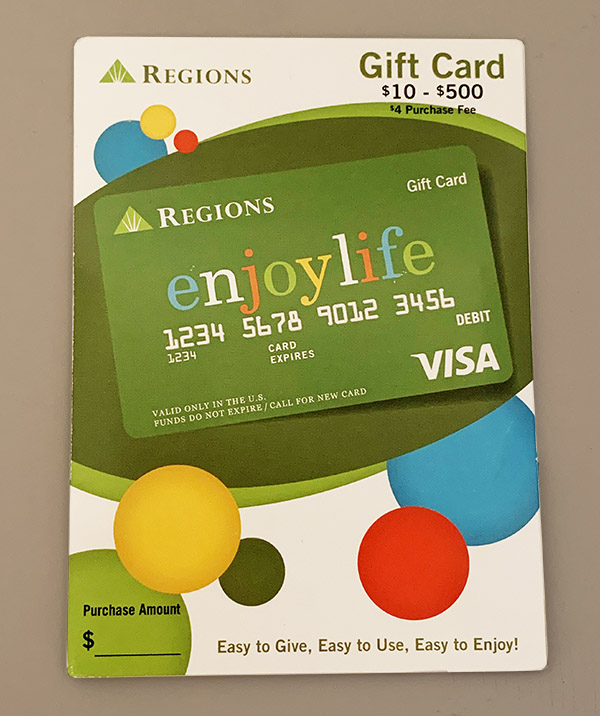 ---
64. Comfort and Aloha from Hawaii
This gift bag is packed with all the comforts of Hawaii. Includes:
A hand-crafted Hawaiian-style lap quilt designed by Mona Yamada; one side is blue with brown Hawaiian fern, and the other is white with baby blue roses and ferns. Measures 62 by 45 inches;
A mini insulated bag with orange bird of paradise and green ferns; perfect for holding your lunch or things needed to be kept cold;
A 10-oz. bag of Maunaloa dry roasted macadamia nuts; no preservatives; gluten-free;
3 3-oz. boxes of Maui Caramacs - creamy caramel and macadamias covered in milk chocolate.
A 6-oz. bag of lilikoi passion fruit and a 6-oz. bag of strawberry guava pancake mix; just add 1/2 cup water to make 4 to 5 pancakes each;
A 16-oz. bag of sweet mango slices; bite into one and you end up eating the whole bag;
Two Hawaiian potholders - one with red and yellow hibiscus and the other with a fern and red hibiscus design;
A Hawaiian pocket calendar with flowers on the front;
A Hawaiian wall calendar full of beautiful pictures of the Island of Hawaii;
Two mini lauhala baskets, one 4 by 8 inches and the other 5 by 9 inches; sure to add a touch of elegance to any household; and
A fun canvas bag with a yellow, a pink, and a green pineapple.
Donated by the Hawaii Association of the Blind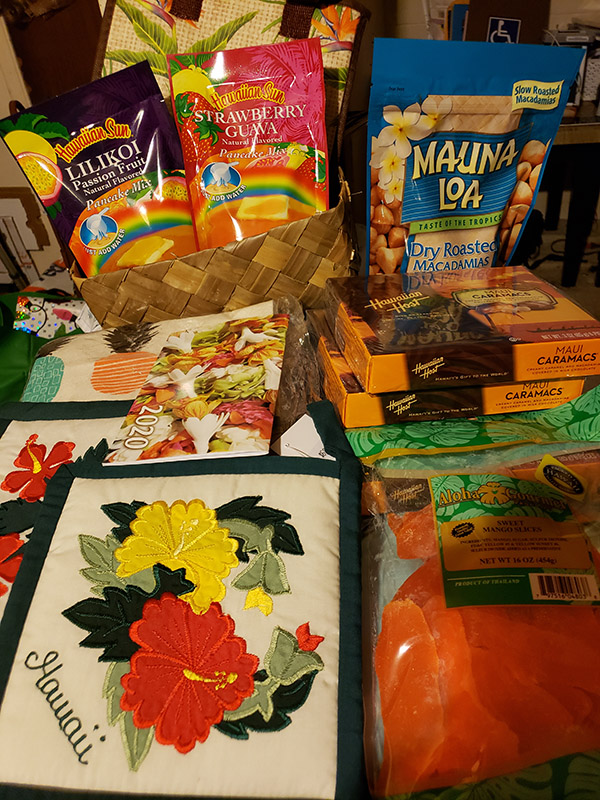 ---
65. Wood Jasper, Black Agate and Puka Shell Set
Wood jasper squares threaded on point, black agate teardrops, and white puka shell disks create this necklace, bracelet and earring set. The set comes with 2 pairs of earrings on surgical steel hooks. The pattern of the 24-in. necklace and the 7.5-in. bracelet is wood jasper, shell, black agate teardrop facing left, shell, wood jasper, shell, black agate teardrop facing right, shell. One pair of earrings, from top to bottom, has a shell, a black agate teardrop facing up, and another puka shell. The second pair of earrings is the same pattern, but with wood jasper added at the bottom.
Donated by Keri Bishop, Kirkland, WA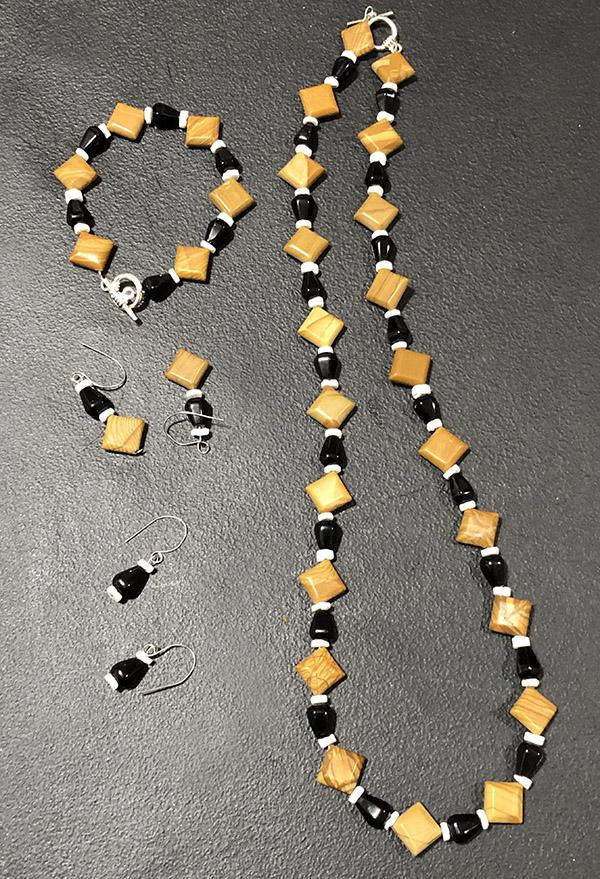 ---
66. Tambourine and Maracas
Kids love rhythm instruments, and maracas and the tambourine are among the most popular. Adults also enjoy adding the sound of the tambourine and maracas to musical jam sessions. This auction includes an 8-in. open wooden tambourine with 6 sets of jangles and a pair of wooden maracas. The maracas are black with a sketch of a beach scene with palm trees and birds; they have 5-in. handles, and the shakers are 4 in. tall and 9 in. in circumference.
Donated by Buddy Gray Music Center, Tuscaloosa, AL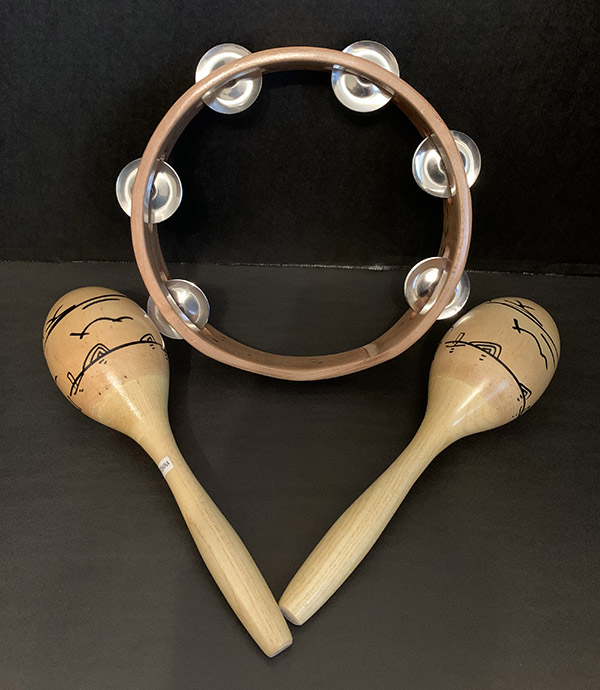 ---
67. Blue Paw Print Pendant
A paw-fect addition to your jewelry collection! Show your love of animals with this Killarney Crystal pendant with pear-shaped bail. Bezel-style set round crystals in 3 colors create an ombre effect from clear to dark. 36-in. silver-tone rope chain with lobster claw clasp.  Color: blue. Pendant measures 1-3/4 in. long by 1-1/4 in. wide.
Donated by Connie Jacomini, Gilbert, AZ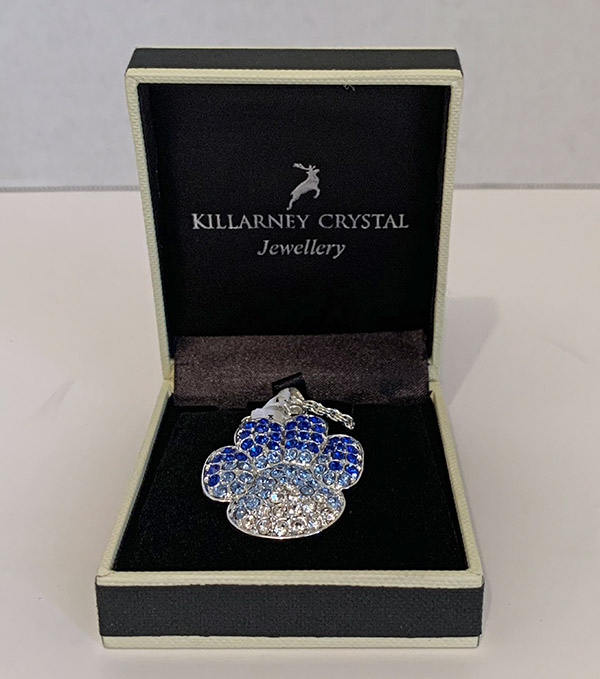 ---
68. Kelly's Cookies
The cookies to end all other cookies! These soft and chewy peanut butter oatmeal chocolate chip cookies are loaded with peanut butter, chewy oats, peanut butter chips, and of course chocolate chips. A true holiday delight, baked by Kelly Gasque.
Donated by Kelly Gasque, Executive Assistant & Multimedia Design Specialist, ACB National Office, Alexandria, VA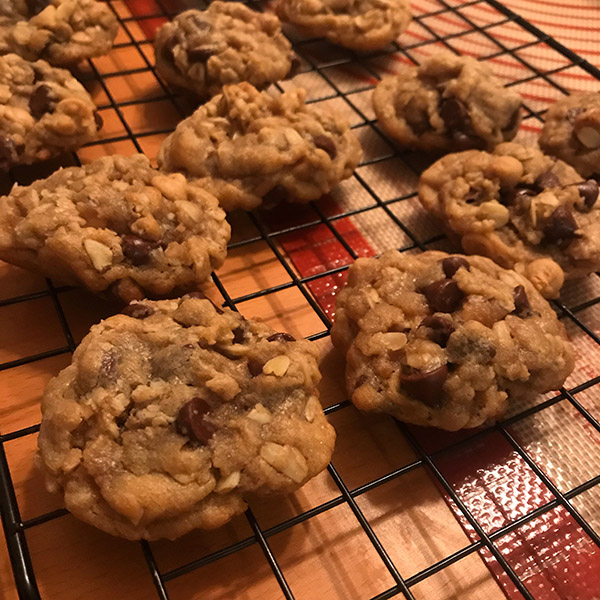 ---
69. Handcrafted Khaki Jeans Purse
This jeans purse with its braided carry strap is oh-so-stylish. Crafted by Keri Bishop from a pair of khaki jeans; lined with gray, dark khaki, blue and brown fabric. Brass accents; braided belt of beige, brown and bluish-gray. 18 in. wide by 14 in. deep.
Donated by Keri Bishop, Kirkland, WA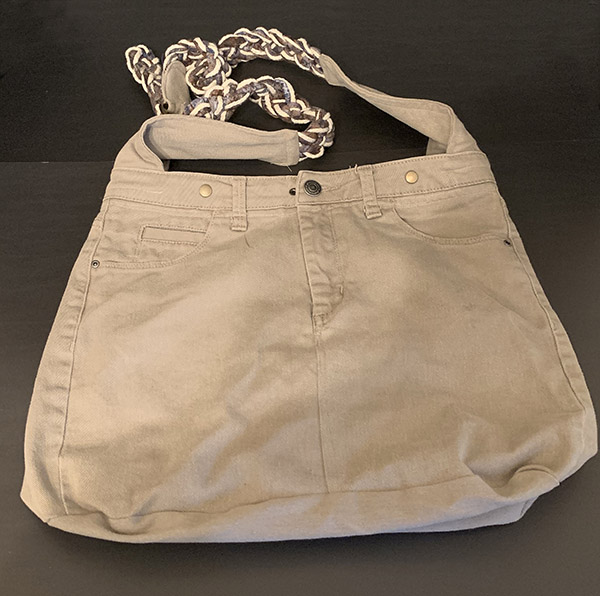 ---
70. Holiday Fruit Breads
ACB member Patty Slaby loves to bake yummy holiday fruit breads for her friends for the holidays. She makes 24 different kinds of fruit bread, and the lucky winner of this auction will receive 6 mini-loaves of her bread. Choose all one flavor, or choose up to 6 different flavors. You might want perennial favorites like banana or raisin or date nut, or you might prefer butterscotch, banana pineapple, butter pecan toffee, cream cheese lemon, pina colada with zucchini, pistachio, cherry etc. Keep them all for yourself, or spread home-baked holiday cheer to your friends.
Donated by Patty Slaby, Arcadia, WI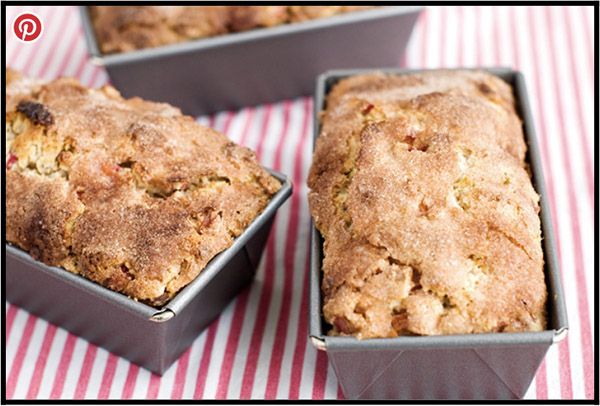 ---
71. Lighted Poinsettia Floral Arrangement
This beautiful floral arrangement was designed by Keri Bishop. Red and green silk poinsettias fill a white wicker basket. Tiny white fairy lights are under the leaves and create a glow that can be seen through the airy weave of the basket. The 5-inch USB cable can be used for power, or you may prefer to use the 6-foot extension cord, also included.
Donated by Keri Bishop, Kirkland WA