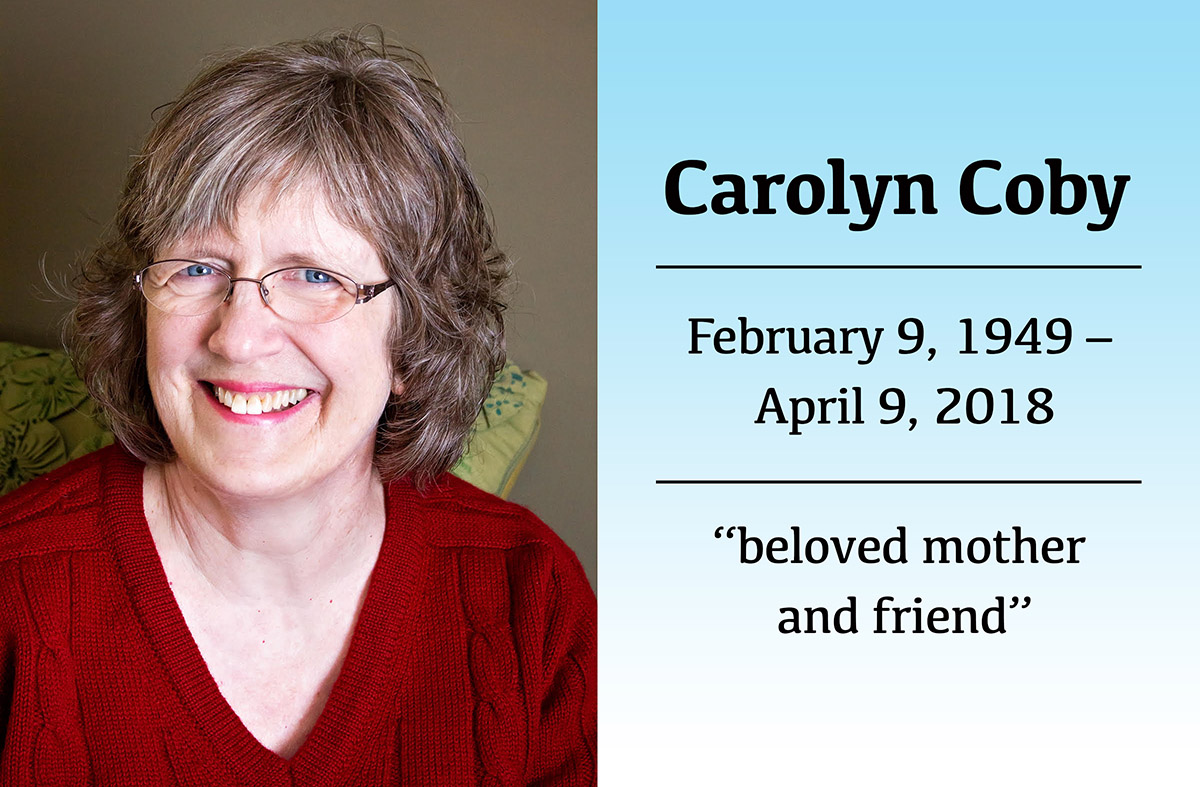 In Memory of Carolyn Coby
Co-authored by Nickie Coby and Janet Dickelman
Anyone who attended an ACB of Minnesota event or a national convention of the American Council of the Blind knew Carolyn Coby. Her upbeat personality, her infectious laugh, her willingness to help and her kindness.
Carolyn exemplified volunteerism. Whether it was helping on a tour, locating a meeting room or heading to the dog relief area she always had a train of people following her and a smile in her voice. She loved her family, (husband Jim and daughters Helena and Nickie) and her numerous friends.  She was very involved with her church.
As the mother of a blind child, Carolyn became an advocate for Web accessibility spending countless hours helping to make life better for Nickie and other people who are blind.
Carolyn, my dear friend, I miss your sparkle, your enthusiasm, and sharing a glass of wine with you.
— Janet
Mom was a guiding light and gift to so many people. Her happiness and joy in life was something she shared with so many of us.
Mom, thank you for all of the gifts you gave us. You were always known to laugh and smile, bringing us up when we were down. Your endurance was very strong, not only in dealing with lung cancer, but also in how you supported me through so many of my health struggles.
Most people who have known us for years will remember your strength during the time when I almost died from a staph infection. You were my rock then, cheering me up when I was down and advocating for me when I couldn't do it for myself. Helping you with your struggles made me feel better about myself, even though I could never pay you back for all the gifts you gave me.
So many times you cared for my guide dog Julio when I couldn't. You were so much more than my mom and caregiver, you were my very close friend. You shared your joy with us all. You volunteered and contributed to so many places.  Even though it annoyed me when you wanted to spend time with my friends, now I'm grateful that you supported my friendships and cared about my friends too.
Thanks for being one of my best friends. Thank you for sharing your faith with so many. I miss doing beading and reading the same books with you. You are very loved and missed!
With all my love
— Nickie