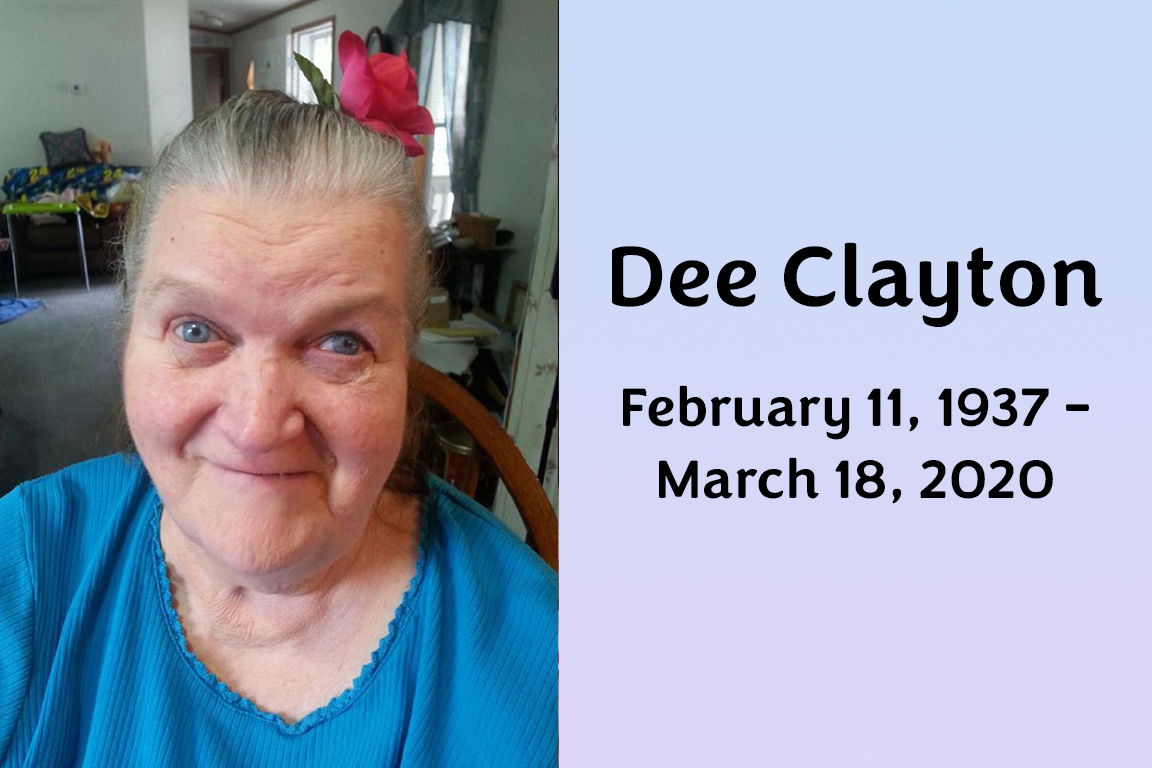 The American Council of the Blind Diabetics in Action (ACBDA) is pleased to sponsor an Angel Award for Dee Clayton.
Delia "Dee" Ann Wilmot Youngblut Clayton was born February 11, 1937 in Cherokee, Iowa. 
Dee graduated from the Iowa Braille and Sight Saving School in Vinton, Iowa in 1954 and also from Iowa City Commercial College in Iowa City, Iowa. Dee was born with glaucoma and eventually lost her vision at age 14. She was diagnosed with type two diabetes in 2000.
Dee spent most of her adult years in Des Moines, Iowa working at Sears as a customer service representative, and then worked and retired from Iowa Department for the Blind.  After retirement, Dee moved to Pleasantville, Iowa. She was a wife, mother to 3, grandmother to 12, and great-grandmother to 8.
In 2004 she got involved with a diabetes committee within ACB. Chris Gray, who was ACB president at the time, appointed her to be chair of the committee. When she wrote a message on the ACB list, she received many notes from people interested in becoming members of a diabetes affiliate. At the 2005 ACB convention in Las Vegas, ACBDA received a charter and the affiliate was born. Dee was the first president, fulfilling all the terms she could. In 2014, she again became president, finishing out Pat Wolf's term due to her death. She was in the final months of her term when she passed away on March 18, 2020 in Greensboro, N.C.
Whatever Dee was involved in at that moment, it had her whole heart and attention, whether it was her family, social fun, or ACBDA. Dee was loved by all. If she thought you would be good at something, she would continually talk to you about it. Dee was good at convincing you to give it a try and much to your surprise, you would find that she was right. Dee had a huge passion for ACB, ACBDA, family and friends. Dee will be greatly missed. Those who knew and loved her will continue to share her passion of life and pass it along to many others.