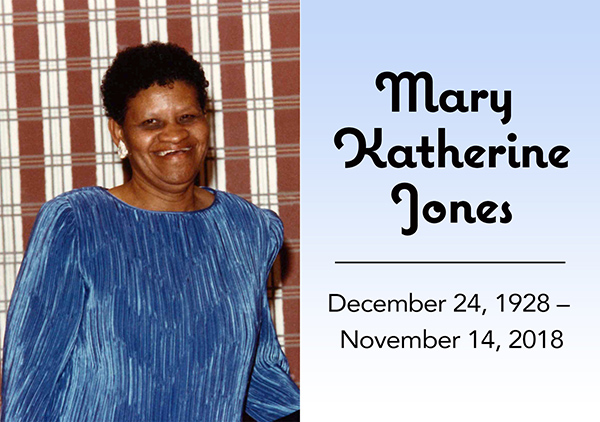 To her church community she was "Mae Kat."  To her family she was a loving mother, grandmother, great-grandmother and great-great-grandmother. To her many friends she was Mary Katherine with the ever-present smile, a willingness to listen and a constant source of encouragement. To her late husband, Brady, she was for more than half a century a companion and compatriot as he worked to build the nascent North Carolina Council of the Blind (NCCB) into a resource and support organization serving the interests of the blind and visually impaired community in North Carolina. Through her husband she came to know and respect a number of the early leaders of ACB.  With Brady's passing, she became the beneficiary of his passion for reaching out to and helping others.  And she did so in her church and her community.
Mary Katherine was recognized for her humility, generosity, empathy and loyalty.  While not always as visible as others, she never hesitated to lend a hand, to join in fundraising for a worthy cause, to befriend those not as fortunate as she, to offer a shoulder to lean on and an ear ready to listen.  And she openly appreciated those who shared these characteristics.  To be greeted by her beautiful smile and warm embrace was to be assured of a good day.  She was not one easily identified in a crowd as many of her good deeds were sown without fanfare behind the scenes.  When asked to help, no one could doubt her total commitment.  Whether helping to organize a yard sale for her chapter or providing childcare to families of newborns from Greensboro to Charlotte to Atlanta to New York, Mary Katherine gladly stepped forward. As she would readily admit, she especially loved babies. She served for many years as treasurer of her local chapter. If volunteers were needed, one had only to turn to Mary Katherine. She was a consistent presence at NCCB quarterly board meetings and proudly served as a co-chair of the Brady Jones Benevolent Fund which provided financial assistance to the blind and visually impaired with special unmet needs.  One could find her at the annual NCCB membership meetings and, until her health declined, at ACB national conventions. In 2008 she became an ACB life member.
If anyone is deserving of the wings of an angel, it is Mary Katherine. No one who knew her would doubt her sincerity, her belief in that seed of goodness in all people, her love for and devotion to family and friends and her desire to lift up those who were down. Her faith was firm. Her determination, while sometimes challenged, was undaunted. She gave her all and asked for nothing in return. Throughout her nine decades, Mary Katherine was many things to many people. But, with all the accolades we might offer and the wonderful memories she left for us to cherish, Mary Katherine Jones most importantly was simply our friend.