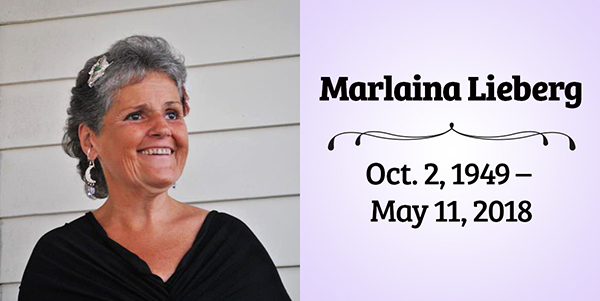 Marlaina Lieberg, former ACB secretary and second vice president, passed away in the early hours of May 11, 2018. She was 68. She was born Donna Veno on Oct. 2, 1949 in Boston, and traveled around the country before retiring to Burien, Washington with her husband and soul mate, Gary Lieberg.
Raised by a mother who believed in Marlaina's capacity to do anything a sighted child could do, she attended public schools, rode bicycles, tap danced and went to summer camp to ride horses.  At age 14, Marlaina became the youngest person at that time to obtain a guide dog. Hubert Humphrey helped outfit her with clothes for the training, and they remained friends until his passing in 1978. Marlaina was a guide dog user for more than 60 years and had a total of 9 dogs.
Marlaina held many jobs over the years, including contract work with the National Park Service and the National Forest Service, and also owned her own company.
Marlaina was instrumental in the passing of the Americans with Disabilities Act (ADA), testifying before the House and Senate to ensure all people with all disabilities were included in the laws. She lobbied Congress every year with the ACB to continue awareness and improve laws. In 2008 as the secretary of the ACB she represented the organization at the World Blind Union Conference in Geneva, Switzerland. Marlaina was a force to be reckoned with. She worked tirelessly to educate and improve the lives of all people with disabilities and discriminated against none. She is widely known and renowned in the blind and disability communities as a fearless fighter and true champion.
Gary and Marlaina met, fell in love and married in Alexandria, VA in 1997. In 2012 they moved to the Seattle area where Marlaina continued her work at a record pace. She worked with Wells Fargo to create accessible ATMs, Albertson's to create an accessible website for online grocery ordering, Starbucks in creating braille gift cards, Trader Joe's for accessible PIN pads, Apple to improve their VoiceOver, to consulting with Microsoft and the Accessibility Team instructing them on what to focus on when creating accessible software. Perhaps one of her most noted accomplishments, one that would become key in helping her manage her life in the last years, is the advocacy work she and partner Sue Ammeter did to create accessible prescription labels so she could remain independent in dispensing the medications she needed. Their advocacy work focused on the need to develop local strategies for Accessible Prescription Labels. One of the very last things Marlaina did was to attend the spring 2018 state board meeting of the Washington Council of the Blind a week before her death, where she passionately challenged everyone in the room to stay on course and continue the work she had started.
Marlaina was active in too many organizations to list. From the Lions Club to becoming an honored member of the University of Washington Delta Gamma Fraternity, she always found time for important causes.  She had her own show on ACB Radio, and every Sunday night she would discuss issues important to the blind community and interview others. For 10 years Marlaina and her audience enjoyed such interviews with great people like Ronnie Milsap, Dave Neihaus and Erik Weihenmayer. Marlaina flew a plane, she drove a car, she hiked on trails, she took subways, went to her beloved Mariners games, attended inaugurations, concerts, and sang on stage with Stevie Wonder.
In 1990 Marlaina brought her interest in and love for guide dogs to the Washington Council of the Blind by becoming a founding member and first president of their first special interest affiliate, Guide Dog Users of Washington State.  Over the years GDUWS started the annual Spring Fling event, which was a big priority to Marlaina and the organization to continue, and was one of the last things she was able to attend.  One of her biggest lifelong dreams was to create a scholarship fund for anyone who is getting a guide dog, and at their 2018 Spring Fling, Marlaina proposed that GDUWS establish a scholarship fund that would provide a grant to guide dog users who have a confirmed training date. This dream is now becoming a reality. The board has approved the Marlaina Lieberg Scholarship Fund, and is in the process of setting it up.
Fearless adventurer. Fiery heart. Fashionista. Fierce advocate. Anyone who knew Marlaina knows that if there was something she felt needed to be accomplished she would fight for it, no matter what. She spoke to thousands, she spoke to one. She loved sitting in the sun sipping wine and telling stories. She loved dressing up and had a huge shoe collection. Marlaina was as classy as they come, inside and out.