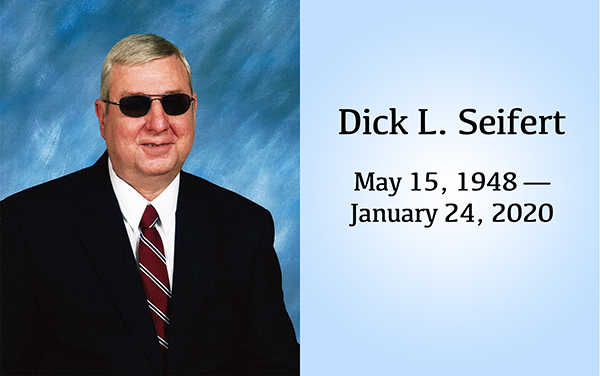 Dick L. Seifert, 71, of Little Rock passed away January 24, 2020. Dick was born to Urban and Isabel (Wilhelm) Seifert on May 15, 1948 at Smith's Hospital at 9:07 a.m. in Paris, Arkansas.
Dick was preceded in death by his parents; one brother, Mark Seifert; and one sister, Cathy Seifert. Left to cherish his memory are two sisters, Debbie Burnett of McGhee, Arkansas; and Pam Been of Sallisaw, Oklahoma; two brothers, Larry Seifert of Greenwood, and Randy Seifert of Conway; and a host of other family and friends.
Dick grew up in Charleston, Arkansas, and attended the Arkansas School for the Blind in Little Rock from kindergarten through the 12th grade, graduating on May 25, 1967. While at ASB, Dick enjoyed history, geography, and science, developing a strong interest in English grammar in the 11th grade. He learned to cane chairs and do wood and metal work in industrial arts. Dick played euphonium (baritone) in the ASB band, participated in athletics, and earned a novice license to operate an amateur "ham" radio. He graduated from Arkansas Tech at Russellville on his birthday in 1971 with a bachelor of arts degree in economics. He earned a master's of social science, specializing in Manpower Economics in 1972 from the University of Mississippi at Oxford and in 1973 he completed one year toward a Ph.D. in economics.
Dick was employed at Arkansas Juvenile Services (now Youth Services), Arkansas Division of Services for the Blind, and Central Arkansas Transit (now Rock Region Metro).
Dick believed that everyone who had a degenerative eye condition and who were not affected by neuropathy should learn to read and write braille just in case they needed it. He had a simple and effective method of teaching it, and he even taught braille to someone over the telephone in just four months. Although recorded material is often convenient, his opinion was that listening is not literacy.
Dick liked to read. Most of his reading material was in braille until the summer of 1986, when he learned to use an Optacon (a device that allowed him to access printed material by touch). This substantially increased his independence, especially with reading mail. In recent years, he also learned to use a computer. Dick enjoyed following the Cardinals baseball club and the Arkansas Razorbacks football, basketball and baseball teams. He followed the Arkansas Travelers Baseball Club, in which he held 70 shares of stock. Dick declared that he heard at least parts of 712 broadcasts of the Razorback football games. This activity began on November 8, 1958, against Hardin-Simmons in War Memorial Stadium, Little Rock. In Dick's early years, he went squirrel and possum hunting with his dad, and he also enjoyed fishing, swimming, and playing the guitar.
Dick was a life member of the Arkansas School for the Blind Alumni Association, the American and Arkansas Council of the Blind, the American Council of Blind Lions, the Little Rock Council 812 of the Knights of Columbus, and the Braille Revival League. He served on the national board of directors of the American Council of the Blind for 13 years. He held membership in the Little Rock Founders Lions Club since May of 1981, and he participated in Political Animals since February of 1986.
Dick requests that people do not mourn for him at his death, but rejoice in knowing that he had a successful life.