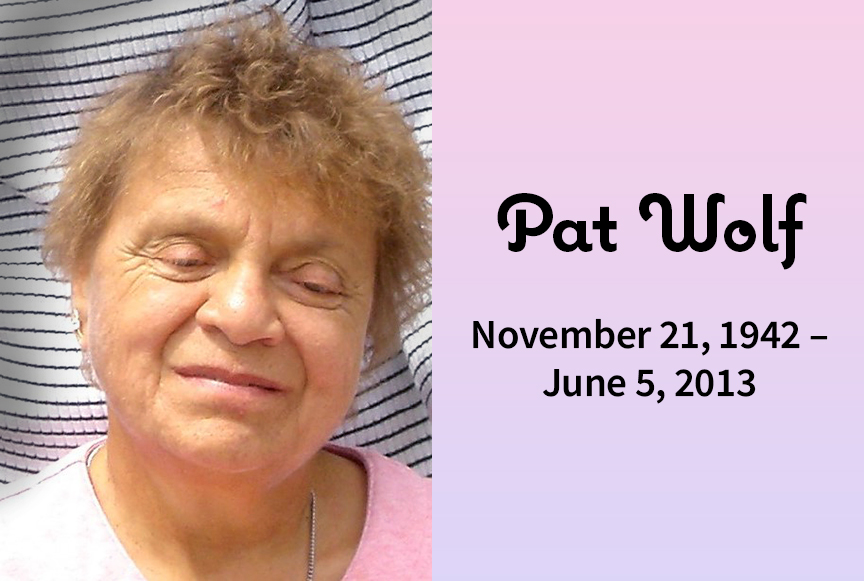 The American Council of the Blind Diabetics in Action (ACBDA) is pleased to sponsor an Angel Award for Patricia Ann LaFrance Wolf.
Pat was born in Bay Village, Ohio, on November 21, 1942 to John E. Wildman and Norma Andersen Wildman. Pat was diagnosed with type 1 diabetes at age two. In 1964, she graduated from Fenn College in Cleveland, Ohio, and became a registered nurse. Pat married her first husband and had two children. At age 34, she lost her sight as a result of her diabetes and then she moved with her family to California. Accepting blindness as a challenge to take a new direction in life, Pat completed an associate's degree at Chaffey Community College, and bachelor's and master's degrees at California State University San Bernardino, where she also obtained a certificate in rehabilitation counseling. From 1981 to 1987 Pat counseled victims of domestic violence, volunteering at the House of Ruth; she also taught continuing education courses at local junior colleges, and worked at several local hospitals. 
Pat was active and committed to the California Council of the Blind (CCB) and the American Council of the Blind. In the 1980s Pat was the president of the Foothill, Whittier and San Gabriel Valley chapters of CCB, a member of the CCB board of directors and many CCB committees. She was a board member of the Association for Education and Rehabilitation of the Blind and Visually Impaired; president of the Eye-DAS club of Glendora; secretary to the Board of Directors of the White Cane Center for the Blind in Pomona, and represented CCB on the Braille Institute of America's Board of Directors. Patricia was a founding member and first president of ACBDA.
From 1988 to 2003, Pat worked as a rehabilitation counselor for the California State Department of Rehabilitation in the West Covina and Pasadena offices. She provided hundreds of newly blinded clients with counseling and independent living skills training throughout the San Gabriel and Pomona Valleys.
Pat received many commendations for making life more manageable and productive for visually impaired and disabled people. In 1992, she received the Counselor of the Year Award from the Norwalk District of the California Department of Rehabilitation and also received the International Disabled Professional Woman of the Year award from Pilot International. In 1999 she was named the San Gabriel Valley Woman of the Year for Community Outreach by the San Gabriel Valley YWCA. And in 2006, Pat received a Lilly for Life Achievement Award from Eli Lilly and Co.
On June 5, 2013, Patricia Ann LaFrance Wolf, who dedicated her life to helping others, died after suffering a heart attack during a conference call regarding a fundraiser for CCB. Pat is survived by two children, Rob LaFrance and Lorraine LaFrance, and her second husband, Perry.