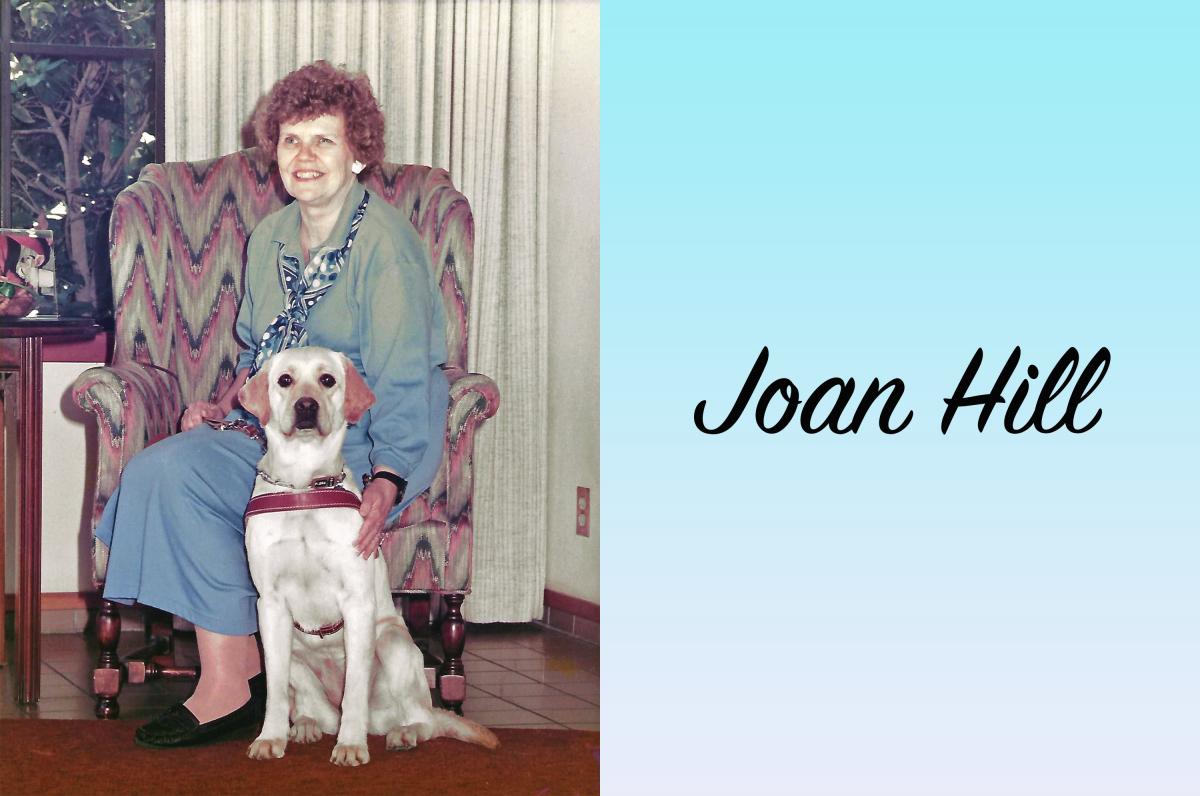 Remembering Joan Hill
by Deb Marinos, Sister
My sister, Joan Hill, who passed on October 30, 2021, at age 82, was passionate about teaching people to become connected and functional with computer technology. She lived alone, though legally blind, for over 40 years and was independently able to run her own business, manage her finances, communication, and skills of daily living. She also spent many hours on projects for ACB of Oregon as the membership committee chair, a board member, local chapter president and advocate for people who are blind or low vision. She believed that every person regardless of limitations had value and potential.
I remember the first state ACB convention that we attended together in Coos Bay over 20 years ago. Joan loved to be social, help others, and share stories. She found the support of others with vision loss inspiring and a source of encouragement. However, she became frustrated as in those days only braille, large print and audio cassette formats were available to ACB of O members. Computers were relatively new and the idea that emails and print documents were very accessible with a screen reader or magnification for those who cannot see was not widely accepted. In fact, there was robust pushback to providing "The Stylus" or minutes via email, as not very many people, even sighted, had access to computers. And change is often unwelcomed by those of us who are blind. Some sighted members worried that they would not be needed. Joan was adamant about getting involved to help educate about the potential and benefits of computer technology to all, blind or not.
Joan saw change and new technology as a way to help people who are blind gain employment and live full, independent lives. Where did she get her knowledge and passion for full access through computers? Joan graduated in New York City from a specialized math and science high school in the 1950s, when women in mathematics were rare. She completed a master's in computer science and mathematics, with a teaching license, from Oregon State University after being widowed at age 41 and raising her family. She was teacher of computer skills for fully sighted students in a private school in Klamath Falls. In those days, even sighted folks were struggling to learn to use computer tech.
Joan loved to use humor and play to get folks past their anxiety. She also geeked out in all things technology. Her amazing capacity for memorization and love for finding minute errors in computer programming code prompted her to read user manuals in their entirety — for fun. I benefitted because I could just ask questions and not read the manual.
When she suddenly lost all her vision after many years of restricted vision field of view from retinitis pigmentosa, she attended the Oregon Commission for the Blind career and orientation center for about 6 months in 1993. She learned braille and how to access computers with speech, along with skills of daily living. She learned to get around with a white cane. She also worked two guide dogs. She began a business as a computer teacher of the blind and other disabilities for several state agencies. Her skills and passion for accurate details was apparent in her volunteer work on ACB of O bylaws changes and the membership lists. She was connected to many resources of information about many topics, including blindness. She taught JAWS, OpenBook, MAGic and ZoomText on a PC. She also loved her Victor Reader Stream, and wore out her BrailleNote Apex notetaker.
To hear better, she used Phonak hearing aids with a remote microphone unit called a Roger pen. And in large rooms she used an FM assistive hearing device called a COMTEK. Whenever we traveled together, the dogs would let us know when some unit was beeping a low battery alarm! It was a lot of tech to learn and keep us functional.
Joan loved her family, friends, church, gardening — especially roses, football, chocolate and dogs. She traveled frequently by plane to many ACB conventions, FFB VISIONS conferences, and family gatherings. Her tenacity and strong will to live despite total blindness and significant hearing loss was apparent as she valiantly fought cancer for many years. Joan had the ability to make complex tasks simpler and could adapt her teaching to fit the person's needs. No puzzle was too hard. And joy was not optional.
Teresa's note: Joan will be deeply missed by many people.