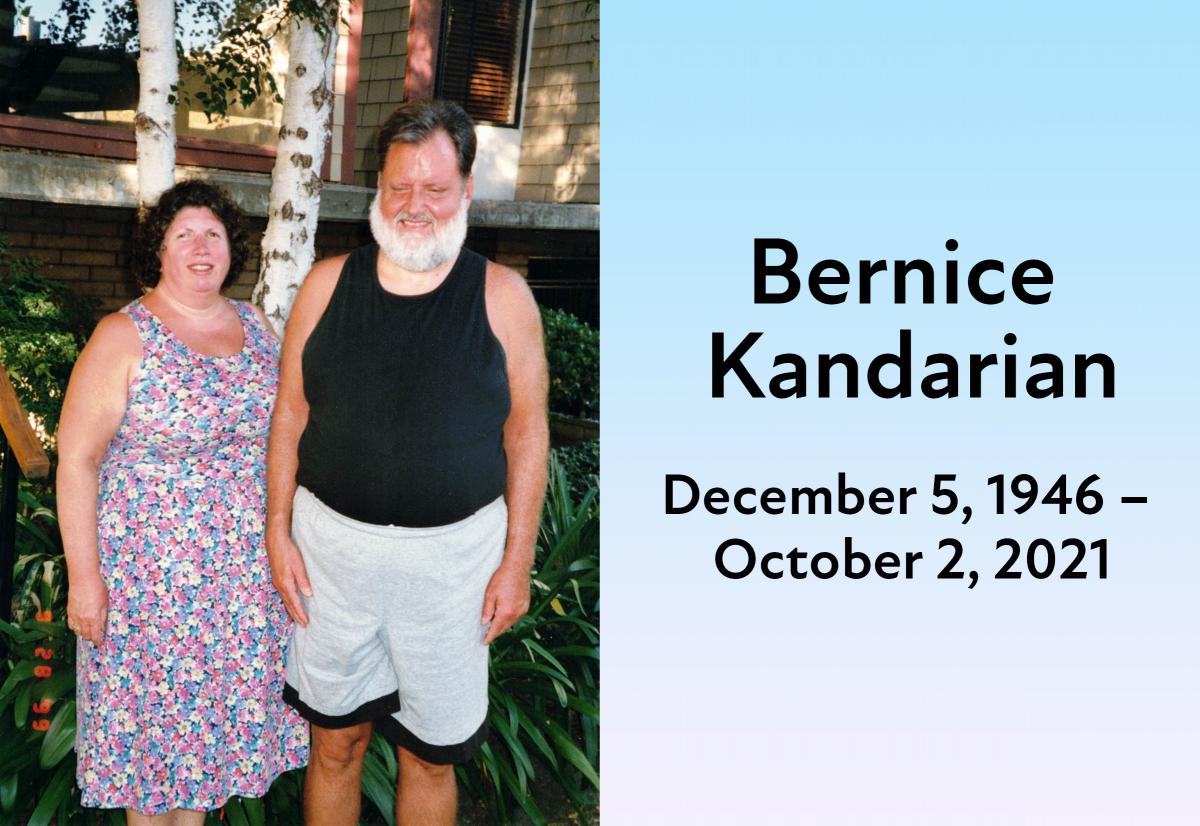 Durward K. McDaniel nicknamed her  "Can Do Kandarian"  
Bernice was born in Fresno, Calif., first child of Harry Aram Kandarian, son of Armenian immigrants, and Jennie Bernita Hewette Kandarian, daughter of an Arizona Mother of the Year with 10 children. She became visually impaired at age 5 from uveitis, apparently resulting from a black widow bite combined with measles and chicken pox. She graduated from Litchfield Park Elementary School and Agua Fria High School in the western suburbs of Phoenix and attained a bachelor's degree from Arizona State University in Tempe.  
Bernice's work life began at the Arizona State University Law School, where she duplicated articles for the students. It is said that some professors referred to "getting things Bernice'd for their classes." Her rehab counselor then sent her to Los Angeles to train to be a service representative for the Social Security Administration. She worked for Social Security in California, Washington, D.C., and Arizona for a total of 14 years. Finally, for a brief time, she worked in the Disabled Student Services Office at Stanford University. 
Meanwhile, another aspect of Bernice's life was taking shape. This was her career as an organizer and advocate among blind people and those with low vision. While at Arizona State University, she was recruited for the developing Arizona Council of the Blind by Judge John Van Landingham, a law school mate of Reese Robrahn, the second president of the American Council of the Blind. She then got involved with the organized blind in California during her Social Security training. She played hooky from her training in July 1973 and attended her first ACB National Convention in Knoxville, TN. She was hooked! She attended 40 more ACB conventions before missing one! 
During the time in ACB when there was much experimentation with the organization of special-interest affiliates, Bernice helped to organize the Council of Citizens with Low Vision International, ACB Students and ACB Government Employees as well as the Silicon Valley Council of the Blind. She combined administrative skills with policy interest. In 1978 in Salt Lake City, she was recruited as ACB Resolutions Committee Chair. As health issues gradually began to interfere with her full-time employment, she began to spend much of her time on organizational matters. Besides ACB affiliates, she worked with local agencies such as Vista Center and the San Francisco Lighthouse. She answered information lines for the Council of Citizens with Low Vision and became a general information source for many. And practically from her death bed, she identified some promising new board members for CCLVI! 
Recognition for these feats came in the form of a National Community Service Award from ACB and a place in the California Council of the Blind Hall of Fame. Shortly after her passing in 2021, CCLVI established an award in her honor. She will be posthumously awarded the first annual Bernice Kandarian Service Award in recognition of her many years of dedicated service to the Council of Citizens with Low Vision International.