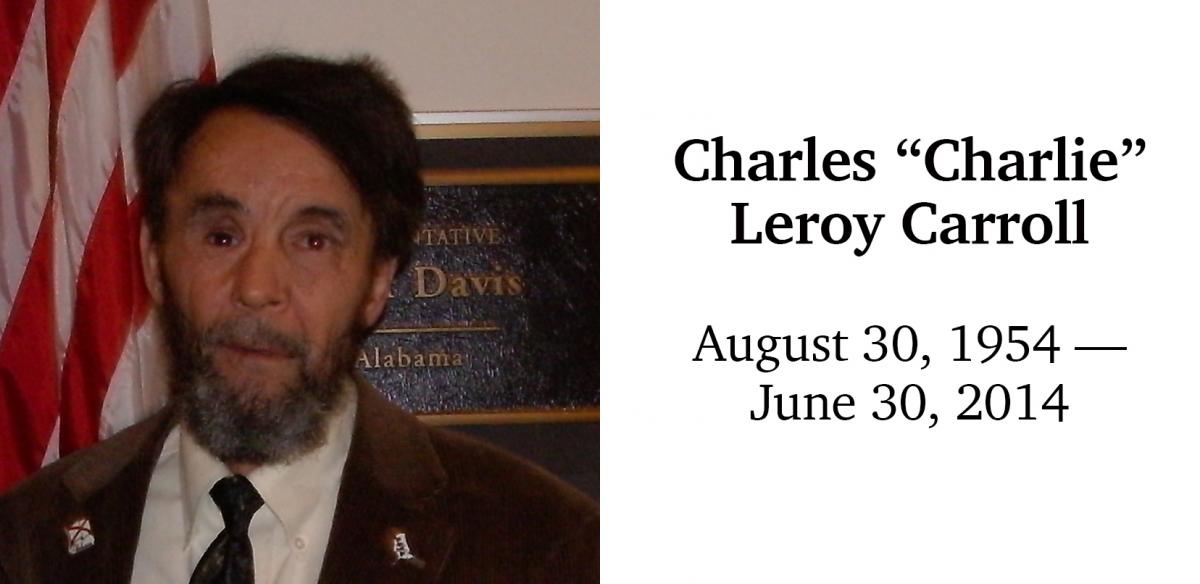 Charles "Charlie" Leroy Carroll, age 59, of Clanton, Alabama, passed away, June 30, 2014 at his home. Services were held July 3, 2014.
 
He was preceded in death by his parents, Buck Carroll and Sarah McCarter Carroll; and his beloved dog Biloxi.
 
Charlie is survived by his wife, Patsy Gentry Carroll; two sons, Jimmy Whitehead (Savannah) of Tallassee, Ala., and Dewayne Trott (Laurie) of Weaver, Ala.; five grandchildren, Hunter Whitehead, Matt, Blake, Josh, and Patrick; sisters, Linda Holman (Randy) and Vicky Jent (Ted); stepsisters, Sherri Pharr and Lynn Pharr; stepmother, Helen Street; and many loving nieces, nephews, and friends.
 
Charlie was born August 30, 1954 in Tuscaloosa, Alabama to Buck and Sarah "McCarter" Carroll. He graduated from Alabama School of the Blind Talladega in 1973. Charlie went on to graduate from Gadsden State and Jacksonville State Community College. Charlie was a successful vendor for over 40 years with the Business Enterprise Program for the Blind of Alabama. He was a member of ACB of Alabama and ACB of America. Charlie was a member of Randolph-Shepard Vendors of America where he served on the board and received numerous awards. He was a member of the ASB Alumni Association; a member of AER; as well the Clanton Evening Lions Club.
 
The family requests that donations be made in his memory to the Charles "Charlie" L. Carroll Scholarship Award via Randolph Sheppard Vendors of America.