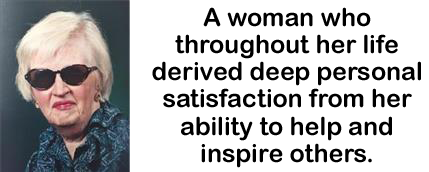 October 28, 1925 - April 2, 2016
Winifred passed away peacefully at home at age 90 on April 2, 2016. Although she lost her sight through illness at the age of 18 months, she led a spiritual life and one of great accomplishment.
She attended John Marshall High School in Chicago and graduated highest in her class from Rosary College with an English degree in 1947. Prepared to be an English teacher, and despite a teacher shortage at the time, few positions existed for blind women so she redirected herself and obtained a Master's Degree in Social Work from Loyola University. Winifred worked with low income blind students in Chicago, determined to guide them towards occupations where blindness would not be a disadvantage.
In 1950 she began a 41 year teaching career with the Hadley Institute for the Blind and Visually Impaired. She taught correspondence courses in English, braille reading and shorthand, and home economics. She had 125 students, some in distant countries and a few who were incarcerated. In addition to teaching, she helped publicize the school's work and raised funds by giving hundreds of lectures. Happy must have been the local mailman who delivered her heavy braille books daily!
Glenn Downing, who lost his sight to diabetes, appeared at Hadley as a student in 1953. A charmed romance soon began and Winifred and Glenn were married a year later. They settled in San Francisco and started a family in Holy Name Parish. Together, through hard work and sacrifice, they raised four children and provided each a Catholic education through high school.
A lifelong Democrat who followed the workings of government and legislation closely, Winifred's frequent letters to Congress were thoughtful and humorous. Her social consciousness led her to demonstrate her support for striking Delano grape harvesters and she marched against segregation in the '60s.
She was a tireless advocate for the advancement of opportunities for the visually impaired. In the early tech years of Silicon Valley, she was chosen to experiment with revolutionary electronic devices designed to make the printed word tactile. As past president of the San Francisco chapter of the California Council of the Blind, she traveled constantly to state and national conventions promoting educational and financial opportunities for the visually impaired. With the help of her chapter friends, she initiated a grant program that each year provides an electronic device to a selected blind student. While technology has provided great advances, Winifred continued to be a staunch advocate for the use of braille at all levels of education.
Winifred is remembered as a wonderful hostess and cook who loved to entertain with her good china. She played the piano beautifully and was a masterful knitter, creating treasured baby clothes, Afghans, and Irish knit sweaters. She loved to listen to Giants baseball and most evenings, one would find her with a cup of tea and her knitting needles in hand. She will be missed by everyone in ACB.
* * *
ACB Angel Memorial Tribute - Winifred Downing