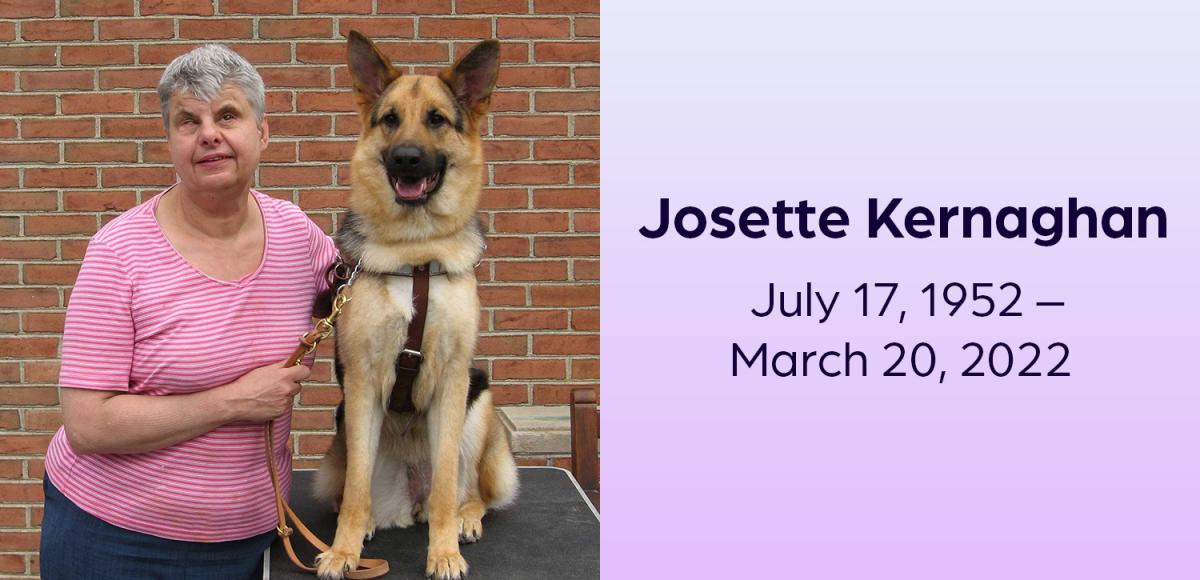 Written by Sheri Richardson, With Help from Many Others  
Josette was born in Red Deer, Alberta, Canada. She attended the Jericho Hill School for the Deaf and Blind in Vancouver, British Columbia, and resided in the Vancouver area throughout most of her adult life.  
Josette is best remembered for her devotion to the American Council of the Blind and her local affiliate, the Washington Council of the Blind, of which she was a life-time member. She advocated strongly for the rights of blind people, especially regarding the use of Braille and guide dogs. Josette was a guide dog user herself for many years. She served on several committees throughout her life. Most recently, she was elected to a board member position for Guide Dog Users of Washington State and served on the Marlaina Lieberg Memorial Scholarship Fund committee for GDUWS. She suggested and initiated auctioning Canadian goodies as a fundraiser for the scholarship, and she donated generously to it with her homemade chocolate fudge and other Canadian candies and perfumed bath soaps. These auctioned donations raised more money for the fund than any other single source.  
Josette never missed an ACB or WCB convention, even though her attendance required travel from Canada and the art of careful budgeting throughout the year to meet travel expenses. It took a while for me to figure out that she always traveled through Seattle rather than direct from Vancouver because this gave her a chance to visit with some of her favorite friends, restaurants, record shops, and, not least of all, buy her favorite ice cream. My freezer often became the holding place for that ice cream from before the ACB convention until she returned to pick it up – and spend a little time visiting with me as well.   
Josette had many varied interests that she pursued enthusiastically. She was an avid Star Trek and science fiction fan, often attending and helping to organize science fiction conventions. In fact, she loved the vampire series "Dark Shadows" so much that she changed her first name to Josette as a young adult in honor of the lead character, Josette DuPres Collins.  
Josette was a fancy pigeon enthusiast and quite involved in raising these fancy birds for a while. Many people knew Josette for her extensive record collection, which she acquired from all over the United States and Canada. Last, but certainly not least, Josette loved good food, especially chocolate, and was an excellent cook herself. Not surprisingly, her specialty was chocolate fudge, which she often brought to WCB and ACB conventions.  
Above all, Josette never met a stranger. She could and did converse freely with people she met in all walks of life, and she nurtured the bonds she shared with her closest friends. Josette's enthusiasm and love of a good party will be missed by many, as will her kindness and generosity. Josette would be proud to be honored alongside some of her fellow advocates and friends of ACB, and we in WCB are proud to have known Josette and be numbered among her many friends.