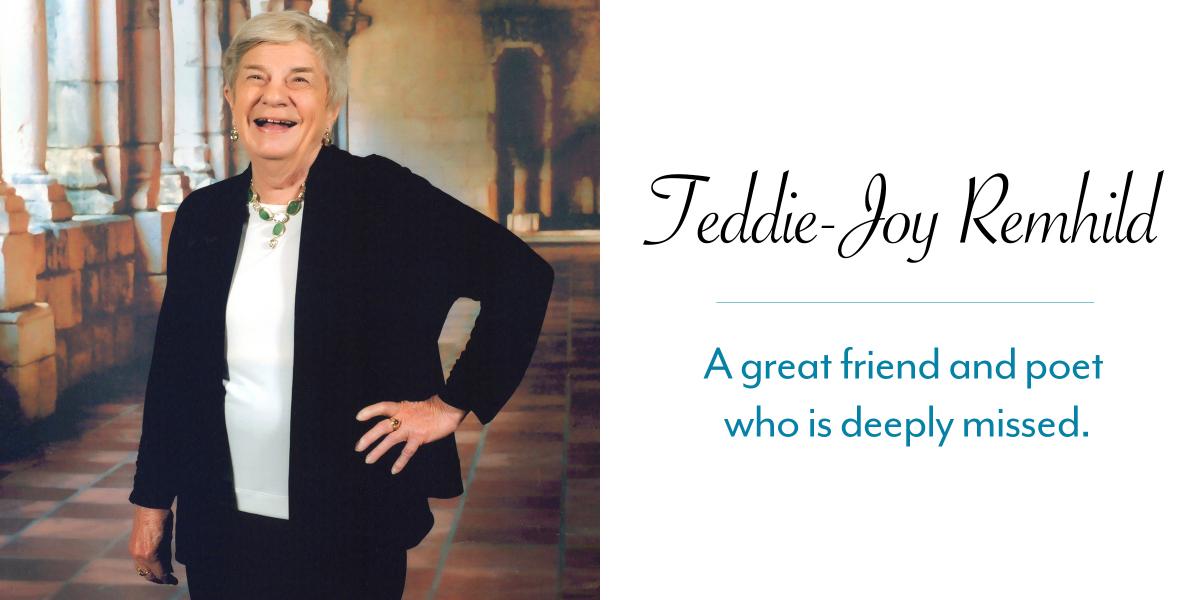 Teddie-Joy Remhild was born on May 1, 1933. She had a difficult childhood. After her birth mother abandoned her, she was raised by her grandmother, Aimee Brooks. She overcame various problems, and had a column in her high school newspaper under the pseudonym "Babbling Brooks".
 
Teddie-Joy had three children, Lisa, Dana (who predeceased her) and Chris. After a divorce in the late 1960s, she began losing her sight and became legally blind. She was suddenly a single mother. To support her children, Teddie-Joy worked as a cafeteria worker and a medical transcriber. As a result of her work as a medical transcriber, she developed a high-blood pressure condition. She filed a workers compensation claim, and with the settlement Teddie-Joy went back to college, and was awarded a degree in gerontology from the University of Southern California. Teddie-Joy worked for a few agencies before accepting a job in Silver Springs, Maryland, because that was the best job offer available. Eventually Teddie-Joy returned to Los Angeles when she received a job offer from PASC, the Personal Assistance Service Council. After working well into her 70s, Teddie-Joy joined the Board of PASC. In 2015, she was elected as the new Chairperson of the PASC board.
 
Teddie-Joy was active in the National Federation of the Blind until the early 1990s, then she became a member of the California Council of the Blind (CCB). Teddie-Joy served as president of the Greater Los Angeles chapter, and was a leader and long-time member of the Glendale Burbank chapter of CCB.  In 2000 Teddie-Joy was elected Second Vice President of CCB and also served on several committees, including the Governmental Affairs committee, and was a founding member of the Association for Multicultural Concerns. She was the chair of the American Council of the Blind (ACB) committee on aging and blindness, and active in the Friends In Art, Governmental Employees, Blind Pride International affiliates and the Women's Concerns committee. 
 
Teddie-Joy was a great friend of the people she met and of the blind community, and is missed by her numerous friends. Teddie-Joy developed her work as a writer to later become a published poet. This is a poem she wrote:
Solitary Sojourn
By Teddie-Joy Remhild
 
Here in this place of
Peace and solitude
I am drawn to the source
Of my being
And there, I reflect on
My solitary sojourn
From innocence to
Knowing.
 
As the seasons come
And go.
A path is forged
Which only I can know.
 
Time now brings me to
The harvest of my life
And the knowing of
Who I have become.
 
I forged a path which was
A solitary sojourn
Of pain and love, of
Life and loss;
And now in this time of
Harvest and place of peace,
I celebrate the source
Of my being
And the joys derived
From my Solitary
Sojourn.