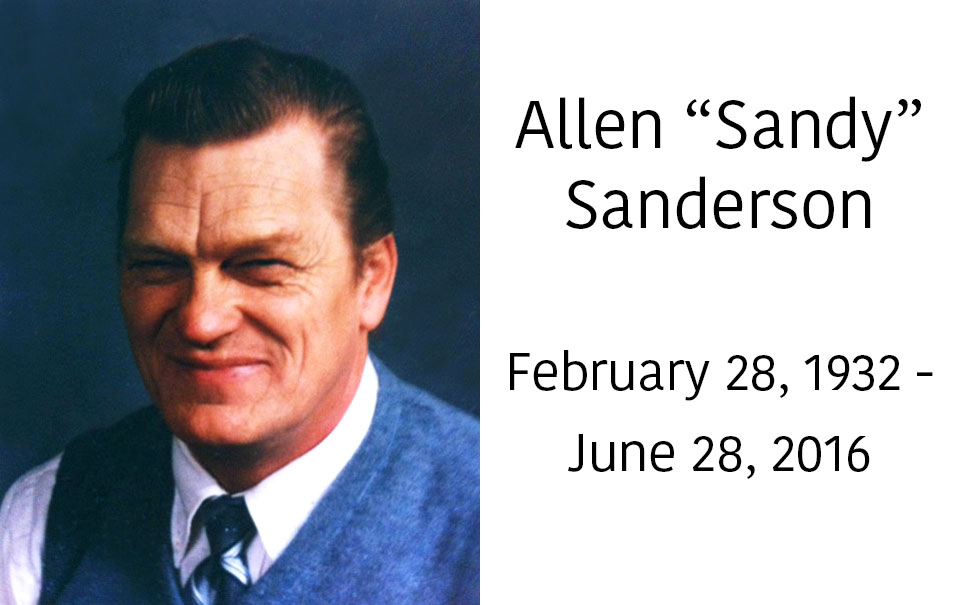 In Memorium: Allen "Sandy" Sanderson
Sandy Sanderson was born in New Rockford, ND on February 28, 1932, migrated to Seattle in 1942, and passed away in Anchorage, AK on June 28, 2016. He was 84 and survived by his wife, Lynne Koral, and five children.
Throughout his life, Sandy was known to pave his own path, and was nothing if not an individualist. He graduated from the 8th grade but chose then to begin working and providing for himself. He was married at 16 and he and his wife, Jo Ann, had five children, Toni, Mark, Chris, Wendy and Kirk in the next several years.
In 1959, Sandy and his family left Seattle and headed north to Alaska to be homesteaders in the miniscule town of Big Lake, about 45 miles north of Anchorage. They claimed approximately 160 acres of land in the Alaska wilderness and built a home and created a life for themselves. Many of the Sanderson family still live on the homestead property today.
Sandy's primary means of employment in Alaska was driving a truck. This worked well for him into the early 1970s but things were about to take a momentous change in his life. Sandy began to have serious vision problems and by 1971-1972 he was suffering from serious retinitis pigmentosa. Within months of the diagnosis, he was unable to drive and rapidly lost most of his vision. Within a few short years, he would be completely blind.
Despite this blow to his livelihood and his life more generally, Sandy displayed his drive and indefatigable desire to succeed in the world. He was not a quitter! In 1974, he went back to Seattle to the Washington State Services for the Blind rehabilitation center and learned the skills needed to cope with blindness. He learned to travel independently with a white cane, to effectively use braille, to cook and the many other skills taught by the agency. Though he never used braille to read books or magazines, he used it for labeling, phone numbers and notes. Unlike many adults who lose their vision, he used braille every day of his life. And as for cooking, oh my! How well Marvelena and I remember those delicious breakfasts of reindeer sausage, scrambled eggs with cheese and onions, fruit, and fresh coffee. Sandy fed us moose, caribou and buffalo. And nobody ever left his home back to the lower 48 without a huge box of Alaska wild game! I think my absolute favorite had to be the wild salmon.
Sandy came back to Alaska determined to improve matters for the blind of his adopted state. He began by meeting other blind people and by beginning to lay the groundwork that would allow blind Alaskans to be rehabilitated without making the long and expensive trek from their homes in Alaska to Seattle for rehabilitation services. During this time, he met a like-minded woman named Louise Rude who shared similar beliefs about blindness with him and a vision for a rehabilitation center in the state. By 1976, they had established, with the help of the Alaska legislature, the Louise Rude Center for the Blind in Anchorage. Though under a different name, it still exists today.
Over the years, Sandy worked tirelessly to improve matters for the blind of Alaska and throughout the United States. For many years, he produced shows, primarily on the West Coast, as fundraisers. A key leader of these shows was Chubby Checker, famous for the Twist, along with many other Motown groups. For many years, the organized blind of Alaska under Sandy's leadership ran a tremendously successful bingo operation in Anchorage. Sandy created relationships in communities from Fairbanks to Homer to Anchorage to Sitka to Juneau, providing benefit to these communities and to the blind of Alaska as a whole. In Alaska, there is a nonprofit fundraising mechanism based on pull tab games through which a nonprofit organization can partner with a business who sells the pull tabs and provides a portion of their profits back to the nonprofit with whom they are associated. This proved significantly lucrative to the Alaska Independent Blind, netting tens of thousands of dollars for the organization over many years. Sandy used this funding and additional monies from the Alaska State Legislature to form the Alaska Independent Radio Reading Services. In the early 2000's, he championed the use of an internet radio system to provide reading services to Alaskan natives and to villages with satellite connections to the outside world. In 2002 he received a citation from the Alaska legislature, acknowledging his tireless work on behalf of blind Alaskans.
Alaska Independent Blind (AIB) joined forces with the American Council of the Blind in 1989. By this time, the organization had a membership roster of approximately 450 members. Given the population of Alaska, this is an unparalleled accomplishment and a huge tribute to Sandy Sanderson, Louise Rude and members of Alaska Independent Blind, taken altogether. In per capita terms, it is arguable that Alaska has been the most represented affiliate for the blind of ACB since 1989 and perhaps through at least 2014.
Sandy and AIB have been extremely active members of the American Council of the Blind from their joining ACB to the present. Many will remember the famous Alaska parties each Monday of convention week beginning in 1990. Smoked salmon, reindeer sausage, cheese, crackers, beer and Merlot were the hallmarks for each year's festivities. AIB has provided this event completely free of charge to all ACB attendees. In some years, these parties drew literally hundreds of ACB convention participants. Sandy would be at the door throughout the party, Merlot in hand, welcoming and visiting with each and every guest coming in to enjoy the party. That's the kind of person he was!
Sandy served on the ACB Board of Directors from 1998 to 2002. From 2001 to 2002, he served as Chair of the ACB Resource Development Committee and championed a number of new and, at that time, innovative programs for the organization. These programs included the ATM machine initiative and ACB'S Monthly Monetary Support program. Moreover, because of his steadfast leadership, in 2001, Sandy was presented with the prestigious Derwood K. McDaniel Ambassador Award.
Throughout his life, Sandy remained a staunch supporter and believer in the Alaska Independent Blind and the American Council of the Blind. AIB led the way in so many areas. I had the honor of attending several legislative dinners held by the organization to keep issues of the blind front and center with the Alaska House and Senate. At least once each year, Sandy spearheaded a series of visits up and down Alaska to recruit members and put out the word of what AIB could do for blind Alaskans. Each day, for as long as a week, we would visit different cities and present seminars on Social Security, technology, and macular degeneration. These days were preceded with months of local publicity and generally accompanied by appearances on local radio and TV. These local "days" were immensely successful for Alaska's blind and I attribute them to the success in membership and financial well-being of the organization.
 
The spirit of Sandy Sanderson is something I have rarely experienced. He was a true leader of people, and a creator of change in Alaska. He experienced many health issues in his later years from asbestos lung disease, lung cancer, and a serious stroke on Christmas Eve in 2013. I last visited Sandy in January, 2016 and we spent several days together primarily just visiting as friends. Let me assure you that Sandy cared deeply even at this time about ACB, about AIB, and about the plight in which so many blind people found themselves. Not a day went by that we didn't discuss what might be done about employment, training, and the financial betterment of the blind community. I know that Sandy left us as a true believer in what is possible if we can only believe in ourselves and in our ability to effect change, and our innate ability as blind people to succeed. We can make a difference for ourselves and others and I know that Sandy believed that to the end!
We never said "Goodbye" during that visit not even in that waning time. But I did say to Sandy that I would carry on with the movement and with the work in which we so much believed and had done together for over twenty-five years. His answer: "You'd damn well better! I'll be watching!"
Authored by Chris Gray
ACB Angel Memorial Tribute - Allen "Sandy" Sanderson