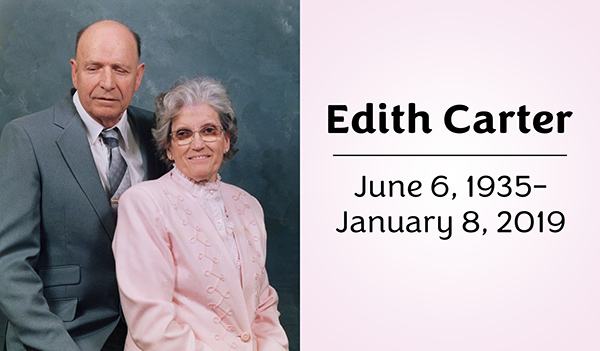 Edith Williams Carter of Knoxville, Tenn., passed away January 8, 2019. She was 83.
Edith became a member of the American Council of the Blind in 1970. She became a lifetime member in 2007. She was an active member until her passing, still serving as president of the East Tennessee chapter. For many years, she served as treasurer of the chapter. She had also been treasurer and secretary of the Tennessee Council of the Blind.
She was a member of Bethel United Methodist Church. Throughout her life she was involved with United Methodist Women and the American Council of the Blind. In later years she was a volunteer with Volunteer Ministries. She graduated from National Business College.
During her lifetime, she served on many committees of different organizations.
Edith was preceded in death by her husband, James O. Carter; parents, Lewis and Estell Williams, brothers, Charlie Williams and Lewis Williams Jr.; sisters, Dorothy Birchett and Ora Underwood. She is survived by her sons, Martin Carter and Andy Carter; grandchildren, William, Amanda and Travis; great-grandson, Tyson; brother, Johnny Williams; sisters, Fae Lowe and Neta Phillips; several nieces and nephews. Her strength and perseverance were an inspiration to all.