April 7, 1933 — August 6, 2023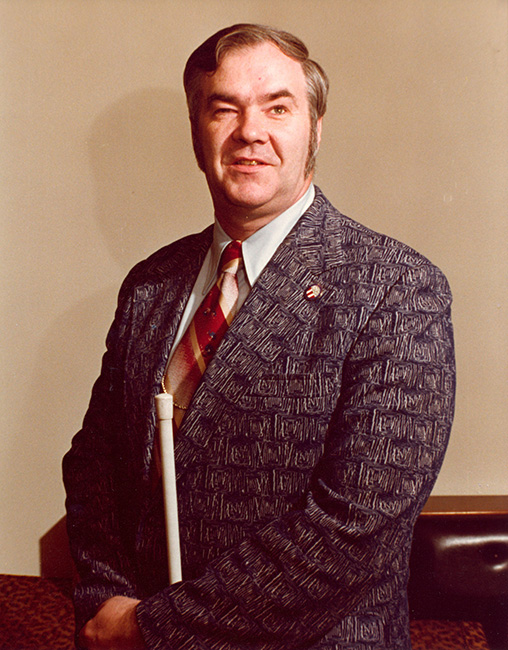 Oral O. Miller, fourth president and former national representative/executive director of the American Council of the Blind, second president of the United States Association of Blind Athletes, passed away August 6, 2023. He was 90.
Originally from Sophie, Carter County, Ky., Miller moved to Ashland at a young age. He was the third of four brothers, and was the last living of the four.  He lost his sight in an unfortunate accident when he was in the third grade. Following his recovery, he attended the Kentucky School for the Blind and Louisville Male High School. He graduated as the valedictorian in 1951.
Miller became interested in sports while in high school, participating in wrestling and track and field. When he went on to Princeton University, he continued his interest in sports by joining the crew team. He wrote an article about the experience, which was published in the July 2005 ICEVI newsletter, "The Educator." (See https://tinyurl.com/4yzne98f.) In it, he stated, "My most touching experience as an oarsman took place late in my senior year when I received the Biddle Award – which is presented to the senior who, in the opinion of his fellow oarsmen, has contributed most to crew at Princeton that year. In my athletic life I have been fortunate enough to win a number of honors, but the Biddle Award is among my most treasured."
He went on to study law at the University of Chicago Law School, graduating in 1958. Two of his classmates were former presidential candidate Ralph Nader and former Secretary of Defense Donald Rumsfeld. Shortly afterward, he began practicing law under Claude Asbury, an attorney in Catlettsburg, Ky.
Miller moved to Washington, D.C. in the late 1950s. After working with the U.S. Navy, Miller practiced with the U.S. Small Business Administration for 22 years.
While in D.C., he became involved with local blind bowling leagues. In 1969, he was elected president of the American Blind Bowling Association. In the early 1970s, he was actively involved in Ski for Light, a cross-country skiing program for people who are blind and visually impaired.
He also got involved with the American Council of the Blind, and was active with the American Blind Lawyers Association, becoming president of the affiliate in 1976. Two years later, he was elected ACB president, serving until 1981. A few years later, he married Roberta A. Douglas.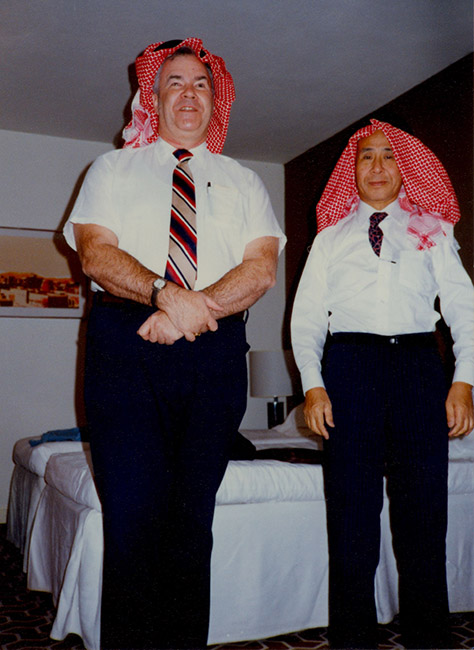 He continued his interest in sports by working with the United States Association of Blind Athletes, where he served as the organization's second president, and the International Blind Sports Association. More recently, Miller was a member of a D.C. area rowing club called the Out of Sight Dragons.
In 1984, Miller and then-president Grant Mack assisted with the merger of the World Council for the Welfare of the Blind and the International Federation of the Blind, now known as the World Blind Union. Miller served as chair of the WCWB Resolutions Committee, and presented a paper on "The Right to Access to Information" during one of the professional sessions.
In 1986, he gave a series of lectures in Japan at the invitation of Mr. Masahiro Muratani, of the Japanese National Council for the Welfare of the Blind. He visited Osaka, Kyoto, and Tokyo.
During the late '80s, when ACB was in serious fiscal trouble, Oral voluntarily gave up his salary as national representative. He believed deeply in ACB's mission, and demonstrated it on a daily basis.
Miller retired from the American Council of the Blind in 1998. The organization's national convention was dubbed the "Miller Time" convention. ACB's Board of Publications read a letter of commendation and presented him with a copy of "The Wild West." At the banquet, Oral's cousin, Virginia Fouts, was the surprise guest reminiscing on tape about their walk along the Great Wall of China. Janiece Petersen kicked off the celebration with a song she'd written, "Climbing the Ladder of Life." Then-director of governmental affairs Julie Carroll told about how Oral gave everyone a nickname, from the staff to the guide dogs. She presented Oral with a Beanie Baby squirrel. Nolan Crabb, then the editor of "The Braille Forum," presented his memories. A number of others spoke, sang, and shared their stories of time with Oral. Mark Richert cracked the audience up with his "Lessons in Voice Mail." The biggest gift presented to Oral and Roberta that evening: a trip for two to Vienna and Salzburg, Austria, two concerts in Vienna, hotel, sightseeing, and meals, to depart December 28, 1998.
In 2014, Oral Miller earned a Migel Medal from the American Foundation for the Blind.
He was preceded in death by his parents; brothers Glenn, George, and Charles; and his second wife, Roberta A. Douglas (2003). He is survived by his first wife, Carol Gartrell; his nephews, Robert "Bob" Miller, Lloyd Miller, Clay Miller, Mark Miller, Charles P. Miller IV; cousin David Fouts; nieces Tammy McVey, Judy Williams, Kathy Thieny, Frances McKenny; stepchildren, Jeanne Havrilla, Laurie Douglas, Ian Douglas, and George Douglas.
Funeral services were held in August in Grayson, Ky., and a visitation in Arlington, Va. After the visitation, he was buried in Mt. Olivet Cemetery in Frederick, Md., next to Roberta..
Oral Miller's ACB Angel Memorial Tribute
The ACB Angels Program is a powerful and personal way for ACB members and friends to honor departed loved ones and guide dogs who have been integral to the American Council of the Blind, its affiliates, and its members. If you wish to contribute toward making Oral an ACB Angel, please send an email to Kolby Garrison at [email protected].
Related articles:
Editorial: Measuring the Impact of a Life
Oral O Miller: Friend Advocate Sportsman
My Four Years Oars by Oral O. Miller