by Dan Spoone
ACB members, staff and friends I would like to take this opportunity to give a huge "thank you" to my friend and colleague, Eric Bridges. I have had the pleasure to work with Eric over the past four years to lead the American Council of the Blind through an amazing period in our organization's history. Eric's leadership guided ACB through a pandemic with extremely challenging circumstances. COVID-19 shuttered both ACB offices for three months. The staff swiftly pivoted to 100% in-home work. The staff with Eric's management decisions quickly acquired Zoom licenses and training. The ACB financial team rapidly applied for the federal government Payroll Protection Program (PPP) Loans. The ACB staff did not miss a beat.
The ACB Board of Directors voted unanimously in March 2020 to hold a virtual ACB conference and convention. Eric led the staff through the new set of requirements to produce an amazing convention for eight days with general sessions, audio-described tours, an exhibit hall, 108 breakout sessions, a banquet, an auction, a walk and a complete slate of primetime evening shows, all on the Zoom platform and streamed on ACB Media. The staff truly demonstrated ACB's five core values of integrity and honesty, respect, collaboration, flexibility and initiative.
Eric also led the staff through the implementation of the Entrepreneurial Operating System (EOS) methodology "Traction" to create an organizational culture of accountability, communication and trust with each other and the ACB membership.
The pandemic created a difficult environment for many of our members. Everyone was shuttered in their homes with limited opportunity for social interaction. Eric recognized this serious issue for our members and quickly worked with Cindy Hollis to start several Zoom meetings to give our members a chance to interact with each other. The initial goal was one Zoom meeting each day. Eric and I volunteered to start a sports call on Saturday night, "Let's Talk Sports." Wow, we did not know exactly what we were doing! But with Rick Morin's help, we gave it a try. We just wanted to spend some time with our friends talking sports. Remember, there were no sports being played. Everything was put on hold with the pandemic. We spent our show talking about everyone's favorite adult beverage and memories of our favorite games from the past. Roger Bridges, Eric's dad, had us all in stitches recounting the National Cherry Pit Spitting Contest. The defending champion had the nickname "Pellet Gun." Of course, this quickly became Rick's nickname. Pellet Gun Morin was our host for the entire series of shows. Many nights we were laughing so hard we would be crying. It's simply amazing that these humble beginnings have grown into the ACB Community Events platform that now hosts over 100 shows each week. Eric and Cindy, we all thank you for your inspiration and tenacity.
Eric's career with ACB spans over 15 years. He was a member of the initial cross-disability team that advocated for the 21st Century Communications and Video Accessibility Act (CVAA) that became law in 2010. He had the honor to represent ACB at the White House, when the bill was signed into law by President Obama. Eric worked to shepherd ACB through the court system to demand accessible paper currency in 2008 — the very same court order that we are still rallying to push forward in 2023. We have seen the adoption of accessible prescription drug labels and the passage of the quiet car legislation.
The ACB staff has grown and matured under Eric's leadership. ACB now has a fully functioning development team, a communication manager, an ACB Media manager, a thrift store manager, an Audio Description Project coordinator with consulting support, an accounting team, an advocacy team and a membership and community events team. In addition, Eric's networking skills have built constructive relationships with corporations in the areas of high tech, broadcast communications, health care, transportation, accessible technology and finance. ACB's revenue is greatly enhanced through these relationships.
Perhaps Eric's greatest contribution has been his ability to work with these companies to modify or re-engineer their products to make them accessible for our blind and low vision community. The work with Microsoft to improve their suite of products, the work with Cisco to make their VOIP phone fully accessible, the enhancements to Facebook for improved usability, the adoption of audio description by the major streaming services for all of their original content, the rollout of a fully accessible set-top cable box by Comcast and the adoption of three emojis representing our blind community through our partnership with Apple.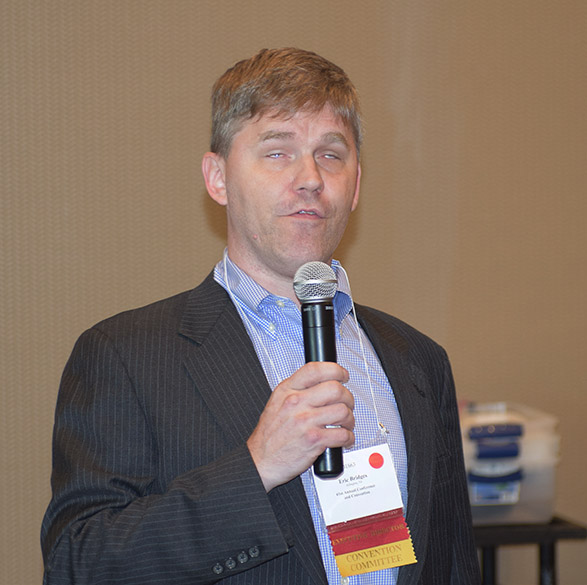 Eric, you have truly made all of our lives better. Thank you for being a wonderful ACB leader for over 15 years. We wish you great success at the American Foundation for the Blind (AFB). Rebecca and you are lifetime ACB members. We know you won't be far away if we need some good advice. ACB will miss your leadership. We look forward to seeing you at the convention in Schaumburg. Personally, I would like to let you know how much I value our friendship and respect your knowledge, judgment and willingness to work with a new ACB president who needed your patience and partnership to move our organization forward. ACB wishes you all the best! Hip, hip, hooray for a job well done!