by Susan Glass, Ron Brooks, Penny Reeder, Paul Edwards, and Deb Cook Lewis
The last time ACB visited Rochester, N.Y. was 1964. That year's convention was held at the Manger Hotel, with Delbert Aman as program chair and M.J. (Hills) Schmitt as the chair of the local host committee. And the convention was just three days long.
Fifty-five years have passed since then. ACB has 68 affiliates; in 1964, the number was 8, with a total membership of about 1,900. The Manger Hotel no longer exists; this year's attendees stayed in both the Hyatt and Riverside hotels. Much of the convention took place at the Joseph A. Floreano Rochester Riverside Convention Center, which connected to the hotels via skywalks.
---
Saturday
The opening general session was called to order by ACB president Kim Charlson. The Buffalo Soldiers of VFW Post 9251, under the command of Bing C. Reaves Sr., presented the colors. The presentation was audio-described by Jo Lynn Bailey-Page.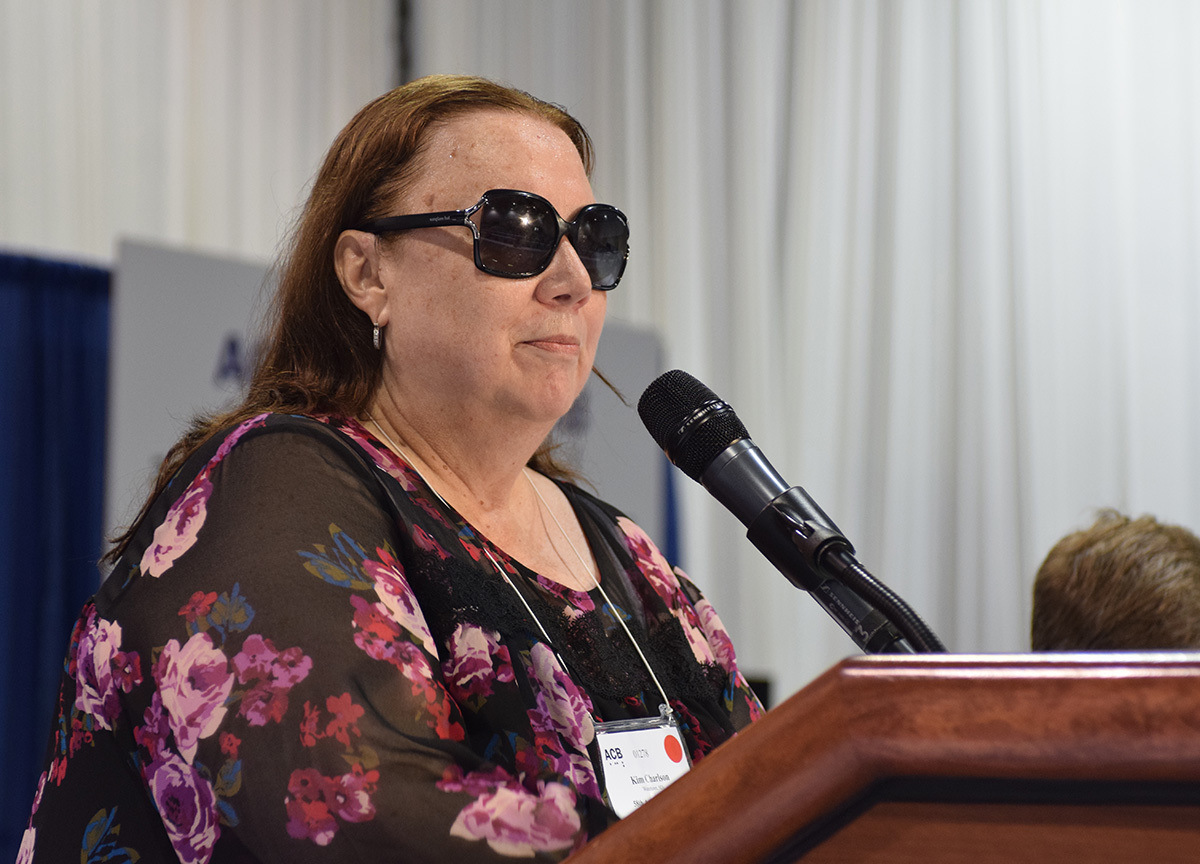 Charlson delivered her final convention report. She acknowledged and celebrated the following milestones achieved during her 6-year term.
Personnel: Hiring Eric Bridges as ACB's executive director; Clark Rachfal to succeed Tony Stephens as director of advocacy and governmental affairs; Claire Stanley, advocacy and outreach specialist; and Cindy Van Winkle, ACB's full-time membership services coordinator.
In the arena of streaming media platforms and accessibility, Charlson reported that in 2018, Hulu, negotiating with the Bay State Council of the Blind, was the first streaming service to commit to providing audio description tracks for as many of their programs as possible. ACB's Audio Description Project media task force continues to reach out to other media services in hopes that they will also provide audio-described programming.
On the subject of braille literacy, the United States has finally ratified the Marrakesh Treaty, which makes the worldwide exchange of braille books an attainable reality. The United States was the 50th nation to sign the treaty.
With regard to ACB's financial health, Charlson reported that we recently received a substantial bequest that boosted our endowment fund. She reminded members that the MMS Program, the ACB auction, and the ACB walk are all means by which each of us can contribute to ACB's financial health. In addition, ACB members logged 18,502 volunteer hours in 2018 alone. This fact can be significant when ACB applies for grant money, since each volunteer hour, if paid, translates to $20.
The convention next heard from Suman Kanuganti, president and CEO of Aira Corp. Aira is now used in several countries for tasks ranging from job searches, to way-finding, to shopping.  Aira provides access to 25,000 locations, including free access to 40 domestic international airports, airports in the UK, and airports in Australia. It also provides free access to all MBTA stops in Boston, Walgreens stores, and AT&T stores. This year's ACB scholarship winners will receive 9 months of free Aira access. Beginning this fall, all Aira explorers will be given a certain amount of free daily access.
Immediately afterward, Debbie Rozear presented the Robert S. Bray Award to Aira.
Life memberships were presented to Ricky Scott, N.C.; Peggy Ivey, Tenn.; Pshon Barrett, Miss.; Brian Charlson, Mass.; Rebecca Bridges, Va.; Lori Scharff, N.Y.; and Kevin Berkery, Calif.
Dan Spoone introduced the 16 new ACB angels who would be remembered throughout the week. The 2019 angels are:
MJ Schmitt, a charter ACB member from New York
LeRoy Saunders, former ACB president from Oklahoma
Sue Ammeter (Wash.)
Marlaina Lieberg (Wash.)
John Dashney (Ore.)
John "Jack" Barbieur (Ore.)
Edythe Huffman (Ind.)
Ann Sims (Ga.)
Al Gil (Calif.)
Carolyn Coby (Minn.)
Barbara McDonald (Ariz.)
Edith Carter (Tenn.)
James Carter (Tenn.)
James Vernon Daigle (La.)
Mary Katherine Jones (N.C.)
Frank Casey (N.Y.)
The convention also got to hear from this year's DKM First-Timers – Ted Boardman and Steven Salas – and the Leadership Fellows, Donna Browning, Rosemarie Facilla, Donald Kalman, Rachel Schroeder, and Amanda Selm. The session concluded with the first credentials report and the roll call.      
---
Sunday
Sunday's focus was on technology. After a bit of convention business, Margarine Beaman introduced Sarah Bassan, Accessibility Evangelist for Google. Bassan stated that Google's mission is to "organize the world's information and make it universally accessible." She provided updates on several Google products and services. Launched earlier this year, LookOut is a new application available on some Android smartphones which uses artificial intelligence to interpret and verbally communicate visual information, including package information, text on signs, and the indoor or outdoor scenery visible through the phone's camera lens. Google is also working to improve and simplify the use of Google Assistant. Through a partnership with the free service Be My Eyes, blind individuals can get live assistance with other Google products and services.
The convention then heard from Amanda Tolson of En-Vision America, Warren Moore of Walmart and Kevin Morgan of Sam's Club about an exciting new partnership that will result in free availability of ScripTalk at more than 1,100 Walmart and Sam's Club stores across America. For more information about this partnership, visit https://acb.org/walmart-samsclub-scriptalk-announcement.
Marty Schultz, founder and CEO of Blindfold Games and ObjectiveEd, described how Blindfold Games was transformed from a middle school computer club project into a company that has launched more than 80 accessible games for blind iPhone users. Schultz then talked about Blindfold Games' new utilities, including a fireworks app, an accessible greeting card app, and an app that automatically begins running the phone's video camera. He shared the story of his newest venture, ObjectiveEd, which uses accessible educational games to teach core competencies to blind students. It also includes a social media platform that allows educators to share information, lesson plans, tips and tricks.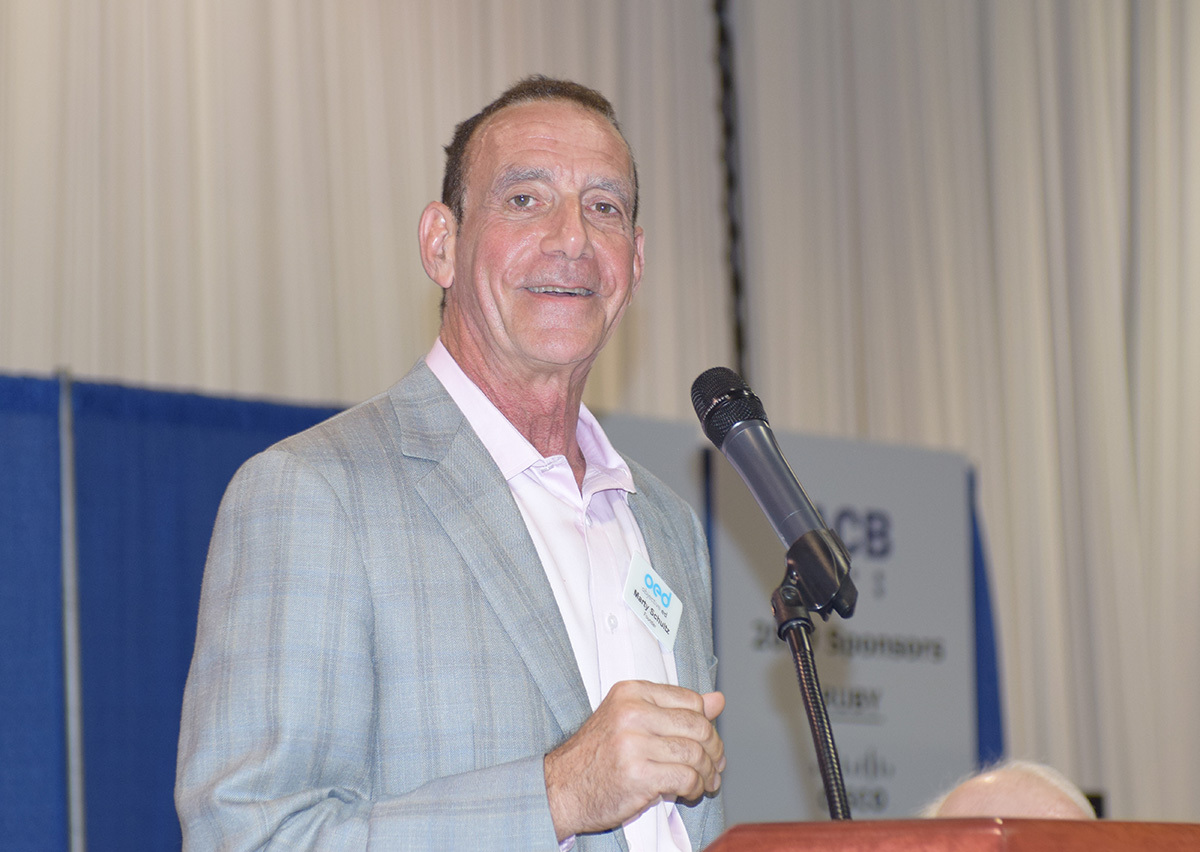 Following that presentation, Deb Cook Lewis presented Schultz with the Vernon Henley Media Award for the accessibility, entertainment and education that he and his companies are providing to blind and visually impaired children and adults.
Just before the break, Sara Conrad, president of the Council of Citizens with Low Vision International, informed the convention that it was CCLVI's 40th anniversary.
Fred Schroeder, president of the World Blind Union, discussed the ongoing efforts of the WBU in several important areas. First, he discussed the recently adopted Marrakesh Treaty. Because literacy is essential to education and employment, this treaty is not just about the sharing of information; it is about the empowerment of blind and visually impaired people throughout the world. Schroeder then discussed the WBU's efforts to develop an international standard for the amount of noise that must be generated by quiet cars. So far, there is a standard which has the support of auto manufacturers and experts in more than 50 countries. He stated that "if one assumes that blind people are working, are active, and are participating in their communities, doing what other people do, then it just makes sense to make the streets safe."
Karen Keninger, director of the National Library Service for the Blind and Print Disabled, spoke next. She informed the convention that NLS had changed its name to reflect the broad mission of the library. She then provided several quick updates about ongoing NLS projects. NLS is working to develop an electronic braille book reader and hopes to have a prototype available for review within the next year. She also described plans to introduce a "cartridge on demand" service that will enable NLS patrons to order cartridges with up to four titles of the patron's choosing. Keninger briefly mentioned NLS' efforts to get updates to legislation to facilitate its work and to come into conformance with the newly adopted Marrakesh Treaty.
The final presentation of the morning was Richard Villa, president of Blind Information Technology Specialists, who shared that BITS is celebrating its 50th anniversary. He explained that in the early days, only data processors could join BITS. Opportunities were limited, but in the 1970s, the newly invented Optacon opened new opportunities for blind and visually impaired data processors and programmers by enabling them to read manuals and text on screens. Then, micro-computers and primitive screen readers hit the market, and "we never looked back." In 1981, the PC was introduced, and more people started getting involved. Soon, programmers were creating accessible checking, word processing and accounting programs. In the late 1980s, the introduction of the graphical user interface generated a new threat to digital access, but in 1992, Microsoft introduced its Accessibility Unit at the CSUN conference. Since then, BITS members, technology vendors and others have continued to push the frontiers of computer and digital accessibility. Today, BITS is open to all computer and technology professionals, and according to Villa, "as long as there is technology hitting the market that we will need to learn, there will be a need for BITS."
---
Monday
Brett Humphrey, Senior Program Manager, Windows Accessibility, Microsoft Corporation, provided an overview of several improvements in Windows that have made the operating system more accessible for all users – including a slider to make text larger, a way to make the mouse pointer and the text cursor more accessible, improvements in Narrator and access to coding that allows third-party assistive technology providers to improve access in the Windows environment. Customer feedback, Humphrey said, has generated many of these improvements, and he demonstrated, via an audio presentation, improvements in Narrator, including an easy way to learn to use the built-in Windows screen reader.
Diane Ducharme, Blind and Low Vision Outreach Specialist for Sprint, and her colleague, Warren Knight, discussed various Sprint-sponsored promotions which are appealing and useful to people who are blind, including KNFB Reader, beep baseball, blind bowling tournaments, subsidized rides with Uber, and other programs.
The next sponsor presentation was given by Andrea E. Shkane, Managing Director, Corporate Sector, and North American Co-Chair of the Business Resource Accessibility Group, JPMorgan Chase, who discussed the corporation's history of disability inclusion. Shkane also discussed how important it is to JPMorgan Chase that their services and applications are accessible, and she stressed that improvements in accessibility come directly from their relationships with people who are blind, forged at conferences like this one.
John McCann, the day's presiding officer, welcomed Denise Colley, chair of the scholarship committee, who named the 2019 ACB scholarship winners and welcomed those who could be present to the podium for brief remarks. Each winner expressed gratitude to ACB and shared their educational plans and goals. Colley announced that all winners will receive JAWS/ZoomText Fusion packages from Vispero and a back-to-school package from Aira. Paul Schroeder joined Colley at the podium to introduce his Aira colleague and to describe the many ways Aira agents assisted last year's scholarship winners on campus and in class, and expressed confidence that this year's winners will benefit from the service in equally meaningful ways. Allen Casey introduced the three Scheigert scholars, who each expressed gratitude to Fred Scheigert and CCLVI.
Debbie Rozear and Deb Trevino, awards committee co-chairs, presented the affiliate growth award to ACB Students, which had both the largest number and highest percentage of new members this year.
Hannah Fairbairn, an interpersonal skills instructor at the Carroll Center for the Blind in Newton, Mass., discussed her journey through adjustment to blindness and the practical tips she outlines in her popular book, "When You Can't Believe Your Eyes: Vision Loss and Personal Recovery." Fairbairn has relied upon her personal experiences and those of the many students she has ushered through the transition to blindness process to demonstrate her real-life understanding of the difficulties that adjustment to blindness can present. In her book, she shares practical approaches to adjusting and coping successfully with blindness.
Kirk Adams, president and CEO of the American Foundation for the Blind, and Craig Meador, president and CEO of the American Printing House for the Blind, discussed their collaborative approach to lowering the unemployment rate for people who are blind. They believe that their innovative strategy will finally lower the appalling unemployment statistics for the blindness population, which have remained essentially the same through all of the decades since unemployment statistics were first collected.
Lee Nasehi is the new president of VisionServe Alliance. She discussed her hopes and goals for the future of the organization and the critical need to collaborate with partners, such as the American Council of the Blind.
Denise Snow Wilson, Technical Communications Specialist, Technology Product Research, and Elizabeth Schaller, Digital Assets and Metadata Librarian, Resource Services, American Printing House for the Blind, discussed research findings from the Accessible Cities Initiative project and the practical implications for improving the accessibility of cities such as Louisville, Ky. Learn more about their research and the resulting report here: https://www.aph.org/news/november-2018/.
---
Tuesday
The convention first heard from Zachary Bastian of Verizon. He talked briefly about Verizon's commitment to accessibility, but focused most attention on The Disability Collection, a special effort to make images of people with disabilities available. These images can then be used to make the lives and concerns of people with disabilities better recognized and more visible.
Next up was Matt Ater from Vispero. He talked about several new products, and mentioned that the company is working to create an accessible escape room.
The final sponsor presentation was from Comcast. Tom Wlodkowski reported that there are now 1,200 audio-described programs available on demand and indicated that he felt voice control would soon be available in many hotel rooms across the country so that blind folks could operate television channels independently while traveling. The home hub kiosk that is used by the Xfinity home security system is now accessible through voice guidance.
Ray Campbell, presiding officer, introduced the talking book narrator, Gary Telles of Potomac Talking Book Services. Telles stated he has worked there since 1993 and has now recorded some 400 books and countless magazines. He currently reads "The New York Times Book Review." He indicated that, through his job, he had read many exciting books that he would otherwise not have read, such as Mark Twain and Philip K. Dick.
The next speaker was Will Schell from the Federal Communications Commission. He said that filing comments is an important way of being sure that people who are blind are being heard. He also urged folks to file complaints when things are not going well. Will explained that emergency information must be made available on secondary devices such as tablets as well as on television. He indicated that each of the four major broadcast networks and the five leading cable channels in the 60 largest communities were now required to provide what amounted to approximately seven hours a week of audio-described programming.
Dan Spoone, Chris Gray and Joel Snyder gave a presentation on audio description. Dan announced that ACVREP will spend $60,000 to develop certification for audio description. The effort will be chaired by Kim Charlson. Dan also encouraged members to check out the audio description page at www.acb.org/adp. Chris Gray presented the audio description awards. Joel Snyder highlighted a range of activities that ACB has worked on over the past few years, including efforts to make the Federal Communications Commission create a national database of broadcast audio description and to expand the number of hours of audio description that is available.
Mark Richert gave a presentation on the ABLE Program. He suggested that the best place for more information about the program is www.ablenrc.org. ABLE accounts permit people disabled before the age of 26 to create accounts that allow them to save and invest funds even if they are on SSI without losing benefits. For others, funds can be set aside and used for disability-related expenses even if the disabled person is working. He encouraged everyone to get more information and to seriously consider participating in this program.
Immediately following Richert's presentation, Susan Glass presented the Board of Publications awards. The Ned E. Freeman Award went to John Buckley for his article called "Education Outside the Classroom." The Hollis Liggett Award for an affiliate publication was presented to Ralph Smitherman, editor of "The Braille Memorandum," the newsletter of the Braille Revival League.
Next, Sylvia Stinson-Perez of the Mississippi State University National Research and Training Center on Blindness and Low Vision spoke about supporting activities for older individuals who are blind. She noted that only 3 percent of those estimated to be eligible for services under this program are currently being served, and that only $33 million is allocated at the federal level to serve this population. She suggested that each of us could do three things in our communities to help: 1) get out in the community and show what blind people can do; 2) become advocates for the programs and services we need and deserve; and 3) consider working in the field of blindness, where there are not enough people with visual impairments working. She briefly described two current projects that NRTC is working on, and recommended that people visit www.blind.msstate.edu/ for more information.
The convention moved from programs for the older blind to accessible emergency information. Tony Stephens serves on the FCC advisory council. He stressed the importance of emergency messaging and audio description, and described the use of graphics in scrolling messages at the bottom of TV screens as an example of the kind of problem that needs to be solved. He will continue to work and advocate on our behalf with the FCC, and urged members to communicate issues they are having directly to any of ACB's advocates who work with the FCC.
---
Wednesday
David Trott, presiding officer, acknowledged and thanked ACB members whose entire families dedicate their life and service to ACB. He then introduced convention coordinator Janet Dickelman. Janet thanked the New York host committee, the Riverside and Hyatt hotels and staff, the ACB Café, the telephone registration team, all staff in the Minneapolis office, the convention planning committee, the JW organization and all other volunteers, Mike Smitherman and his excellent exhibit hall operation, and Rhonda Trott for her superb planning and execution of ACB tours. Janet informed the assembly that 2020's convention will take place in Schaumburg, Ill. from Friday, July 3 through Friday, July 10. The 2021 convention will be in Phoenix, Ariz., July 23-30.
David Trott then presented his treasurer's report. Within the last year, ACB received 5 grants. Two grants enabled ACB to work with the National Park Service to implement the UniD app park accessibility project, a collaboration between ACB, Google, the University of Hawaii, and the National Park Service. ACB received an anonymous donation designated for replacing braille embossers and laptops.
Turning to other financial matters, auction chair Leslie Spoone informed the membership that this year's auction total was $19,000. Walk committee chair Donna Brown informed us that as of July 10, the ACB walk had raised $71,000.
Eric Bridges delivered the executive director's report. He highlighted ACB's new vision statement, which was approved by the board on July 5. The board also approved ACB's core values: integrity, honesty, respect, collaboration, flexibility, and initiative. These values translate to ACB activism and advocacy.
This activism and advocacy were evident in a presentation delivered by Claire Stanley, ACB advocacy and outreach specialist, titled "Furry Friends and Friendly Skies: An Update on the State of Air Travel for Guide Dog Handlers." The presentation addressed policies that Delta and other airlines attempted to instate in 2018 that were detrimental to guide dog handlers. These policies violated the Air Carrier Access Act. Claire Stanley is currently serving on an FAA committee whose task is to develop an interim statement differentiating service animals from emotional support animals, and defining appropriate pre-flight requirements for each. The interim statement will be called Notice of Proposed Rulemaking. All ACB members are urged to comment on it once it is released. The FAA is also creating an advisory board comprised of disability organizations such as the Blinded Veterans Association and ACB. Claire encouraged any ACB member who encounters difficulty with airlines when traveling with a guide dog to file a complaint directly on the FAA website within 6 weeks of the incident.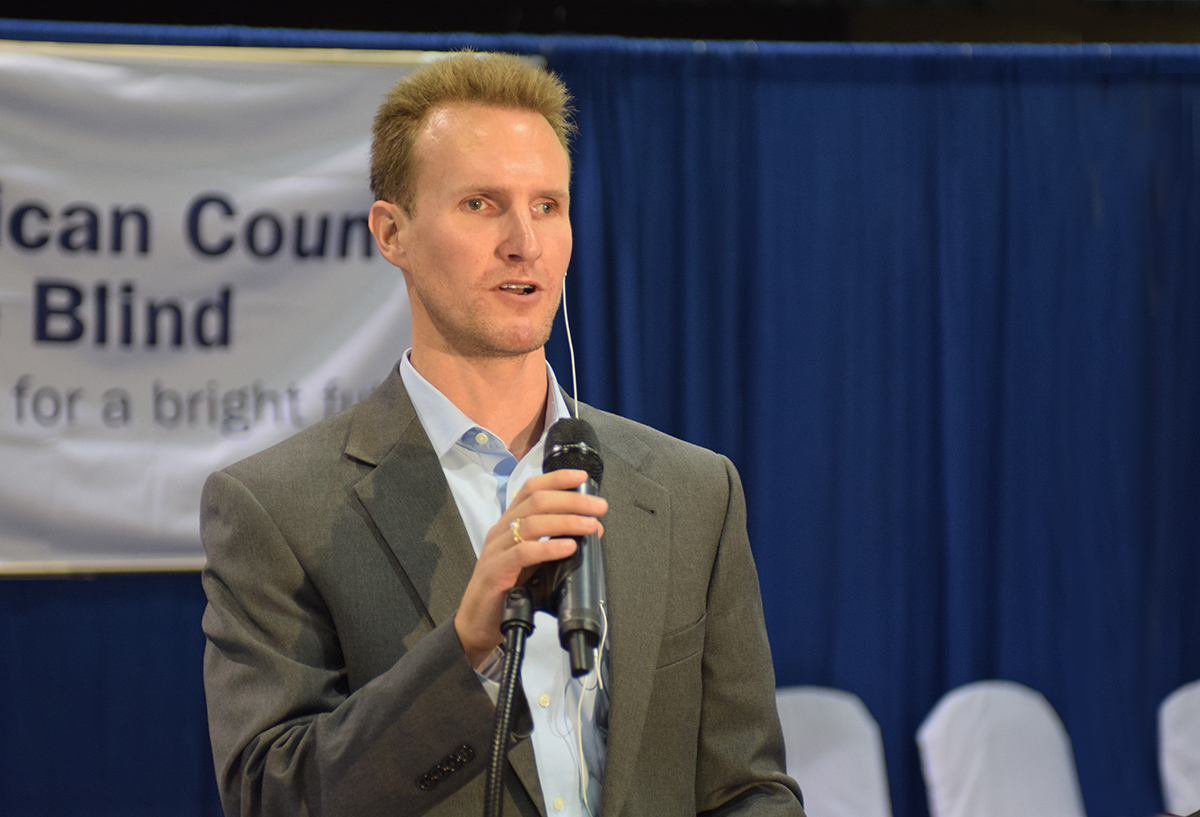 Clark Rachfal, director of advocacy and governmental affairs, filled ACB members in on the organization's current legislative imperatives:
Accessible, durable equipment, especially for people with diabetes.
Medicare Demonstration of Coverage for Low Vision Devices Act. This legislation will be introduced to the United States Senate for the very first time.
Several transportation imperatives: Regarding autonomous vehicles, we want to ensure that blind and visually impaired citizens can own and operate them. ACB is working with Amtrak to ensure that trains, ticketing counters, and station navigation are accessible.
The final presentation of the day came from Sajja Koirala, graduate research assistant, University of Hawaii-Manoa. Sajja shared information about tools, training, and mobile apps that spread audio description through our national parks. In particular, she discussed the UniD app that makes audio-described national park brochures available to people on their iPhones. Thus far, 65 out of 400 national parks' brochures have been audio-described. Several parks on the west coast and in the northeast are now on the app, and this fall, national parks in the southeastern region of the U.S. will begin developing audio-described brochures.
---
Thursday
The day kicked off with ACB business, which included a number of resolutions and constitution and bylaws amendments, interspersed between elections.
The candidates put forward by the nominating committee were all elected by acclamation. They are:
President: Dan Spoone, Orlando, Fla.
First Vice President: Mark Richert, Arlington, Va.
Second Vice President: Ray Campbell, Glen Ellyn, Ill.
Secretary: Denise Colley, Lacey, Wash.
Treasurer: David Trott, Talladega, Ala.
For the board position previously held by Denise Colley: Donna Brown, Romney, W.Va.
For the board of publications chairman, Dan Spoone appointed Deb Cook Lewis, Clarkston, Wash. Dan reappointed Susan Glass, Sarasota, Calif., to serve on the BOP.
For the BOP position vacated by Deb Cook Lewis, the convention elected Zelda Gebhard, Edgeley, N.D.
When all the positions were filled, resolutions were read and acted upon, and all amendments were considered, the 2019 convention adjourned.